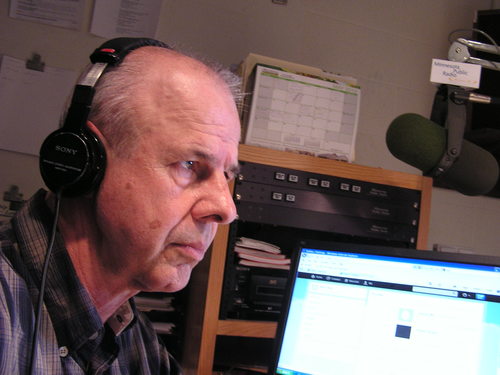 Thursday December 6, 2018
(Subject to change as events dictate. This page is updated throughout the day.)
9 a.m. – MPR News with Kerri Miller
Should Minnesota taxpayers support a one to one program where every student is assigned a one to one laptop or tablet? That's what's being debated at the U of M.
Guests: Ellad Tadmor, aerospace professor hosting the mock trial; Luke Diamond, senior in journalism school at the U of M, participating.
9:20 a.m. – Many of you have heard of Dietrich Bonhoeffer the pastor. But have you heard of Dietrich Bonhoeffer the We're talking to John Hendrix about his new graphic novel, "The Faithful Spy" and the story of a pastor who defied the Nazis.
10 a.m.- 1A with Joshua Johnson
Elections have consequences, but last-minute power grabs are not supposed to be one of them. Republican lawmakers in Michigan and Wisconsin are trying to strip authority from incoming Democrats who won key races. The latest on what many are calling "legislative coups."
Guests: Cheyna Roth, Capitol reporter, Michigan Public Radio; Norman Ornstein, resident scholar, American Enterprise Institute; co-author, "One Nation After Trump: A Guide for the Perplexed, the Disillusioned, the Desperate and the Not-Yet Deported."
11 a.m. – MPR News with Angela Davis
When it comes to getting your news, where do you go? Who do you trust?
Polls show trust in media is waning. Meanwhile, the President of the United States has been very critical of the news media. And amid all this, newsrooms around the country are scrambling to change the way they deliver news, in the face of new technology and changing audiences.
Guests: Jane Kirtley, Silha Professor of Media Ethics and Law; Director, Silha Center for the Study of Media Ethics and Law
Eric Deggans, NPR's TV critic, media analyst and a chair of the Peabody Awards judges.
12 p.m. – MPR News Presents
A tribute to MPR reporter Mark Steil, who retires today after 40 years of outstanding reporting out of Worthington for Minnesota Public Radio. You'll hear some of his most memorable stories, including "Winds of Hell: The Armistice Day Blizzard of 1940," "The Origins of Floyd of Rosedale," "Edgerton's improbable basketball title," an investigative report on "Irrigation threats to Minnesota's groundwater," an excerpt of his documentary, "Chanarambie Township," and "Medal of Honor winner Leo Thorsness' flight into history.
1 p.m. – The Takeaway
Silence in the courtroom. Millionaire sex offender Jeffrey Epstein silences his accusers with a last-minute settlement.
A look at the ongoing fallout from the Panama Papers, including the indictments this week, the raid last week, and how different countries are responding to these financial crimes.
A review of the new film Icebox, which looks at the immigration system.
2 p.m. – BBC NewsHour
The UN envoy tells the warring parties you hold the future of the country in your hands. Are the western countries right to have security concerns about Chinese telecoms giant Huawei? And diplomats have expressed concerns about the expulsion of more than a dozen aid agencies from Pakistan. We hear from our correspondent there.
3 p.m. – All Things Considered
The status of the US-China tariffs; Heidi Heitkamp exits; Nina Totenberg on the Mueller investigation; Microsoft's year of the cloud; Climate Cast with Paul Huttner.
6:00 p.m. – Marketplace
In today's strong economy, some workers aren't staying in jobs they don't love. That can be challenge for small businesses.
6:30 p.m. – The Daily
Across the country, Democratic candidates for governor and attorney general have won seats that had long been held by Republicans. But Republican-controlled legislatures in some states are resisting that transfer of power.
Guest: Mitch Smith, who covers the Midwest for The New York Times.
7 p.m. – The World
Our top story is the surprising arrest in Canada of Meng Wanzhou , the CFO of Chinese telecom giant Huawei . She now faces extradition to the US. The reason for her arrest remains a mystery. There are media reports that she was arrested for violating US sanctions on Iran. But there's speculation that the real reason she was arrested is that her company has long been suspected of spying. Host Marco Werman talks to Josephine Wolff at the Rochester Institute of Technology about security concerns over Huawei's technology. Then Marco follows up with Kerry Allen – who monitors Chinese media for the BBC – about reaction to the arrest in China.
Also, Rebecca Rosman reports on the Italian love of dubbing. While younger Italian audiences tend to prefer subtitles, dubbing is still a big deal. And now, a popular Italian radio station is running a competition to find the next big stars of TV and movie dubbing.
Plus, Marco interviews Gaelic singer Christine Primrose, who is about to be awarded an honor from the Queen for her contribution to Scottish music and culture.
8 p.m. – Fresh Air
Terry Gross talks with Lucas Hedges, who stars in the film Ben is Back, and is in two other new films: Boy Erased and Mid 90s. He co-starred in Lady Bird and Manchester by the Sea. Also, part two of our interview with Samin Nosrat, whose cook book Salt Fat Acid Heat has been adapted into a Netflix series.