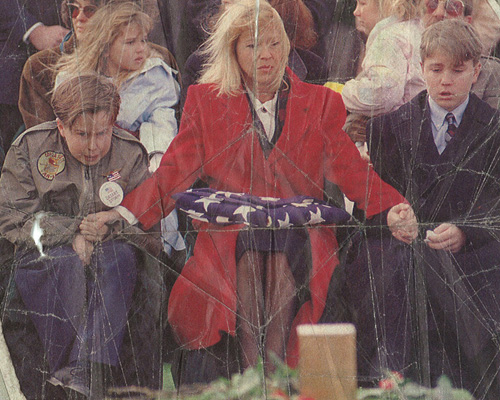 Over the last 12 years, very few of the 17,001 NewsCut posts (as of this morning) have penetrated so deeply into the internet as the original story of the picture I carried in my wallet, showing the Arlington National Cemetery funeral of Capt. Jack Edwards, the first American killed in the first Gulf War.
I'm as haunted today by the expressions on the face of his children as I was 28 years ago.
Over the years, I've heard from just about everyone in the picture, including the man who buried the captain, and people who served with him, each of whom supplied another missing piece of information about the family and Capt. Edwards.
The children, grown now, have, in different ways, communicated the same message that's worth remembering as the U.S. cavalierly heads for another Mideast war: "the war never ended for my family."
Now, this update.
This morning, at a brewery in Belton, Texas, the first batch of Captain Jack Beer will be brewed.
Bold Republic Brewing Company is owned by Adriane Hodges. She's the girl in the picture. She's Capt. Edwards' daughter, held at the burial by her aunt, Edwards' sister.
You can brew honor. @DesertStormMeml #boldrepublicbrewingcompany #beer #beerblog #brewery #veterancauses #ndswm #craftbeer #beertasting #beerfest #brewingcompany #beernews #cerveza #taproom #beerlover #Austin pic.twitter.com/4VTkeKBctP

— Capt Jack (@BrewHonor) May 12, 2019
She's raising money for Desert Storm memorial with all proceeds going to the effort. The brewery is also trying to get other breweries to apply to brew the beer using the company's recipe, with the receipts going to the memorial campaign.
The beer will be released in July.