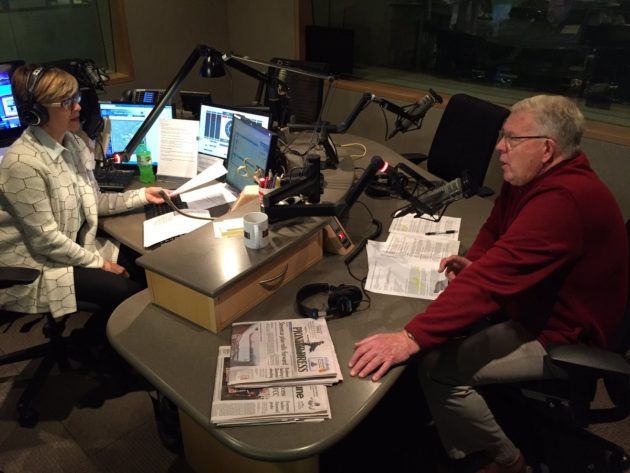 Friday May 17, 2019
(Subject to change as events dictate. This page is updated throughout the day.)
9 a.m. – 1A with Joshua Johnson
Domestic news roundup. Washington usually sets the news agenda. This week, it was Alabama. Also, the White House cracks down on foreign tech and lays out a new plan for legal immigration. Plus, a major shortage gives us a sinking feeling about the future of birthday party decor.
10 a.m.- 1A with Joshua Johnson
International news roundup. President Trump gives Hungary's controversial Prime Minister a warm welcome. The White House turns up the heat against the Chinese tech giant Hauwei. And Tehran tells Washington to cool it.
11 a.m. – MPR News with Angela Davis
Minnesota lawmakers are required to adjourn the regular session by this coming Monday, May 20. Will they finish their work in time – or are they headed for a special session? We'll get the latest from the Minnesota Capitol from MPR News political reporter Briana Bierschbach.
11:15 a.m. – How to make youth sports fun again. Parents are getting louder and the game is getting more competitive. Two former athletes and coaches join Angela Davis to talk about how parents' over-involvement at games could ruin the experience for their children.
Guests: Dan Harrison, Cottage Grove Athletic Association president and a baseball coach at Park High School in Cottage Grove: Lea B. Olsen, founder of Rethink the Win and sport broadcaster for the Lynx, Timberwolves and high school sports
12 p.m. – The Takeaway
As part of The Takeaway series Candidate Talks, Amy Walter speaks to Democratic presidential candidate Andrew Yang about his 2020 campaign.
Randi Weingarten, the president The American Federation of Teachers, discusses how the organization will be evaluating candidates this time around.
Since early 2018 there has been a growing movement of teacher strikes. The Takeaway explores some of the reasons why with two of the researchers behind the new book "Outside Money in Local School Board Elections: The Nationalization of Education Politics."
Today marks 65 years since the landmark ruling in Brown v. Board of Education. An often overlooked consequence of the ruling was the loss of thousands of Black teachers.
1 p.m. – Science Friday
What are communities doing to adapt to sea level rise? Science Friday's series Degrees of Change continues with a look at coastal resilience. In North Carolina, where salt water is threatening farms and wetlands, and in Virginia, where cities and the military are preparing for more frequent "sunny day" flooding.
2 p.m. – BBC NewsHour
An outbreak of African swine fever in China. A million pigs have already been culled and now it's spread to Hong Kong; the UN secretary general on rising sea levels in the Pacific; we'll remember the great architect I. M. Pei, designer of the Louvre pyramid
3 p.m. – All Things Considered
The week in politics with Brooks and Dionne; the art of a series finale; anti-abortion demographics and effects; Catch 22 review
6:00 p.m. – Marketplace
The story of a supermarket brand that's gone, but not quite forgotten. For decades, the Red Owl grocery chain dominated the Upper Midwest until disappearing in the 1980s, but some customers want to keep the chain's memory alive.
6:30 p.m. – The Daily
Alabama has adopted a law that would criminalize nearly all abortions and make the penalty for providing one up to 99 years in prison. The man who wrote the law knew it was unconstitutional — and did it anyway. We asked him why.
Guests: Eric Johnston, a lawyer in Alabama who has spent more than 30 years trying to ban abortion; Sabrina Tavernise, a national correspondent for The New York Times.
7 p.m. – The World
Teaching Italians to sing like Whitney. Or Mariah. Or Beyonce. Cheryl Porter is from Chicago.She moved to Italy to study opera, and she wound up teaching Italians how to sing R&B.
8 p.m. – Fresh Air
Writer Stephen McCauley talks about his novel My Ex-Life, which is now out in paperback. This novel centers around two people, David and Julie, whose brief marriage was ended when he came out. Thirty years later they're brought together when Julie and her second husband are divorcing and David's boyfriend has just left him. They find they still have a deep connection—but one with sexual intimacy out of the picture. Our book critic Maureen Corrigan called My Ex-Life a smart comedy of manners. Stephen McCauley wrote six previous novels including The Object of My Affection, which was adapted into a film comedy starring Jennifer Aniston and Paul Rudd.