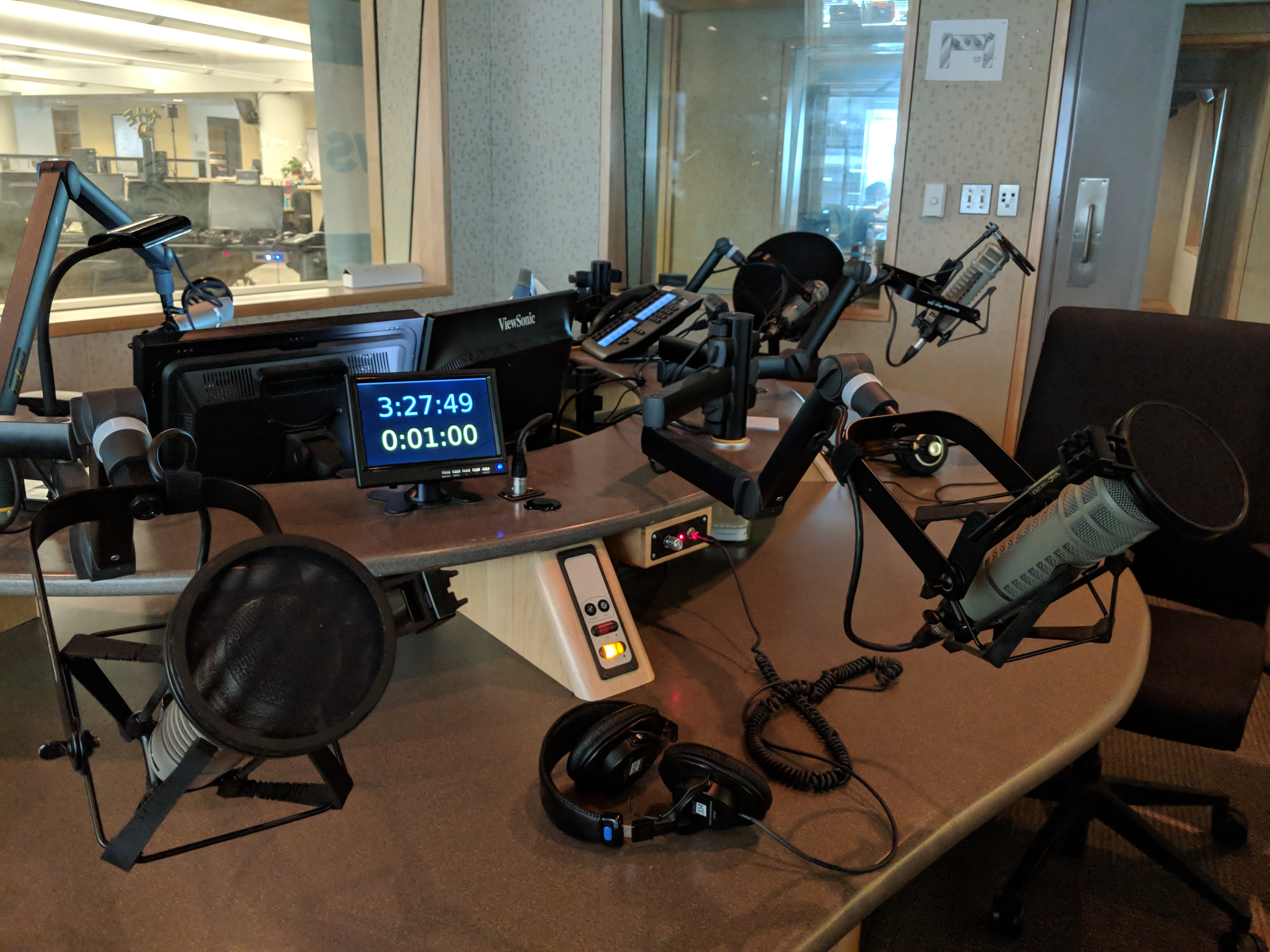 Monday May 6, 2019
(Subject to change as events dictate. This page is updated throughout the day.)
9 a.m. – MPR News with Kerri Miller (Tiffany Hanssen hosts)
Thousands of protesters answered opposition leader Juan Guaidó's call to return to the streets of Caracas. The demonstration was seen as a final effort to overthrow President Nicolás Maduro from office. At least four people killed and more than 200 wounded in the demonstrations.
Guest: Tim Padgett is the Americas editor for Miami NPR affiliate WLRN, covering Latin America, the Caribbean and their key relationship with South Florida
9:20 a.m. – Since the 1973 Supreme Court case, Roe v. Wade, which gave Americans rights to an abortion, states have worked to prohibit that access. This year alone, 41 states have tried to pass abortion restrictions; 21 have been enacted. In Arkansas, Georgia, Kentucky, Missouri, Tennessee and Texas, legislation has already been passed to abolish abortion, if Roe v. Wade is overturned by the Supreme Court.
Guests: Mary Ziegler, professor at Florida State University College of Law where she specializes in the legal history of reproduction, family, sexuality and the Constitution; Alice Ollstein, health care reporter for POLITICO
10 a.m.- 1A with Joshua Johnson
More and more school districts across the U.S. are embracing the four-day school week. Right now, nearly 560 districts in 25 states have adopted the change, with most implementing a Monday-Thursday schedule. The trend is especially popular in rural areas.
Proponents say the move will help schools cut costs and bolster teacher recruitment. But there's concern that a four-day school week is tough on low-income families, who rely on the meals and childcare embedded in a school day.
Guests: Paul Hill, founder, Center on Reinventing Education; David Blackburn, Superintendent, Salida School District; Stephanie Daniel, education reporter, KUNC.
11 a.m. – MPR News with Angela Davis
A conversation with Minnesota's 2017 and 2019 Teacher of the Year about the current state of education, school safety, the achievement gap and more.
Guests: Corey Bulman, 2017 Minnesota Teacher of the Year who teaches English language arts at Mound Westonka High School; Jessica Davis, a math teacher at South St. Paul Secondary School, the 2019 Minnesota Teacher of the Year.
12 p.m. – MPR News Presents
The first in a four-part series for APM's "Call to Mind" initiative. The programs will air on MPR News Presents Monday through Thursday. Produced by public radio station WBUR for Mental Health Awareness Month in May. The series is hosted by Dr. Anne Hallward, a Harvard-trained psychiatrist. Each show combines compelling stories and expert guidance to explore the intersection of mental health and social change. Part 1, on Monday, is about apologies and forgiveness.
1 p.m. – The Takeaway
On Sunday, President Trump announced on Twitter that he's chosen Mark Morgan as the next director of Immigration and Customs Enforcement. According to administration officials who spoke to The Washington Post, that was news to current ICE leadership.
Pacific Gas & Electric is asking a bankruptcy court for permission to create a $105 million fund for victims of the fires that devastated California in 2017 and 2018. The fund would be to help victims of the fires with housing and daily living expenses.
In many other countries, paying a donor for eggs is highly regulated or illegal, which makes the U.S. a particularly lucrative market. But many donors say the risks and side effects are not shared in marketing and ad materials for donors, or are downplayed.
A new study looks at the lingering effects of trauma on children who were affected by Hurricane Maria in Puerto Rico. According to the data, over 7 percent of children show significant signs of clinical post-traumatic stress disorder.
Lila Downs has dedicated her music career to focus on political topics. Her music has hit on topics such as women workers in 'maquiladoras' along the border, the indigenous struggle in Mexico, immigration and social movements.
2 p.m. – BBC NewsHour
A comprehensive and damning report on the loss of biodiversity says a million species face extinction, driven by the changing use of land; in India, 900 million people are voting over six weeks. Today we'll hear from Lucknow, the capital of the largest state, Uttar Pradesh; we're looking at President Trump's latest threat to increase tariffs on a wide range of Chinese imports. How is this likely to affect US China trade talks due this week?
3 p.m. – All Things Considered
A fake candidate; death by selfies; a state of the union review; Boeing and the Pentagon; the bills limiting measles vaccination exemptions.
6:00 p.m. – Marketplace
Living with long-term uncertainty. American businesses have been waiting for some kinda resolution on China and trade for more than a year now.
6:30 p.m. – The Daily
The authoritarian component of new technology.
7 p.m. – The World
One million species on the brink of extinction. That's the grim reality we're hearing today from a long-awaited UN report. The first comprehensive biodiversity report in 15 years gives us a clear understanding of the state of nature, ecosystems and the threat posed to them by human activity. Host Carol Hills talks with one of the report's authors.
That UN report includes for the first time significant data and ideas from indigenous communities. The research team behind the report says indigenous peoples and local communities know how ecosystems are changing better than anyone. We'll hear what lessons can be drawn from that.
Also, what Richard Holbrooke's life can tell us about post-Cold War foreign policy. His role as a diplomat, presidential advisor and antagonist placed him in the biggest moral and tactical struggles the US faced in the world in the decades after the Cold War. Carol Hills talks with journalist George Packer, author of the new biography of Holbrooke, "Our Man: Richard Holbrooke and the End of the American Century."
And, according to the IRS, the Satanic Temple is now a religious organization. The group is becoming something of a global movement, thanks also to a new documentary called "Hail Satan?" With rapid growth though comes a big challenge, and that's maintaining the founders' original vision for a nonviolent movement built on the values of secular humanism, science, and free speech. The World's Matthew Bell reports.
8 p.m. – Fresh Air
Two of the co-creators and stars of the Hulu series Pen 15, Maya Erskine and Anna Konkle. It's about two 13 year old girls in middle school, and it's based on their experiences when they were friends in school together. They star in it even though they are both in their 30s, but the other kids in the show are teenagers. The show has completed season one and has been renewed for a second season.
8:37 p.m. Documentary film director John Chester and his wife, Molly Chester. Their new documentary The Biggest Little Farm is about their eight-year effort to transform a piece of land in Southern California into an environmentally sustainable and diverse farm.