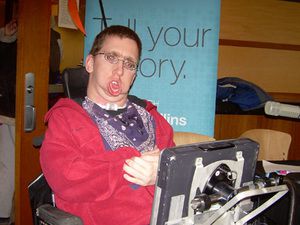 When you talk about the economy — as I did yesterday when the News Cut on Campus Tour stopped at Minneapolis Community and Technical College — the discussion intersects with politics.
It did when I talked to Aaron Westendorp of Edina, who wants to go into human services, a target this week of Gov. Tim Pawlenty, who released his proposed budget with significant cuts in human services, and quite possibly programs that benefit Aaron.
"Pawlenty is doing the exact same thing that got us in this mess in the first place… the same thing he did in '03," he typed on a keyboard. It's how he communicates. He suffers from a brain stem lesion which causes a partial paralysis from the eyes down.
But that's where politics ends in his career path. He says he's most interested in inspiring others and being inspired by others. "What about us inspiring each other?" he said when I asked him about the future.
He says he's inspired by people "who strive to go up against popular culture and actually help us advance," he said. "People who rebel."
But he says he's neither optimistic nor pessimistic about the direction of the economy. "I'm somewhat in between," he said. "I believe in balance."