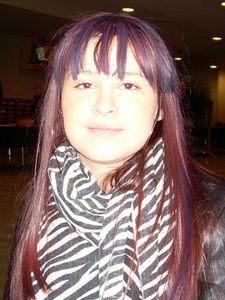 Pearl Madryga makes a lot of money working at a high-end boutique in Edina; more money than she'd ever make as an urban teacher. Pearl wants to be an urban teacher, a passion that brought her to Minneapolis Community and Technical College, this week's stop on the News Cut on Campus Tour.
She teaches part-time at Whittier Elementary and has taught some high school. She knows the age group she wants to teach — second and third-graders. Her reasons for not teaching kids older than that are sobering.
"Fourth or fifth graders have felt the harshness of reality," she said. "It's over. They're already so mean."
She wants to teach art and younger kids are more willing to express themselves. Any older than that and they're too concerned "with doing it right."
She's still got years to go before she's a full-time teacher, but it's still not a great time to specialize in art, a subject that's being cut from schools all over America. "But it's my passion," she says. "I also have other elements of my life I want to pursue as well. Whether it's working for a non-profit arts organization or traveling — I've done a lot of mission work — if you don't have the passion there, nothing's going to work anyways."
She knows the economy is going to get worse. "Every other day I hear about a friend's parents losing their job and it's affecting everybody; it's not just one sector of the community. It's capitalism. If you're going for a profit, you're going to fail. It's bottom line. It's not going to go up forever," she said.
"I'm just really grateful to be living in this moment," she said of the era ushered in last week.