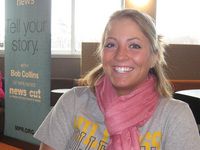 If you're a dental hygienist in Minnesota, you can find a job, especially outside of the Twin Cities. But many young people who want to go into the career can't get the training because there either (a) aren't enough lab facilities or (b) aren't enough teachers in the state college system. At a time when the politicians are talking about needing to provide jobs, funding to provide either (a) or (b) is being cut. Go figure.
Ashley Goodmund of Marshall, Minnesota knows all about the problem. At Lake Superior College in Duluth, where I stopped on Wednesday to talk to students about the economy, she's sitting at #74 on the list to get into the school's dental hygienist program. Only 20 will get in and she won't know until December whether she'll make the cut. Something's got to happen to 54 other hygienist wannabees.
"My friend just got accepted for this fall. She's been waiting for three years."
She originally started on a graphic design career at the University of Minnesota Duluth, but saw the quality of competition from other students and decided her future is in teeth.
"I love teeth," she said.
Her logic makes sense. "With graphic design, anyone can do that. People can take their own photos and wedding pictures," she said. But not everyone can clean people's teeth and "people are always going to have teeth."
When she gets out of school — if she gets into the hygienist program in the first place — she says she's "99 percent sure" she's going to move to Arizona, home of many old people with questionable choppers.
There, she can work and pay off her student loans, which are helping to cover whatever help from her parents can't. Like many people I've met during the News Cut on Campus Tour, Ashley's in the middle. "I'm not, like, super rich and I'm not, like, super poor," she said, explaining why out of the "eight million" grants and scholarships she applied for, she got none. She used $27,000 in loans to attend UMD, and another $3,000 for Lake Superior College, "and I'm nowhere near done," she says.
"I try to take out the minimum amount of loans that I can. I work 24/7 so I don't have to worry about extra loans," she said. She's currently balancing three jobs and coursework.
While she's waiting to hit the dental hygienist lottery, she's taking courses that will allow her to obtain a higher degree, leaving her the option of becoming a dentist.