The daily meeting of officials battling the Red River flood is underway in Fargo.
8:03 a.m. – Fargo Mayor Dennis Walaker holds up a gift from his staff, a Moses-like staff, which he says he can use to part the water. Then saying, "we need all the help we can get," he asks an official from the Salvation Army to begin a prayer.
8:05 a.m. – The river is rising three feet a day. "We going to be at 40 tomorrow. I've used the term 'uncharted territory' because it's a learning curve for all of us." He says at a meeting last night the city was being criticized as unorganized. Not at all what I've seen.
8:08 a.m. – Mark Bittner, the Fargo city engineer, says they have "some concerns" that already have some seepage. They're going to start building "secondary levees." Efforts today will include further protecting the city water plant and the water treatment plant.
8:10 a.m. – 76th Avenue in Fargo will be closed today. Highway 81 will be closed between the Wild Rice river and the Maple Prairie subdivision.
8:13 a.m. – A warning that residents who "want to come out, have to come out during the day." The county sheriff says people who refused to be evacuated by boat yesterday called this morning at 1 or 2 "angry at us for not coming to get them."
8:17 a.m. – "We are not abandoning anybody," Walaker says to news of complaints that secondary dikes in neighborhoods are isolating them.
8:18 a.m. – Here's the 7:15 flood projection. It's not pretty.
8:19 a.m. – Tim Mahoney, Fargo city administrator: "I might get tears in my eyes like the mayor soon because the volunteers have been terrific. But, buck it up because you have to do it one more day."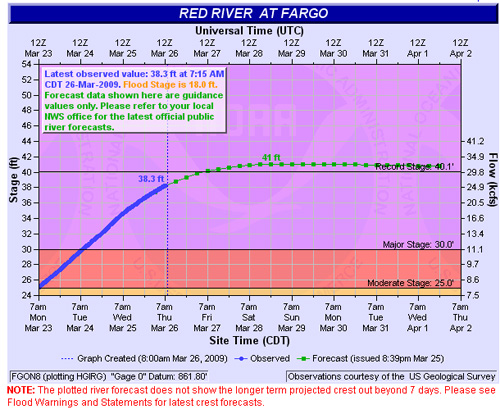 8:20 a.m. – On Wednesday, another half million sand bags were produced by volunteers working on the Fargo side. The focus today is getting bags delivered as quickly as possible. "Anytime you see Bison basketball shirts standing next to Sioux Hockey shirts, we've really come together and that's a story that needs to be told," an official says.
By the way, you saw than Than Tibbetts great video, right? No? Here.
8:28 a.m. – Public safety officials are asking people not to drive directly to sandbag sites. Go to the sites where buses will take people there.
8:36 a.m. – Sara Lepp, the volunteer coordinator said people from Florida, Alaska, and Michigan have showed up to help. "It's not just Minnesota and North Dakota," she said.
8:38 a.m. – Steve Carbno of the Salvation Army says "we're going to be stretched thin today."
"Any time you see the Red Cross and the Salvation Army working hand in hand, that's a good thing," he said. Hmmm.
"Any time you see the Red Cross and the Salvation Army working together, that's a disaster," Walaker said.
8:40 a.m. – Sherl Thomsen of the Minnkota Red Cross says they're opening shelters. Four more are on standby.
8:42 a.m. – An animal shelter is being set up at the Red River fairgrounds. The Minnesota animal disaster coalition is enroute.
//end
At a news conference afterward, Walaker said the mood of the area is still good, "but there's maybe 10 percent of the people who are having difficulty with this."
"I give us a 4-to-1 shot at winning this thing," he later said. "And those are good odds at any horse track in the country."