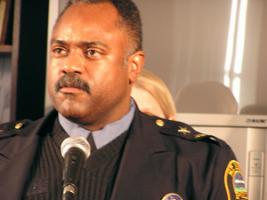 A bit of a surprise from the St. Paul Police Department this evening. In a news release, Chief John Harrington announces he's told mayor Chris Coleman that he won't be seeking reappointment. It's a job he's had since 2004.
Here's the release:
Saint Paul Police Chief John M. Harrington, today, notified Mayor Coleman and the members of the police department that he will not seek reappointment to the position of chief. Chief Harrington's appointed term runs until June 30, 2009. Chief Harrington was appointed the department's 39th Chief of Police in June of 2004. He began his career as a Saint Paul police officer on July 11, 1977, serving as a patrol officer, patrol supervisor, investigator, and training unit director. Prior to being appointed chief,

he served as Senior Commander of the department's Western District.

"It has been a great career, in a great city, working with many great people," said Chief Harrington. "The department has accomplished much and I am proud to have been part of leading it over the past five years," he added.

Chief Harrington's announcement signals the beginning of the search and selection process for the department's 40th Chief of Police. The next chief will assume leadership of a larger department, with expanded expertise and technological capabilities that has a proven and effective track record of reducing crime.

"In the remaining months of my term, I look forward to overseeing implementation of the department's Blueprint for Safety domestic violence response protocol, along with further enhancement of our gang prevention and intervention efforts," said Chief Harrington. "These have been major areas of effort in my administration, and while we have made a real difference much work remains to be done," he added.
Here are some MPR interviews with Harrington:
>> An interview over police tactics during the Republican National Convention. (All Things Considered 9/5/08)
>> Harrington on how to police a community (Midmorning – 7/16/07)
>> From history to philosophy, a love of heroes (Morning Edition – 3/21/07)