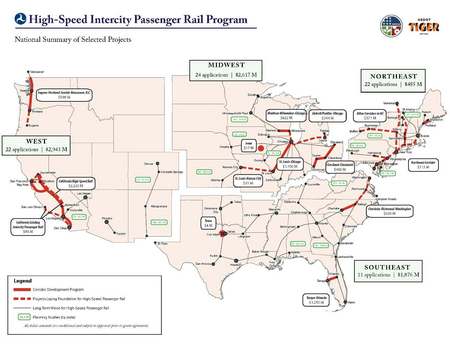 Minnesota hasn't been able to make a decision on a route for high-speed rail service to Chicago. Today the federal government gave it the equivalent of the home version of its "let's build high-speed rail" game: $1 million to "study" the situation. It put itself in a position to do little else, and got a little less than what it had asked.
"I have always advocated for a data driven process to determine the route for high-speed rail that's in Minnesota's long term best interests," Congressman Tim Walz, vice chair of the House Transportation Committees Subcommittee on Pipelines, Railroads and Hazardous Materials said in a press release. "This funding will be used to study possible routes that Minnesota outlined in its recent Statewide Rail Plan – including the River Route and the Rochester Route and put Minnesota in the running for future rail construction funding that will create jobs across our state."
Other politicians said the usual things, but advocates of high-speed rail in these parts can't be too happy, not when they've seen how other regions got a big chunk of cash for routes elsewhere.
Even Maine — Maine! — got $30 million — to extend service from Portland to Brunswick.
"We're thrilled," said Patricia Quinn, the executive director of the Northern New England Passenger Rail Authority that operates the service. "It's a great thing for tourism to be able to take a train to the doorstop of LL Bean without having to add any cars and congestion."
Missouri got about the same amount for service between St. Louis and Kansas City. Washington state got $590 million. Wisconsin received over $800 billion million for service between Milwaukee and Madison.
Comparatively, Minnesota has stumbled on this effort. The big players in this drama are Rochester and the Mayo Clinic. They favor a route that takes it through Rochester. State officials favor a route along the Mississippi through Winona, mostly because it's more direct and there are already tracks (though it's anybody's guess how a train is supposed to zoom through downtown Red Wing at 90 miles per hour).
It's not clear how $1 million for a study will settle a standoff here. But one thing is clear: When it comes to competitive funding: You snooze, you lose. It's true, as my colleague Dan Olson (who's covered this issue) reminds me, the Minnesota-to-Madison portion of the plan was a low priority anyway (compared to, say, Chicago to Milwaukee to Madison), But today's comparative shutout comes with a free dose of reality: You've got a far better chance of getting to Brunswick, Maine by high-speed rail in your lifetime than Chicago.