Yesterday's mention of a Star Trek Barbie resulted in a number of offline discussions and messages, so I started thinking about where fun, games and profit collide. Today's notes may contain one of those elements or a varied combination. The fact that we'll be able to tell Bob Collins we had nothing but fun and games while he's out supposedly out, but blogging here and there is just gravy.
1) We all know that those pennies add up. In Mobile Games: Turning 99 Cents Into a Million Dollars, WNYC's Lisa Chow reports on the trend:
And not every game involves a bloody car chase, grunting athletes, or axe wielding dwarfs. One developer, Joe Kauffman, says his target market is 60-year-old women. In one of his games, "Danger Cats," wide-eyed yellow cats are precariously balanced on piles of random objects: watermelons, concrete blocks, and a canister of gasoline.
According to the piece, Kauffman has made $5,000 from his Danger Cats on the iTunes app store and another $5,000 on his game, "featuring adventurous squirrels." Fire up the whole audio here:
2) I'm double-checking the Twin Cities' forecast because I can't quite believe we'll have a State Boy's Hockey Tournament weekend without snow. MyFox9 ran a piece that expected the 5 Millionth Fan to Attend Hockey Tourney March 11, 2010. I haven't found an update yet.
Update 5:39 p.m. CT: Colleague Tom Weber flagged me down with Press Release handy. Turns out…
Duluth East graduate (1973) Jean Johnson, now a resident of Minneapolis, was surprised to discover she was the five-millionth fan to attend the storied Minnesota State High School League Boys' Hockey Tournament at the Xcel Energy Center in St. Paul. League Executive Director Dave Stead met Johnson as she entered the arena and presented her with a number of items to commemorate the occasion.
A number of items translates to tickets to the Championship game on Saturday, four season tickets to next year's tournament, and some souvenir apparel/swag. Other folks on the Internet indicated there was a cake, but I've found no photographic proof.
Wondering about the 2010 State Girl's Hockey Tournament? In February The Warroad Warriors emerged on top, and St. Paul didn't see precipitation.
3) What will movie execs think of next…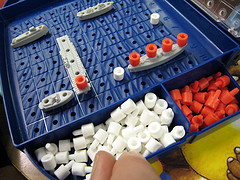 In 2009 Universal announced a project for a movie based on the game Battleship. Yes, that "You sunk my Battleship!" game. One could be fairly certain movie critics have several snappy, snarky review titles ready. The film project is listed in production for 2012, and there's an Internet appetite for detail leaks.
Yesterday on the Den of Geek (apparently there's another theme to today's Five by 8) writer Mark Harrison plays with the idea of other, perhaps more inappropriate game inspirations like Operation. His opinion on the trend is what caught my attention:
The inexorable financial success of Michael Bay's Transformers series has studios and toy manufacturers falling over themselves to bring their copyrights to the big screen. Because they should? Of course, because story isn't really important when you have brand recognition.
True? False? Cynical? Your comments make the call.
Image courtesy jillslivingroom on Flickr under Creative Commons BY-NC-ND 2.0
4) What does TARDIS stand for? If you were able to answer without so much as a pause try your hand at WFMU's Science Fiction Trivia Challenge: John Hodgman vs Patton Oswalt. Described as a "scene of an epic nerd-off" it offers questions from categories such as Star Trek, Dr. Who, and Star Wars. Play along at home for bragging rights or befuddlement. There's a public radio fund drive tie-in, don't say you weren't warned.
h/t Brett Baldwin

5) Rain, warm weather erode Minn. snowmobile trails. I checked the snow depth reports on the MN DNR site and even the most recent reports run from fair to no trail.
If you have spring fever, it is time to fire up the grill, perhaps.
TODAY'S QUESTION
Is it time for Minnesota to charge a sales tax on clothing?
A proposal to impose a sales tax on clothes passed a committee test Thursday in the Legislature. The tax would generate more than $250 million in its first year. Today's Question: Is it time for Minnesota to charge a sales tax on clothing?
I remember this turning up in answers to What would you recommend to help reduce the state deficit? back in February 2010. I'll be watching the comments.
WHAT WE'RE DOING
Midmorning (9-11 a.m.) – First hour: Does moderate drinking harm or help your health? A new study suggests that women who drink moderately have less problem with their weight than women who don't drink at all. This study joins others on moderate alcohol intake that have conflicting messages for our health.
Second hour: New music news. The recording industry claims that independent artists can't succeed without the massive financial backing that a corporate record deal affords them. We'll also preview the country's most attended music and media conferences, South By Southwest (SXSW).
Midday (11 a.m. – 1 p.m.) – First hour: Talking about the 2010 Census with Minnesota State Demographer Tom Gillaspy.
Second hour: I didn't find details but can tell you that Veterinarian Dr. Kate An Hunter will be in the studio to answer your pet and animal health questions.
All Things Considered (3-6:30 p.m.) – Minnesota's military veterans could come out as the big winners in an otherwise bleak legislative session. Lawmakers are considering deep spending cuts to erase a nearly $1 billion budget deficit, but veterans programs appear to be off limits. Tim Pugmire reports.
Arts reporter Chris Roberts takes a look at the Walker's two-day festival celebrating internationally known and Twin Cities-based drummer and improvisor Dave King. Roberts will examine King's impact through the eyes of his musical co-horts.