This morning at 9, I'll be live-blogging MPR's Midmorning show on trust (or not) in government. I'll be in the studio and relaying some of your more insightful comments. Look for the blog post to begin around 8:45.
1) I generally try to stay away from writing about Michele Bachmann. There are a million different bloggers in the Twin Cities who make a living doing it, but she's taken on the cause of the National Day of Prayer "controversy" and since I was one of the few bloggers who covered the federal court decision in Wisconsin striking it down, I'll jump in, just so an intelligent discussion can be based on facts. After that, you're all on your own.
"It was never the intent of the Founding Fathers for faith, religion, and God to be stricken from public life as liberals are working so hard to do today," Bachmann said in one of her e-mails yesterday. "This court decision could not be more misguided and has simply no constitutional backing, as our founding document secured for all of us the right to pray. The American people would want it no other way."
Bachmann hasn't read the decision and doesn't understand it. There was nothing — let's repeat that: nothing — in the judge's decision that infringes on anyone's right to pray. Nothing prevents you, me, or the 1927 Yankees from praying or participating in a private National Day of Prayer. The question, however, is whether the government is, essentially, establishing or endorsing a religion by calling for a national day to pray. In other words: is the government sponsoring a religion in doing so?
There is, a casual reading of the U.S. Constitution will show, a constitutional backing for that decision. Whether it will stand up to appeal (my money is on "not") is another story, but clearly the Founding Fathers have something to say on government establishing a religion.
Let's consider what the federal judge in Wisconsin wrote:
"I understand that many may disagree with that conclusion and some may even view it as a criticism of prayer or those who pray. That is unfortunate. A determination that the government may not endorse a religious message is not a determination that the message itself is harmful, unimportant or undeserving of dissemination. Rather, it is part of the effort 'to carry out the Founders' plan of preserving religious liberty to the fullest extent possible in a pluralistic society.' "
In other words: It's not the role of government to tell you to pray. That's something that you get to decide for yourself. To suggest the Constitution does not provide guidance on this general question, is to neuter all other arguments about the role of the individual in our society.
These sorts of things are, obviously, low-hanging fruit for politicians, but there's an intellectual discussion to be had about this important question, were people in America still to place a high value on discussions that start with facts.
By the way, President Obama was the defendant in this particular case.
2) Several other states this week are finding out what Minnesota found out a few months ago: People are anxious to get free money to buy new appliances. The millions of dollars Minnesota distributed in its energy-efficient appliance rebate program was claimed quickly.
In Arizona this month, the money was all claimed in three hours. Massachusetts begins its program today. Florida, Maryland, and California are also just getting around to opening up the phone lines and websites.
The program, at least in Minnesota, was segregated by type of appliance and once people reserve the rebates, they got 30 days to buy their appliance and recycle the old one. So many people tried to get the cash, the state created a waiting list. Maybe those people will get a chance to get some of the money; maybe not. In Minnesota, it's looking like maybe not.
Here's the latest from Nicole Garrison-Sprenger, the communications director at the Minnesota Department of Commerce, whom I asked this week about the status of the effort:
For clothes washers and dishwashers, customers were asked to self-certify that they had indeed recycled their previous appliance. As far as the freezers and refrigerator rebates are concerned – based on the information that we have received from consumers to date, approximately 93.5% of the freezers rebates and 96.1% of the refrigerator rebates have been issued to customers that both purchased an ENERGY STAR qualified appliance and recycled their old appliance. So far, no waiting list customers have received rebates. On May 1st the rebate fulfillment contractor will begin processing rebate applications that have been received from customers on the waiting list.
3) Somehow, this one has got to end up at the Supreme Court, which this week considered whether campus groups can ban gays and lesbians. This issue is bigger: Softball. Specifically, how gay does a team have to be, to compete in the gay softball world series.
The story in the San Francisco Chronicle, reads like it could've come out of The Onion.
But another team, the Atlanta Mudcats, which had lost to D2 in a semifinal game, complained that the San Francisco team had too many straights.

D2 ultimately lost the championship to a team from Los Angeles. Afterward, Apilado, Charles and Russ were called separately into a conference room in front of 25 people for a hearing to determine whether they were heterosexual or gay, the suit said.

They were asked "very intrusive, sexual questions," including what their sexual interests and preferences were, Suzanne Thomas, a Seattle attorney for the plaintiffs, said Wednesday.

Charles, who was D2's manager, asked whether he could say he was bisexual and was told, "This is the Gay World Series, not the Bisexual World Series," the suit said.
4) So, it's Earth Day!
Earth Day has always had this subtext that's been adopted since by every other issue — it's the tree-hugging liberals vs. the keep-your-nose-out-of-my-business conservatives.
But way back when, it was a little simpler. We didn't want to be pigs; we just didn't know any better.
Consider this from Stephanie Hemphill's story today:
Those early Earth Days probably spawned at least one generation horrified by litter, but a recent Gallup poll showed Americans are no more environmentally friendly in their actions today than they were 10 years ago. And they're more likely to reduce energy use, for instance, to save money, not to help the planet.
Maybe environmentalism is stuck in neutral, but it still changed a culture. It was back in 1970. I worked at McDonald's. "Lot and liners!" the boss would yell at the kid (usually me) who was goofing off. It meant, "go pick up the parking lot and empty the trash cans." There were no lobbies at McDonald's then. You sat in your car, ate your food, and then threw all the trash out the window. Nobody thought twice about it, especially the guy who would say, "How's business? Picking up?" That one still gets me.
If you didn't sit in the lot, you'd eat on your way home, and throw the trash out the window. We did the same with our air and our water. We were pigs. We just didn't realize it. That ad above, a picture of the earth taken from man's first flight to the moon, and Earth Day helped turn that around.
For the record, environmentalism didn't start on Earth Day. Here's proof from 1966: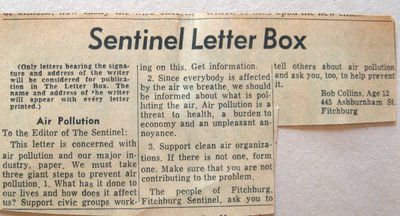 We didn't, as Stephanie suggests, stop pitching McDonald's litter out the window because we wanted to save the planet. We did it because we realized it was stupid, and we didn't want to be pigs. Also because gas stations handed out bags to put in your car to hold your trash. Plastic bags.
Every now and then, some young person will tell me, "You Baby Boomers sure ruined the world for my generation." Maybe. But we also changed a culture. We didn't just get others to change. We changed ourselves.And if things haven't changed much in the last 10 years, that one's on you. We stepped up. A little bit.
5) What is Marketplace trying to tell us when it provides a segment on beating casinos at the blackjack game?
Bonus:
TODAY'S QUESTION
Today is Earth Day, according to a tradition established in 1970 to focus attention on the environment. Does Earth Day matter?
WHAT WE'RE DOING
Midmorning (9-11 a.m.) – First hour: Low trust in government: are Americans wired to be skeptical? A new study by the Pew Center sparks a debate on the role of trust and mistrust in American political life. Less than a quarter of Americans polled say they trust their government. Some experts say people in this country rarely express confidence in Congress and the executive branch. Others note a disturbing trend of increased polarization, in government and among voters.
Second hour: A new study finds 75 percent of teens own cell phones and prefer using them to text rather than talk. And e-mail? That's for parents. Internet researcher Lee Rainie talks about how teens' use of technology has changed.
Midday (11 a.m. – 1 p.m.) – First hour: The "dean" of Minnesota's environmentalists, Chuck Dayton, marks the 40th anniversary of Earth Day.
Second hour: A documentary about sex offenders, titled "No Brother of Mine."
Talk of the Nation (1-3 p.m.) – First hour: Marc Ambinder is the politics editor of The Atlantic, and at one time, was clinically obese. He suffered from sleep apnea and severe diabetes, and his weight so troubled him that he had trouble looking people in the eye. Now, Marc Ambinder reports on the country's long — and so far unsuccessful — war against obesity.
Second hour: After the first Gulf War, U.S. treatment of men captured on the battlefield drew praise as model treatment of prisoners of war. But after the second war in Iraq, allegations of torture and war crimes. Now, a new history puts U.S. policy in perspective, from the revolutionary war to Guantanamo Bay.
All Things Considered (3-6:30 p.m.) – MPR's Rupa Shenoy goes inside the prison that holds many of Minnesota's sex offenders who've been civilly committed. The ACLU is suing over conditions in the facility. The issue is whether the state is providing the treatment that rehabilitation requires.
A new study of wastewater treatment plants in Minnesota finds widespread low concentrations of pharmaceuticals. It's the most comprehensive study of a variety of chemical compounds coming from municipal sewage plants. It confirms widespread water contamination from human medications and antibiotics. Dan Gunderson will have the story.
An improv performance based on a website about things people hear in the Mill City? That's what's happening Thursday night. In Euan Kerr's story, performers explain how it works.