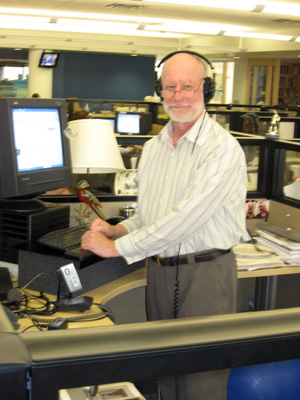 A fad broke out in the MPR newsroom recently. Several reporters reconfigured their cubicles to allow them to stand up while working (expertly demonstrated here by reporter Dan Olson). Many of the participants, truth be told, also tried sitting on giant exercise balls a few months ago, but we don't know if this is all related.
Humans weren't made to sit down, we're told. Now, the Mayo Clinic is studying whether any of this makes a difference, the Associated Press reports.
The Idaho National Laboratory has been collecting data on classroom desks that require the kids to stand up. The Mayo Clinic will compare the students before and after their stand-up desks were installed.
Could the stand-up desks play a role in the fight against childhood obesity? Do students really focus better when they're allowed to move around a bit?

"It's the first, real-world, large-scale study of what will be the future of education," said Levine, who purchased a used Sears treadmill for $350 and assembled his own walking desk after publishing a study that found that thin people were on their feet an average of two hours more and burned 350 more calories daily than obese people.
Dr. James Levine, at the Mayo Clinic, is running the study. Levine has been a long-time proponent of the treadmill desk.
For the record: None of the MPR reporters involved in the stand-up movement are overweight or obese.
And none is a blogger.