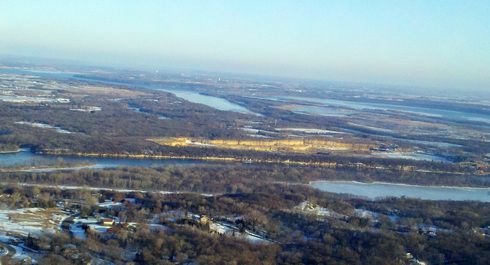 The Mississippi River is still a relatively well-behaved river, judging by this shot taken south of South St. Paul and Newport (click the image for a larger view).
But the National Weather Service has given an indication today that the flood story is going to be here in the Twin Cities long before it appears in the Red River Valley.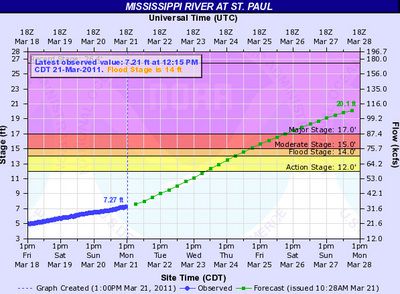 Next Monday morning, the chart says, the river will hit 20.1 feet, and there's no indication that will be the worst of it. In the 1997 flood, the river in St. Paul reached 22.9 feet. Officials says there's an 80 percent chance of equaling that.
The more immediate impact will be felt along the Minnesota River where things have already gotten dicey thanks to ice dams. Here's a fascinating page being put together by Sornie Sorenson. He's taking a picture a day of the river. The City of Mankato is also posting Minnesota River pictures.
And in New Ulm, the flooding is about to get underway. The Cottonwood River is expected to crest at 18.3 feet at mid-week. That's 2 1/2 feet above major flood stage.
Don Hellendrung of New Ulm was kind enough to take some snapshots for me. This one is off Brown County Road 13, West of Flandrau State Park: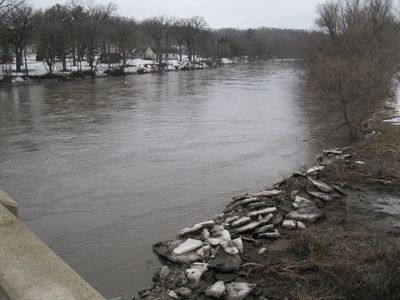 Near Cottonwood St. & S Broadway in New Ulm (known to locals as the Poor Farm Road):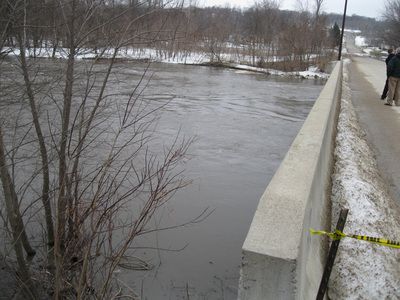 Keep the pictures coming!