Good morning class, Mr. Collins is out today.
0) ELEVEN
I'll spare you the jokes about 11/11/11 — that's 11/11/11 for our friends across the pond — and just point you to The Current's Music Blog, where they're celebrating Nigel Tufnel Day.
1) VETS
Today is Veteran's Day. The Department of Veteran's Affairs has more than two dozen transcripts of speeches given by presidents, vice presidents and other top officials, beginning in 1961 with President John F. Kennedy.
2) EXPENSIVE DEVELOPMENT
Ladies and gentlemen, I'd like to introduce you to your new World's Most Expensive Photo.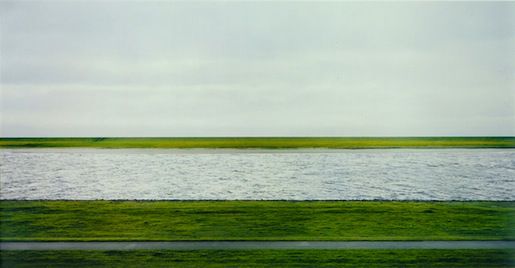 Via MSNBC's PhotoBlog:
A 1999 photograph of the Rhine river by German artist Andreas Gursky has sold for $4.3 million in New York City, setting a record for any photograph sold at auction.
This photo by Cindy Sherman was the previous record holder, which sold at auction for $3.89 million in May.
Art is in the eye wallet of the beholder, I guess.
3) "BLOGGER" "RESIGNS"
"Jim Romenesko", a "popular media blogger" for "Poynter.org", "quit his post" "after twelve years of blogging".
Why? It all started with some questions about Romenesko's attribution practices — those quote marks, as they say.
The reaction on Poynter's site has not been kind.
Question: When you read blogs, articles, etc., do you feel, on average, that you are able to determine whether information is the writer's own words or whether they are attributed to someone else?
4) PENN STATE
The fallout at Penn State continues. The New York Times takes a look at Pennsylvania Gov. Tom Corbett, who was the state's attorney general in 2009, the year a grand jury began its investigation into Jerry Sandusky's alleged sexual abuse of multiple children.
Flash forward: Corbett becomes governor, effectively a member of Penn State's board of trustees, and the only member with knowledge of a criminal investigation about to flip the school upside-down. Corbett's influence lead to the board's action to fire PSU's football coach, Joe Paterno, and president, Graham Spanier.
A scandal? When you're dealing with sexual abuse, semantics are amplified. Jason Snell at American McCarver takes the Penn State coverage to task for falling back on familiar terms:
Tangent: SI refers to this on its homepage as the "Penn State Scandal." I heard a radio reporter refer to Sandusky's actions as a "sex scandal." Guys, a politician lying about something is a scandal. A politician lying about paying a prostitute is a sex scandal. The word "scandal" has been so devalued that it does not do this situation justice. And this is not a story about sex. Rape is not sex. Child molestation is not sex. This is a story about a serial predator harming children.
And one more perspective worth reading from Kate Fagan, who was a student-athlete at Colorado University when members of the football team were accused of rape, and the school of generally using sex as a recruiting tool. Fagan is now a columnist at the Philadelphia Inquirer:
Big-time athletic programs are not entirely unlike nation-states. […]

Everyone's committed to defeating a common enemy: Ohio State or Nebraska or Michigan.

This is what makes college athletics galvanizing and wonderful. And also, for anyone who has been inside it, it's what can make college athletics frightening.
5) GPS
While Norman Ramsey might not have been a household name, Philip Yam writes at Scientific American, you've been a beneficiary of his work if you've ever used your phone to help you get directions. ("Wait, you mean 1989 Nobel Prize in Physics-winner Norman Ramsey," I hear you saying.)
You've also benefited from his work "exploring how atoms and molecules absorb and emit light in magnetic fields" if you've had an MRI, or had the unstoppable urge to know exactly what time is is.
Ramsey passed away last Friday.
TODAY'S QUESTION
Today is Veteran's Day, when we honor those who have served in our country's military. Today's Question: For you or for people you know, has military service been a positive experience?
Midmorning (9-11 a.m.) – First hour: Why unemployment among veterans is so high.
Second hour: Singer, scholar and civil rights activist Bernice Johnson Reagon joins Midmorning to talk about the music of the civil rights movement and the power of collective singing.