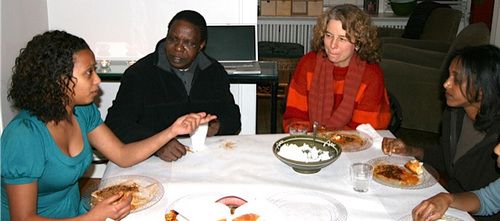 Spend a few hours with Marnita Schroedl, and you'll start thinking that if we could get five million people into her Minneapolis home, the state soon wouldn't have a problem left to solve.
Schroedl and her husband, Carl Goldstein, run an organization — Marnita's Table — that connects the powerless to the powerful through the first thing they have in common: food. It prompted reader Melissa Garrity to suggest her for News Cut's You Should Meet series:
Ah Marnita! She is such a wonderful person. She is a connector. She has an art of bringing people of diverse backgrounds together to connect. Something, I think we can do more often. She has a huge heart and has always brought people together at her table….she then started a non-profit organization (along with her husband Carl Goldstein), called…Marnita's Table (see marnitastable.org). She focuses on starting conversations to bring people together from diverse backgrounds: culturally, financially, gender, sexual orientation, you name it. She feels if we can bring everyone to the table, we can accomplish something.
Schroedl grew up as a foster child in an all-white town in the Pacific Northwest. "I never really quite fit," she said. "I struggled a lot in high school; I attempted suicide four times."
She left home when she was 16 with $5 in her pocket.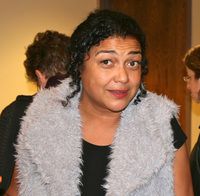 "When I left home I made this vow: Nobody would ever feel unwelcome. As long as I had a roof over my head, that anybody who came to my door, that I would make everyone feel welcome in my home," she said.
She worked in Los Angeles for a time and went back to college with the idea of getting into public relations. But a deeper sense of justice was tugging at her.
"I went to community college for two years and transferred into UCLA as an honor student," she said. "I got all the way to midyear in my senior year. Something happened in the middle of a 'skepticism and rationality' seminar. It was one of these… 'do I exist?' discussions. I may not exist, but in my non-existence there are people who are literally homeless and starving and need help. I got up and walked out."
With a career in corporate communications established in California, she moved to Minnesota in the '90s. But her then-husband left her and the company she worked for went bankrupt.
"I've had one of those weird lives," she quipped. "I basically sat down and revisioned myself."
A dozen or so years ago, she met journalist Carl Goldstein, and turned her attention to doing something that makes a difference. Marnita's Table was eventually born, as described on her organization's website:
Our model, Intentional Social Interaction, is designed to catalyze enduring relationships between disparate populations and the organizations that serve them. In just six years we have become recognized and respected for our ability to bridge cultural differences and bring people of all ages, ethnicities and background together for the common good. Instead of being a "think tank," we are a "connect & then do tank."
It started when a non-profit, Social Venture Partners, was interested in engaging more people of color in philanthropy and asked her to put together an event. "So I invented something called the 'dinner and dialogue' and they gave us a small grant."
Quickly, she says, she knew she was onto something. Marnita's Table events — simply called, "a table" — are organized around a theme — homelessness, education, HIV, for example. People are allowed to invite anyone they want, sometimes to her home. "No less than 50 percent of the people have to be considered "the minority" — non decision-making and non-resource holding, she said. (See "Eating at the Table of Knowledge" for more information)
The meal is a big part of it. So are cards with questions on them spread around the table. "It's not designed to talk about your problems," she said. "It's designed to talk about what you have in common. So you're feeling pretty good; you have a nice glass of wine, there's some good food. The food and the question on the table are leading it. There's no facilitator."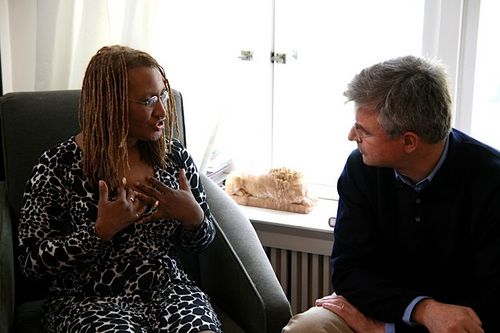 The smallest group at her table was was 12. The largest has been 700. Up to 150 have been in her home at once.
"Most of our things are passive," she said. "You walk in and someone in the room will give you wisdom. Everyone here is viewed as an expert."
Food, she says, is the great equalizer that allows people to talk about something they have in common. It's what happens after that which solves problems.
"On November 5th, a young man came up to me and walked up with this in his hands," she says, holding a very small baking pan with a cookie. "(He said), 'You don't know me. I came to your table three years ago, and what you didn't know is I was homeless and I met someone in your living room. He gave me a job the next day. He knew I was homeless so he let me live in my car. He didn't mind that I didn't have a permanent address. I saved enough that I now have a kitchen and an efficiency apartment. Because I was at the table, I now have a kitchen.'"
During a table, people will leave contributions in envelopes. Schroedl keeps the notes attached to a few dollar bills. "'Forgive us that it's not more,'" she says, reading one. "'If people only knew.'" She pauses and then shakes her head saying, "Forgive us for being poor."
Schroedl says many of her "tables" take place in the 6th Congressional District. "They have all sorts of racial issues," she said. "It's a very diverse community in St. Cloud now. Most of those people come from conservative evangelical churches; they're bringing them in as war refugees."
In February, St Cloud School District Superintendent Bruce Watkins hosted a table with 90 community members to consider ways to improve the schools, a program called "Together We Succeed."
She described a typical moment in the life of a table:
"There was a Somali man, and a man who (on a form participants fill out) said his passion is 'maintaining a non-Socialistic, free society that is not taxed in excess.' This guy and this guy aren't in the same room very often. They both had 9th graders so they were talking about what educational success looks like to them. The Somali man said both his daughters were gang raped at a war refugee camp and so the definition of success to him is 'when both of my daughters sleep through the night and they come home from school smiling.' This other man had a 9th grade daughter, too, and he leaned in and touched the other man's hand. And they put their heads together and they started talking. It's about that human relationship and seeing each other as something other than their politics."
But in this case, the program didn't work out. The summer state shutdown scuttled it. Still, you can't defund a human connection.
There are many more success stories, however. Schroedl hosts tables for students, who, she said, change their behaviors because of them. One young woman, for example, said she was getting D's and F's until she went to one of Schroedl's dinners. Sometime later, she returned with a report card. "'What you don't know is I went back to class with a goal,'" she recalls the woman saying . "At the end of her quarter, she was getting B's. She said the dinner and conversation "'was the very first time anyone looked me in the eye and treated me as if I had value. I started behaving as if I had value.'" She's in college now. She also works for Schroedl.
"It's about knowing that all of us need a place. We need to know that we're safe, that even if mom and dad get a divorce and that we don't have money that we're going to be connected, that we matter, that we have value. And that's the number one thing I hear from the young people who come to the table: We mattered," she said.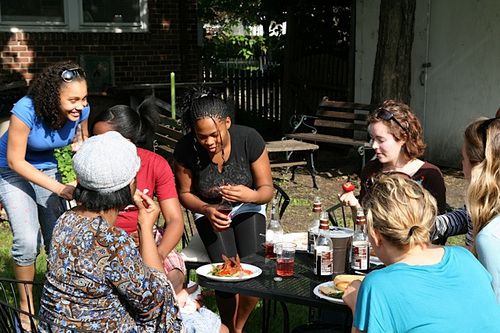 Each summer, Schroedl and Goldstein host an "I Have a Dream Graduation Party." In 2008, a graduating senior invited her grandfather, a 78-year-old from Otter Tail County who "was deeply uncomfortable with the idea of mixed-ethnic romantic relationships."
"There was food everywhere and we took all the furniture from the main floor of our house and put carpets on the front yard. We made a living room and dining room on the front yard so everyone could dance," Schroedl recalled.
"Fifteen minutes after he came, he was literally bouncing saying, 'This was the best party I've been to in my life.' Fifteen minutes later he said, 'I've never been with this many people of color before in my life. I always thought we had nothing in common, but it's just that we've never talked before.'"
"Fifteen minutes after that he came up to me and said, 'I live in Otter Tail County and the white people don't talk to the immigrants and the immigrants don't talk to the white people. I always thought it was because they were just in my community taking things, but I'm getting it's because we don't have a connection.'"
"The fourth time he comes back to me and says, 'I've been talking to my wife; we want you to come to Otter Tail county and do a table.'"
"You know your living room will be half-filled with immigrants and people of color?" Schroedl said.
"He looked at me and said, 'My community is dying. We can't get anything done. This looks like it could really help my community.'"
Six months later, she said, the granddaughter brought a boyfriend home.
"He was Mexican-American," Schroedl said. "And Grandpa showed up unexpectedly." They both got along great, she said.
"'What happened?'" Schroedl says the granddaughter asked him.
"'You took me to that thing six months ago. I didn't know what I didn't know.'"
All because of a vow made by a 16-year-old girl who didn't fit in.
---
Do you know of someone we all should meet? Who's the most interesting person you know? Submit their name and tell me why.
(All images courtesy of Marnita Schroedl)