When Groupon launched in 2008, it was pretty much the only website offering deals based on the power of collective buying. Groupon has a patent pending for this model, but that hasn't stopped a slew of copycat websites from flooding the web (and my inbox).
They look the same, the deals sound the same and most have names that are made up of two words and no spaces. Why are there so many? First, let's take a tour of the crowded social buying field:
LivingSocial counts Amazon among its investors and they claim to be the fastest-growing company in the social-buying category. Today's deals for the Twin Cities include a 70% off a photo shoot, 50% off a manicure, and 50% off kids' acting classes.
DealChicken is brought to you by "your local Gannett newspaper or television station, which has been a long-time trusted member of your local community." In the case of the Twin Cities that would be KARE 11. Today's deal is 50% off Jakeeno's Pizza and Pasta.
GearBuzz is part of Competitor — a company that puts on endurance sports events. Appropriately, this deal site specializes in gear for the triathletes and marathon runners among us.
Crowd Cut is based in Minneapolis and has a space in its name. At this point the site only offers deals in the Twin Cities and Atlanta. Here's this morning's deal: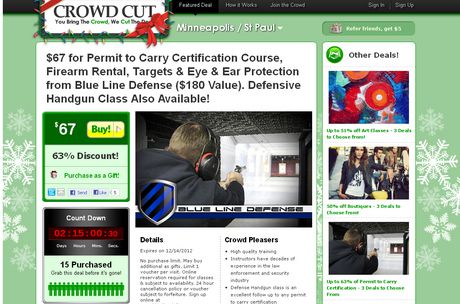 And then there's Dealster, KGB Deals, HomeRun, CrowdSavings, Twongo, and EverSave. Or you could just go to yipit that aggregates the deals offered by 782 deal services.
But why are all of these sites rushing to get on the social buying bandwagon? Groupon grew incredibly fast and it looked like there was plenty of money to be made.
But things are looking a little more uncertain for the company. Groupon went public in November but it's stock price fell steeply over the first three weeks and was seen as something of a dud. LivingSocial felt the repercussions and will not pursue its own public offering anytime soon — but then news of this delay caused Groupon shares to continue to climb back up.
But Groupon is under investigation in the UK for breaking advertising regulations. On top of that, Groupon has been sued recently by employees and merchants.
So while all these deal sites figure out how to make money and merchants try to figure out how to take part without going out of business, there are lots of deals out there for you, the consumer.
Looking for an ice house? Google Offers has a heckuva deal: