It's a weird statistic, we'll admit. But North Dakota and Minnesota are tops in the nation when it comes to states where people are the least pessimistic about the state of the economy.
That's according to the Gallup organization's Economic Confidence Index for 2011.
Here's a look at the nation.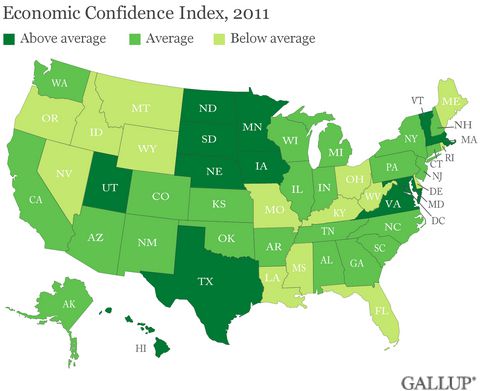 The index is based on the answers to survey questions on how people view current conditions and if they believe the economy is getting better or worse, Gallup adds::
Americans overall and in every state remain more negative than positive about the economy, creating a challenge for President Obama as he seeks re-election this year, given the strong relationship between economic conditions and an incumbent's re-election success.

On a near-term basis, however, economic confidence picked up in January of this year, perhaps foretelling a more positive uptick to come in 2012. Americans are also substantially more confident about the economy now than they were in the year Obama was elected.
Demographer and researcher Richard Florida dove into the Gallup data recently and found states with higher average incomes and higher education levels were the least pessimistic.
He also reasoned that, "States with greater concentrations of knowledge, professional, and creative workers had higher levels of economic confidence than those with larger blue-collar workforces."
Being among the least pessimistic, of course, does mean Minnesotans are optimistic. But given where we've been in this recession, we'll take it.