1) COINCIDENCE AND THE SHOOTOUT
"Can I tell you about the history of the building?" Matt Foy of Brainerd said to us late yesterday as we were exploring a couple of holes outside the building that houses his Design Consign shop in the city's downtown.
He couldn't have known that the person I had just been interviewing on another topic yesterday — Wendy DeGeest — knew exactly how the holes got there. They were intended to kill her father, who was the last living survivor in the building the day Baby Face Nelson came to Brainerd.
That the two came to meet each other on a streetcorner was the sort of pure, delightful chance that keeps bloggers coming to work each day.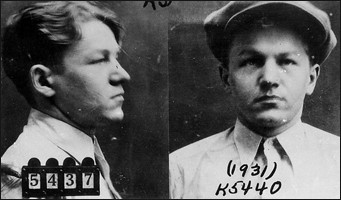 DeGeest's father — Zane Smith — was a teenager employed as a courier at the First National Bank. On October 27, 1933, Smith returned from an errand to find all of the employees of the bank lined up along a wall. Nelson's gang was robbing the joint but needed the combination to the safe.
He told his story to the Brainerd Dispatch (founded by his father) years ago:
"Baby Face Nelson crouched down on his knees in front of a huge pillager," said Smith in 1999. "He jumped to his feet and took after me. He took ahold of the top collar of my top coat and twirled me around and socked me in the jaw."

The blow knocked Smith off of his feet and he was dragged across the floor to a spot where the bank janitors, Mr. and Mrs. L.A. Peterson, and guard Bob Titus, were located.

One by one the bank employees were corralled and stretched out on the front office floor until they numbered a baker's dozen. When the tellers arrived, each was taken in turn to open their separate vaults.
Nelson and his gang escaped with $30,000 — about $500,00 in today's dollars. With mining operations and the railroad in full tilt, Brainerd had a lot of cash around town.
Nelson fired his machine gun into the ceiling, ran out to the getaway car, and sprayed the building with gunfire. "They simply sprayed up and down the street as they left to make sure that no one was going to bother them," said Smith in 1999. The bullet holes now belong to Mr. Foy.
His shop was closed when we arrived but he was delighted to reopen the building to give us a tour. It was a pawn shop when he and his parents bought it a few years ago. The old windows had been drywalled over and he found them by accident, staying up all night to uncover them and preserve them. He removed the fake ceiling and found the original tin one, with the bullet holes still there.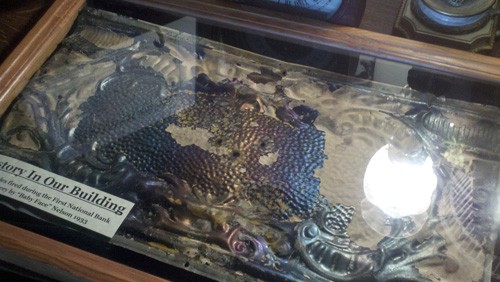 And the big vault? "It's still right below us," said Foy, who clearly has a historian's heart.
Whatever history he was missing, Ms. DeGeest filled in yesterday.
They'll get to know each other better. Foy wants to follow Northfield's Jesse James Days idea and celebrate the day the Chicago Mob a Chicago mobster knocked off a Brainerd bank starting — maybe — this October.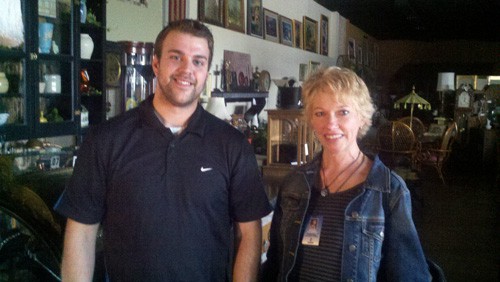 Zane Smith died in 2003, the last person alive who was in the bank that day.
In Brainerd in 1933, you could rise from courier to become a bank vice president. Mr. Smith proved it.
An East Metro school district has had it with all of the competition kids have with each other to become class valedictorian.
The Woodbury Bulletin reports the South Washington County school district is now going to keep class ranking a secret. The move comes after several stories about some students who were upset that they spent their senior year trying to "outdo" to the competition for the honor only to end up falling short even though they aced their classes.
"We want them to focus on their class choices," said Kris Moe, a counselor at Cottage Grove's Park High School, "not on how the student is doing next to them."
Class rank will not only not be reported to the students, it won't be revealed to any scholarships or colleges. Or parents.
Coincidentally, the same newspaper edition carries the story of Woodbury's East Ridge High School's top student:
"My mom always said it's good to get to the top and stay there rather than try and fight your way up," Allie Kobe said.

Kobe said being ranked at the top of her graduating class was a goal that she set for herself early on since she had a sister who maintained the top spot until her senior year when she slipped from the top.

"She didn't get it," she said, "so I had to."

Kobe said the friendly competition among classmates helped her push herself further.
Related: What the $5 Billion Threat to College Loans Looks Like (The Atlantic)
3) SUPPORTING THE TROOPS. BUT NOT WITH A HOT MEAL
Marines in Afghanistan are doing without a hot meal, NBC News reports. It's part of a sign the war is ending, it says.
"The fact is our force in Afghanistan is shrinking fast and all the creature comforts and services deployed military-members have grown accustomed to over the past decade are going to be reduced," Lt. Col. Clifford Gilmore wrote in an email to NBC News. "When serving we are challenged to endure different things — to face different challenges — over time. But we're an odd bunch, we Marines — probably no surprise that we'll complain more about losing the sandwich bar on the way out than we did about getting shot at on the way in."
4) THE HAITIAN SERVITUDE STORY? NEVER MIND
On May 20, The New York Times Lens Blog posted a fabulous photo story about child slavery/servitude in Haiti.
Maybe it was too good. The investigative reporter had a financial relationship with the "master" of the child servants.
The Times has deleted the photo story and offered up a single paragraph — somewhat lame — explanation.
Michael Shaw at BagNews has some questions:
And a more general editorial question: Given how little media and photo coverage there is about Haiti, especially after the depiction of the U.S. as rescuers of the hapless Haitians after their devastating earthquake, is there and should there have been a higher bar to meet in terms of this story? Wasn't the post at risk of reinforcing the racist stereotype of the Haitians as amoral, lazy and enforcing their own plantation mentality?

I'm also curious why photo blogs, especially those run by major media organizations, don't fact check photos. It's not like these images of Judeline, including the one with Petit-Phar, were being published here for the first time. Not only did the photos earn Sokhin an award from Nikon, to name just one appearance (and perhaps another failure to fact check), but several of the photos previously appeared in an article in the NYT's own International Herald Tribune in December 2012.
(h/t: Nate Minor)
Here's the entire concert from last night's Boston Strong fundraiser, headlined by Boston bands Aerosmith. Some of the content, which raised money for Boston Marathon bombing victims, is not suitable for the workplace.
Dane Cook, who for some reason still has a career even though (a) he's not that funny and (b) he's done everything he can not to have one, blocked his set from streaming, which made him a big hit on Twitter.
Bonus I: Davide Trancredi, 17, wrote a letter to Italy's La Repubblica. He's thinking of taking his own life because he's gay.
Bonus II: The Twins and Brewers dressed in old minor league uniforms last night, and reminded us all how much classier the game was when the uniforms were classic.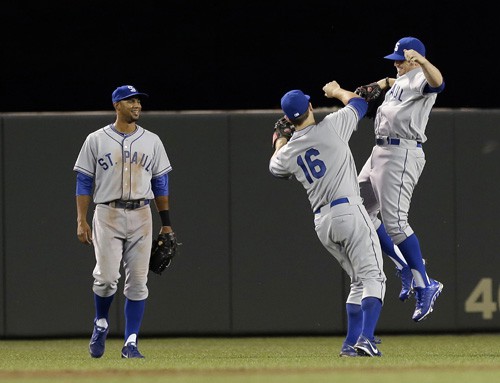 Bonus III: "For each thing we lose, we gain another."
TODAY'S QUESTION
Do you support copper-nickel mining near the Boundary Waters Canoe Area Wilderness?
WHAT WE'RE DOING
Daily Circuit (9-12 p.m.) – First hour: A panel of state legislators will share their thoughts on the 2013 legislative session. We heard a lot about guns, gay marriage, and taxes during the session, but what about the issues and legislation that didn't get as much coverage?
Second hour: Novelist Khaled Hosseini.
Third hour: BBC documentary, "On the Trail of the American Honeybee."
MPR News Presents (12-1 pm): A program from the "Climate One" series about pipelines, tar sands, and the fossil fuel economy.
Science Friday (1-2 p.m.) – The new edition of the DSM, the so-called "bible" of psychiatry, is here. But many psychiatrists are saying the book's approach is out of date. What's next in diagnosing and treating mental illness?
All Things Considered (3-6:30 p.m.) – There are smart phones smart TVs and increasingly there are smart cities. The big business of digital technology is aimed at making cities more efficient, more transparent, safer, and more responsive to residents. How do they do it? The NPR Cities Project finds out with its new series on urban innovation.
The national summit for unmanned aircraft systems in Grand Forks includes a session on the legal, moral and ethical aspects using of unmanned aircraft. MPR's Dan Gunderson will have the story.
Brett Neely saysDemocrats and Republicans alike have condemned the Internal Revenue Service's targeting of conservative groups that applied for nonprofit status. But even if there's bipartisan condemnation, Republicans have begun to use the scandal to criticize Democrats who raised concerns about some groups that may have been abusing their nonprofit status. DFL Senator Al Franken is one of the members of Congress who's taken criticism from the right. But the charges against Franken are thin.