Youth sports and the old days, just another day at the high school, the air traffic controller tin cup, the suspicious NYT account of an emergency landing, and Michele Bachmann by the numbers.

1) YOUTH SPORTS AND THE OLD DAYS
I accept as a casualty of my age that I am more prone to believing that elements of our cultural past have lessons for our cultural present (that is to say: the good old days), but there is no way for me to avoid that conclusion as I've read this week's outstanding Star Tribune series on the money in youth sports. Fat-cat boosters and parents who want their children to win at whatever the cost have transformed the nature of play. Advocates still tell us that high school sports, in particular, can teach children valuable life lessons. Here's the life lesson we should learn from the series: Don't let adults run youth sports.
Over the course of three days, the series has drilled a constant message from the "haves" and the "have nots." It's unfair, it has said, that some teams have more money — and thus resources — than others. The sadness of the series is that few people involved have noted the cultural calamity of our need to win to win in the first place.
There are only three things that people have said to me over these years that I have not forgotten at one time or another. After I graduated from college and was looking for work in a fleeting period in our history when we weren't fighting other counties' wars, my father said, "If you want job security, join the Army."
An ex-colleague, at a reunion party for a radio network where I once worked, casually remarked, "Man, we were glad to see you go."
And a coach of a summer club hockey team said to me, "because I want to win."
I played high school and college hockey, and that sounds more impressive than it really is. I made my college team because I was the only player who could skate backwards. I beat out 30-40 other schoolmates in high school to be the last guy on the team. I didn't play much and when I did, the game was usually over. In my sophomore year, my team was 0-19-1, having tied the last game of the year. I didn't play much; my undistinguished career featured eight years of organized play, no goals scored.
To my knowledge, the only picture of me in action is this one. I'm number 5. Playing the bench like nobody's business.
In my junior year, I was recruited to play a summer league team. A family acquaintance was the coach. Because the team was mostly made up of my high school team, I, again, didn't play much. Midway through the season, we held a lead against some team I don't recall, it was late in the game, and I wanted to play. This was a summer recreational league.
"Can I play?" I said to the coach.
"Not now," he said.
"Why not?"
"Because I want to win," he said.
I never went back for another game.
I have few recollections of any of the organized games my teams played. But I recall with ease and incredible fondness the pick-up games on a pond across the street with my pals in the neighborhood, and my hockey-loving older brother, who died a year ago. A neighborhood hockey rat didn't have shin pads — "Termite" was his name (we had nicknames for kids back then) — so he taped comic books to his legs.
Youth sports were the park & rec games in the ballyard behind my house (since turned into a soccer pitch, but that's another story). It's been more than 45 years since I stabbed the vicious line drive shortly before it hit one of the Shaw twins' face, and yet I can still see the expression on his face. They're both dead now; someone said drugs were involved.
But there was a joy to being a kid playing youth sports and we have ruined that joy in the name of teaching kids life's lessons. In the name of satisfying the adults on the sidelines.
The ballparks in my neighborhood now are mostly empty. The kids are playing down at the big sports complex in front of the same sorts of parents I became, who lament that the traveling teams from Edina have better uniforms. After some games, as I recall, the coach — whose son usually was the starting pitcher — navigated a sea of parents wanting to know why their kid wasn't playing.
He didn't say "because I want to win," but he didn't have to. Winning was the point. Winning is still the point.
A few weeks ago, the Twins made a big splash out of showing a 20-year-old movie on the scoreboard. The Sandlot embodied the childhood games some of us are lucky to remember. On Twitter, an acquaintance objected to the fuss people were making. "It's not Citizen Kane," he said. And, he's right; it's not. But Citizen Kane never reminded us of the role of childhood games before my generation grew up to ruin them.
No doubt the takeaway from the Star Tribune's series will be that the "have not" teams should get more money. Here's an old man's idea: Give all the teams no money. Point to the field or the rink, and tell them "go have some fun on your own."
That's a quote they'll remember forever.
2) ANOTHER DAY IN THE LOCAL HIGH SCHOOL
Is this appropriate force to break up a fight between studentswhen students fight in school? Another student with a camera took this video of a fight at Champlin Park High School recently.
Citing data privacy laws, school officials aren't talking about the fight between a white student a Somali student.
The Council on American Islamic Relations has asked the U.S. Department of Education to conduct an open and independent investigation into the matter, WCCO reports.
3) THE BILL FOR AIR TRAFFIC CONTROLLERS
During the big airshow at Oshkosh, Wisconsin each July, the control tower becomes the busiest airport in the world. How big of a job is it to keep people from running into each other? Count the number of controllers (they where pink) when I toured the tower last summer.
It's so busy that air traffic controllers are hand-picked to attend and sort everything out. When the FAA announced its sequester plans, it said Oshkosh would go on as scheduled, unaffected by the controversial cutbacks that were to hit other airports.
Now comes word that the FAA is asking the local sponsors of the extravaganza to pay the cost of the controllers.
4) DID THE NEW YORK TIMES PUBLISH A FAKE ACCOUNT?
Noah Gallagher Shannon's column in the New York Times a couple of weeks ago sounded — how shall we say this? — embellished. It involved a flight he was on that made an emergency landing in Philadelphia because of a landing gear problem.
This paragraph is a bit over the top…
The captain came out of the cockpit and stood in the aisle. His cap dangled in one hand. "All electricity will remain off," he said. Something about an open current and preventing a cabin fire. Confused noises spread through the cabin, but no one said a word. "I'll yell the rest of my commands from the cockpit." I could see sweat stains under his arms. "Not going to sugarcoat it," he said. "We're just going to try to land it."
Maybe it happened just that way, but it's not likely unless it was a really small plane, the pilot always wanted to be an actor, and the destination was Hollywood.
At the Washington Post, humor writer Gene Weingarten smells a rat:
I am not saying this story is made up; it may well be literally true. In fact, it gets the benefit of the doubt from me because it is in The Times, and I presume The Times checks things out. But everything about how this story is presented raises red flags in my mind. I don't know whether this is a failure of writing and editing, or something worse, but I do know it should not have been in print in this fashion, and that's what makes me angry. When you have a story this thin and coy and suspect on its face, in small ways it subverts all feature work, which relies on a reservoir of reader trust.

Consider this tale: We are not told which airline this was, or when this incident occurred. We are presented with a scene of almost unimaginable terror, with a satisfying cast of characters (a disaster expert from FEMA! A scared, weepy cute young woman! A taciturn, Clint Eastwood pilot!), ending with an amusingly ironic anticlimax. It all works, leaving the reader desperately curious to know why this had happened — ("could this happen to ME?") — but it is a curiosity not shared by the writer, a supposed journalist. We journos are a notoriously curious lot. Not this guy. He doesn't give a rat's patootie about what happened! Never asks! Not even later when he decides to write about it however many months later!
There's no record of any incident happening at Philadelphia on the National Transportation Safety Board database, but there wouldn't be. The incident doesn't rise to the typical level of NTSB investigation.
5) MICHELE BACHMANN BY THE NUMBERS
Number of terms served in Congress: 4
Number of votes missed: 577 (10% of roll call votes. Median is 2.3%)
Number of bill sponsored in House career: 58
Numbers of bills passing the House: 4 (source: GovTrack.us)
Number of committees or subcommittees chaired: 0
Amount of campaign money raised during House career: $35 million
Rank among House members for campaign cash: 4
Google citations of Michele Bachmann:34,900,000
Nailed it: Why it's increasingly likely Michele Bachmann will retire (MinnPost)
Bonus I: Why do dogs yawn when they see sleep humans? (Scientific American)
Bonus II: The last time we saw Jeff Bauman and Carlos Arredondo together was at the Boston Marathon.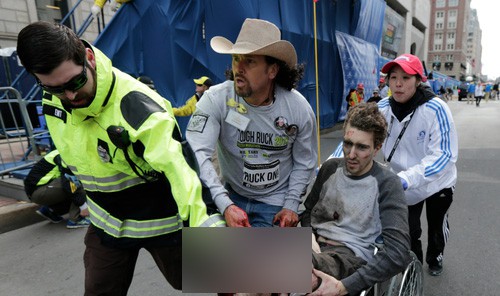 Until last night…
So it's probably not the best timing that the New York Times ran an article that says baseball's "first pitch" is being diminished by marketing.
TODAY'S QUESTION
What do you think about Michele Bachmann's decision not to run for re-election?
WHAT WE'RE DOING
Daily Circuit (9-12 p.m.) – First hour: Two-thirds of all pending disability claims at the Department of Veterans Affairs have been sitting there longer than 125 days. Members of Congress, veterans' groups and even Comedy Central's The Daily Show have focused their attention on this issue and some are calling for President Obama to replace Eric Shinseki, the secretary of veterans affairs. What's the cause of the backlog, and what's being done to alleviate the problem?
Second hour: It's been two months since part of an oil pipeline sprung a leak in the small town of Mayflower, Ark. Reports of nausea followed shortly after people began reporting fumes in the air. Black gunk oozed into streets and bubbled up in yards.
The company that owns the pipeline, Exxon, swept in on the scene with cleanup crews and doctors to assess the sick. And if you look at before and after pictures of the city, you'd think that everything is back to normal. But is it?
Third hour: Kerri Miller is at the World Science Festival in New York. Today she talks to physicist Brian Green, who has written best-selling books about string theory.
MPR News Presents (12-1 pm): TBA
Talk of the Nation (1-2 p.m.) – The Political Junkie. John McCain makes a secret trip to Syria, the president tours the Jersey Shore, and as scandals mount at the White House, comparisons to previous administrations — Nixon, Carter, Bush — pick up steam.
All Things Considered (3-6:30 p.m.) – Graduates applying for jobs need a resume that's free of errors and an online reputation that's free of embarrassing details. More and more, young job-seekers are hiring the help of companies that say they'll clean up the digital breadcrumbs left behind that could become a liability. But just how much can these services deliver? NPR looks at the business of managing online reputations.