If you live in Minnesota or the rest of the Upper Midwest, this is the week to deliver payback to your friends who spend the winter in Arizona, and delight in sending e-mails in January that it'll be so cold tonight — 75 — that they might have to put on a sweater.
As I write these thoughts of retribution, it is 101 102 degrees in Tucson with an expected high today of 113. There's some relief in sight, however. Next Friday it'll only get to 102.
Nonetheless, today's high temperature is still 13 degrees above normal, but still well below the highest temperature ever recorded in North America (and on earth) which occurred in Death Valley on July 10, 1913. Curiously, perhaps, today's high in Death Valley will reach only 99 degrees. Bundle up, Death Valley.
But, as you've probably heard, it's not the heat, it's the humidity. How long, for example, could a human survive in today's heat gripping the Southwest?
Consider this chart via LiveScience.com: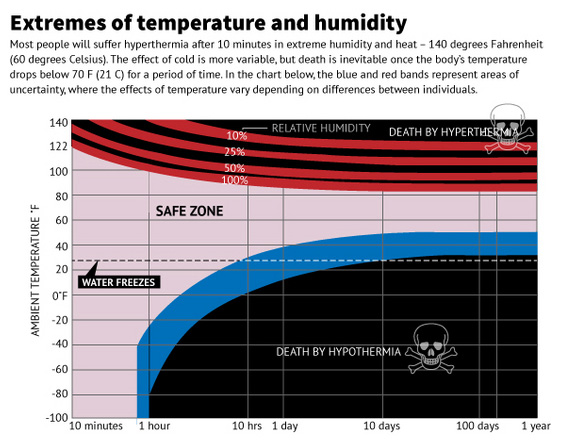 With the humidity only 10 percent today, the good people of Tucson (and the bad ones, too) could take another 12 degrees or so before their bodies would give out with significant exposure to the heat. Death Valley might break its all-time record between now and Wednesday, however. And other inhabitated areas of Nevada could also stretch the limits of endurance.
Better get your emails sent today.