Other than the airlines, nobody is better at treating customers like dirt than Major League Baseball. Friday night's game in Cleveland is a perfect example.
It was Friday night fireworks night at Progressive Field, a tradition that dates back decades in the city. Tickets for fireworks night go quickly because few stadiums provide the after-the-game show that the Indians provide. It's worth the price of admission.
The Tampa Bay Rays were in town for their only visit of the year, and therein lies the heart of the problem. Baseball insists on jamming an unbalanced schedule down fans' throats and non-division teams only make one visit a year to any city. The Rays were in for a four-game homestand, leaving little wriggle room if it should rain.
It rained.
Any decent business would've thought about the customers and postponed the game, playing a doubleheader either today or tomorrow. But not baseball.
The rain delay lasted almost five hours, and the game didn't start until midnight (they actually started during a lull in thunderstorms when it was obvious they'd get no more than an inning or two in) , ending around 3 a.m. Few fans stuck around to sit in the rain until midnight. Fewer still hung around until the end. There were, of course, no fireworks.
The fans were sacrificed in exchange for keeping the schedule intact. The team made a ton of cash by not having to schedule a single-admission doubleheader. The home team took the fans' money, and essentially provided nothing in return. No tickets for another game were offered.
So it was especially galling for the Gardner family to see this picture of themselves posted on Facebook by the Indians with the caption:
Thanks to everyone who is sticking it out with us, both here at the park, and on our TV and radio broadcasts! We'll resume play here at Progressive Field momentarily.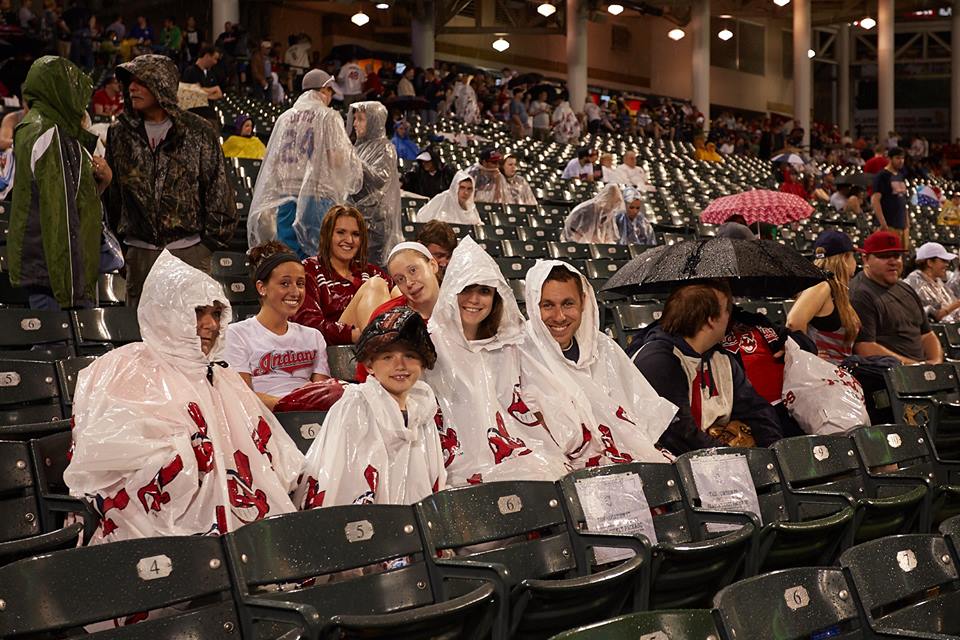 In truth, the Gardner family was already gone by the time the game started. "We spent $260 on tickets, $25 in parking, $25 in food, gas to drive an hour each way," Cyndi Gardner writes. "We finally had to leave after sitting there for 5 hours. My daughter had to be at work at 8:45 and we live an hour from Cleveland."
Other fans who were at the game shared similar thoughts.
"Wish I could have stayed, but we had a 6 year old with us," Amy Moses wrote. "A six year old that was thrilled to be in extremely good (and expensive) seats. A six year old that graduated from kindergarten today. A six year old that got to see just 9 outs. A six year old that is now sleeping in his bed. A six year old that was heartbroken on the drive home because he never even had a chance to cheer on his team. So disappointed in your decision to even start this game. Hamilton shared that the home team decides to throw the first pitch and the umps decide once the game starts. WHY DID YOU START THIS GAME? Was it because you cooked thousands and thousands of hot dogs that you had to sell?"
During the game, other fans said, the team provided no information about when the game might start.
"Include myself and my daughter as people screwed out of money and a night where we could have done alot more then dodge rain drops," Jason Weppelman said. "Waited till 1030 when she was exhausted from having nothing to do after nearly 5 hours of nothing and left. We have been to 3 games already this year….This will be our last game if some sort of makeup game or refund isn't offered."
"What an insult to us diehard and broke fans who spend a ton of money to bring our 3 young grandchildren to this fireworks game, stuck with it for 4 hours wet and exhausted & finally gave in to going home when the little ones were like walking zombies. Thanks tribe for a $300  lesson," writes Laura Szendel.
There once was some protection for baseball fans caught in rain delays. The league had a 1 a.m. curfew for ballgames. But the rule was changed a few years ago that eliminated the curfew for games in which the visiting team is making just one trip to a city.
Coincidentally, Cleveland is among the worst cities in the league in attendance. A badly run organization, the team has run its casual fans away, and now is apparently targeting its remaining loyalists. Last year a pitcher, closer Chris Perez, got in trouble with the team for calling out fans on Twitter for not "supporting" the team.
But this is not just a "Cleveland thing." The St. Louis Cardinals did the same thing to their fans in a game against Kansas City earlier this week (although most of the game had actually been completed by the time the rain came), and St. Louis may have the best fans in all of baseball.
Last year, you may recall, fans criticized the Minnesota Twins for opening the gates for a game that the forecast suggested had no chance of being played, sold booze and food for a few hours, and finally called the game.
There's no protection for the fans. You buy tickets and make your plans at your own risk.
Update 6/1/13 3:11 p.m. –  The Cleveland Indians released this statement this afternoon. Note that they offered the fans nothing.
Tribe fans:
Thank you to all those who endured the rain delays from Friday night's (May 31st) series opener against the Tampa Bay Rays at Progressive Field.
For those who were unable to remain at the ballpark, we apologize for the inconvenience of the delays and subsequent re-start of the game after midnight.
There was a multitude of extenuating circumstances that led to what we recognize was a challenging experience for our fans:
At the time of last night's game, there was considerable uncertainty within the remainder of this weekend's weather forecast
Last night's weather forecast continually changed throughout the evening leading to the unfortunate after midnight re-start
Our ability to play at a future date was limited by two factors of significance: Tampa Bay does not return to Progressive Field in 2013 and as outlined within the terms of the basic agreement there are no viable mutual off days in the future to reschedule
We value each and every one of our fans. We want to thank the fans that did stay for some or all of the game for their loyalty, patience and perseverance.  Our fans were incredible last night.
While we did our best to ensure that those who stayed had a great experience, we realize that the weather related circumstances from Friday's game presented difficulties for many fans to have a memorable ballpark experience.
We are always looking to provide our fans the best experience possible at Progressive Field and in the near future reach out to last night's fans to make it right.
Thank you and Go Tribe!