(Originally published May 11, 2012)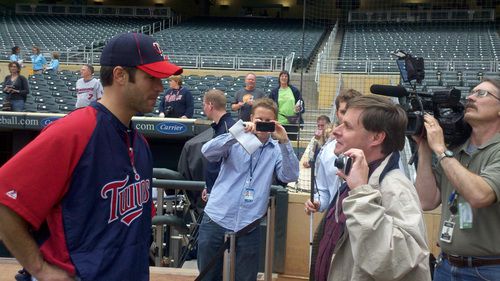 In Reggie Deal's family, when someone turns 40, they get to do something big. The Texas native's wife toured the Amazon last year and although the Wyoming resident doesn't turn 40 until next year, they decided if he's ever going to reach his goal of visiting all 30 major league cities in 30 days, this was the year to do it.
Deal has been blind since birth and appears to enjoy –and know as much about — baseball as much as the most hard-core baseball fan you've ever met.
He can tell from the sound of a ball hitting a bat where it went and the type of hit or out it was. "It's not that I 'see' things other people don't," he said at Target Field in Minneapolis this afternoon. "It's the perspective. There's a lot of things that go on at a ballpark that the stadium itself will tell you. The fans react a different way when the ball is hit." Not far away from where he spoke, a Twins player was taking batting practice and Deal was telling the group of reporters more interested in him where the ball was going.
"There's a big echo in here when the ball comes off the bat," he noticed. "More so than in other parks."
Originally, he was hoping to find a sponsor to underwrite his trip. His dad died, however, and he decided to use some of his insurance money for the quest, in which he's finding that some cities are more "major league" than others.
The Twins stepped up big in that department today, sending a car to pick him up at the airport, deliver him to his hotel, and then escort him to Target Field, where he was invited to the team's batting practice and to meet catcher Joe Mauer.
Minneapolis-St. Paul is the 13th city on the tour. He started in Texas two weeks ago, hit Florida and the mid-Atlantic cities, then New York and Boston.
"The travel process is a little frustrating," he told me this afternoon by the batting cage of Target Field. "We started out and agreed I wouldn't carry a lot of cash. In three different cities, cabbies wouldn't take credit cards so I had all of these strangers running me to ATM machines. I got hit in the mouth when a cabbie closed the door prematurely on Wednesday so I have a chipped tooth there."
He was disappointed yesterday in Boston when the Red Sox denied him a pregame tour of the park, although they made up for it — partly — by letting him onto the field after the game.
"The Red Sox fans are very rabid. Last night when Josh Beckett got beat around, they were on him mercilessly. There's a very high baseball IQ there. The Yankee fans the same way. The St. Louis fans the same way. I think there's so much baseball tradition there, they expect the team to do well," he said.
The way things have gone, there's no telling what stories he'll leave town with from Minnesota fans. He heads to Phoenix on Saturday, and then five games in California before hop-scotching back across the country and Canada to fill in the missing cities.
"You're going to be to more ballparks than I've been to," Mauer told Deal.
"Get me a win," Deal told Mauer. "The last five games I've been to the visiting team won."
"That's not the case tonight," Mauer said.
It wasn't the case this afternoon either.