Quick note: With the redesign of NewsCut, commenting is now easier than before and provides additional options for you: links that are already formed, the ability to post images, threaded discussions, voting on individual comments etc. You don't need a Disqus account to comment. For those of you new to 5×8 (and those who aren't), we hope you understand that this is a two-way blog and feel welcome to contribute your expertise and perspective.
1) THE GOOD, THE BAD, AND THE…
If there's love in the world, someone will chip in and buy a new tool trailer for TSE, a non-profit in Vadnais Heights. It helps find jobs for people with developmental disabilities. It also, apparently, was an easy target for someone who wanted a new trailer and felt justified to take it from people with developmental disabilities.
It also contained several lawn mowers, a blower and stacks of equipment for the lawn service the group runs, WCCO reports.
The crew says they will honor their commitments to tend to lawns, even without many of their tools.
Do that thing you do, Minnesota.
On the other side of the human spectrum, we give you Team Andy from Norwood Young America.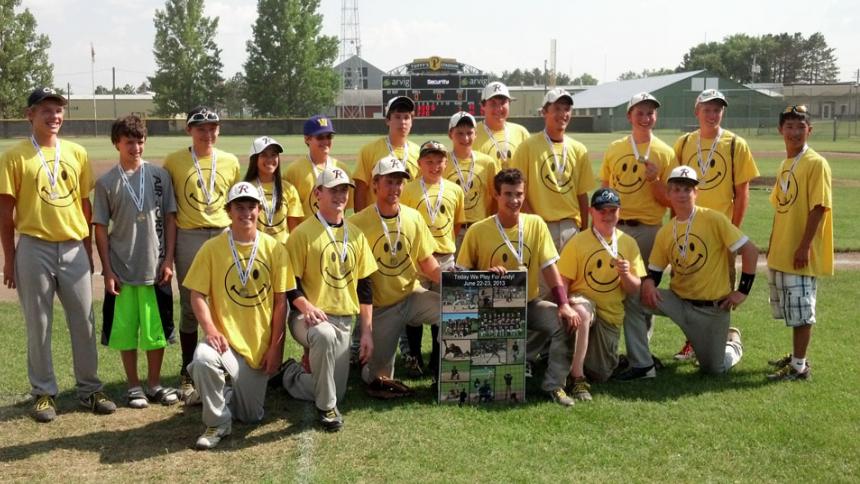 Andy Hendel died a year ago January. He was one of two young people in the community who took their own lives in 2012.
"When it happened in the community it was tragic; everyone felt it, so we heard about this and thought it would be a great way to remember him since he loved baseball and he loved to be with his friends and all of us here," his brother, Josh (far right in picture above), tells the Perham Focus.
It is a baseball team and a tournament in Perham — the Highway 10 Baseball Classic — which has its roots from fundraising for suicide awareness efforts after the death of a young person from New Hope. Team Andy took the silver in the weekend tournament.
"It's really cool, especially, for the group that's here," John Hendel, Andy's father, told the Focus. "They played with Andy since the time they were in kindergarten. They all stuck together. To take their weekend to come up for this … amazing."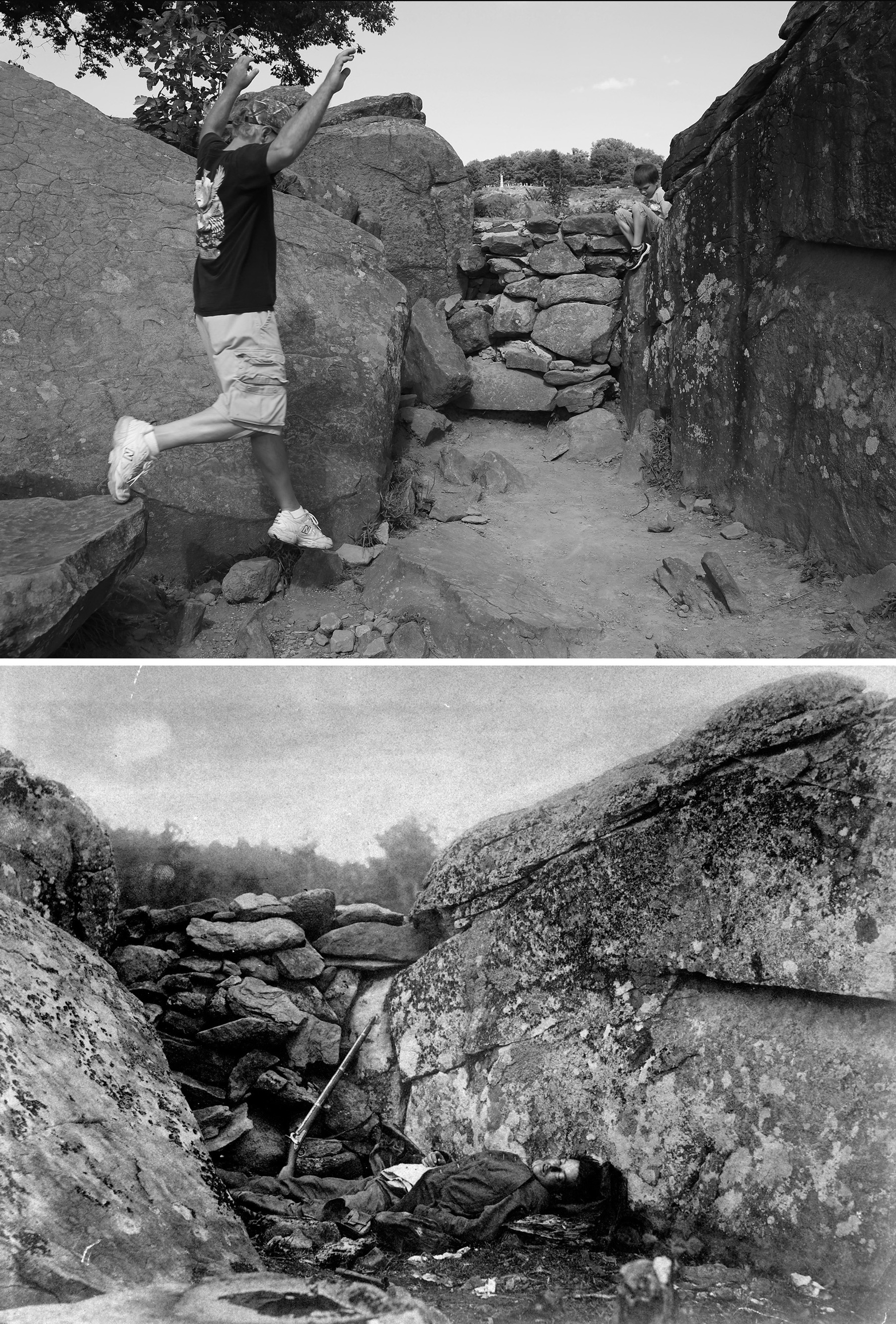 My takeaway from yesterday's inaugural (on MPR, anyway) edition of The Takeaway was this: The average Civil War soldier was 5'8″ and weighed only 140 pounds. The people in our history were much, much smaller physically than we are today, and remain larger than life.
This week — the 150th anniversary of Gettysburg — is offering an opportunity to learn more about the war that split us as a nation, something we often don't think is even possible today, even as other nations head for their own civil wars.
What led young men to march off to war? In the New York Times, David Brooks, says it was an "indebtedness to the past."
The soldiers were intensely political. Newspapers were desperately sought after in camp. Between battles, several regiments held formal debates on subjects like the constitutional issues raised by the war. "Ideological motifs almost leap from many pages of these documents," (historian James) McPherson reports. "It is government against anarchy, law against disorder," a Philadelphia printer wrote, explaining his desire to fight.

The letters were also explicitly moralistic. "The consciousness of duty was pervasive in Victorian America," McPherson writes. The letters were studded with the language of personal honor, and, above all, a desire to sacrifice, as one soldier put it, "personal feelings and inclinations to … my duty in the hour of danger."

One of the most famous letters was written not at Gettysburg but on July 14, 1861, on the eve of the First Battle of Bull Run. It was written by Sullivan Ballou, an officer from Rhode Island. Ballou had lost his own parents when he was young and, having known "the bitter fruit of orphanage myself," he declared himself loath to die in battle and leave his small children fatherless.

"My love for you is deathless," he wrote to his wife. "It seems to bind me to you with mighty cables that nothing but Omnipotence could break; yet my love of country comes over me like a strong wind and bears me irresistibly on with all these chains to the battlefield."
Confederate Gen. Robert E. Lee's plan was to strike Pennsylvania, giving his native Virginia some relief, Time.com's David Von Drehle writes today in a fascinating column.
What followed has been called the turning point of the Civil War, the beginning of the end for the Confederacy, and the making of Lincoln's presidency. There is some truth and a bit of exaggeration in those assessments, but what can be said for sure is that no handful of days in American history was richer in portents or more saturated in blood. Through three days of fighting along the meadows and ridgelines of Gettysburg, Meade's Union defenses often bent but never broke, and Lee's failure in Pennsylvania was quickly followed by news that Grant had captured Vicksburg.
Discussion point: How might the world look different today if Lee had succeeded? What, if anything, do we owe the past?
FMI: Guide to Gettysburg at 150: Sights, sounds and (yes) apps – NBC News.com.
3) A SPECIAL SESSION FOR THE INTERNET TAX?
Yesterday was day one of the sales tax on Internet-based businesses in Minnesota, which was aimed at giant retailers like Amazon. It's already a bust. It was primarily a gift to the brick-and-mortar, big-city businesses who didn't like people coming into the stores to see merchandise, and then buying it on Amazon.
But Amazon cut ties recently to all Minnesota bloggers and websites so it wouldn't have to collect sales taxes on behalf of Minnesota. Lawmakers, for reasons they might explain at some point, never saw such an obvious response coming.
Ironically, the situation appears to be hurting the very people who were supposed to benefit most from the existence of the Internet at all: average people in rural places who were going to be able to compete with the big-city, brick-and-mortar stores thanks to the Internet.
Bryan Hansel is one of those. The Grand Marais photographer (you've seen his work on the MPR News website often), runs PaddlingLight.com, an online store for kayak enthusiasts. He writes in the Duluth News Tribune that the governor should convene a special session to repeal the tax.
The Amazon Tax's main target was Amazon.com, but because Amazon.com ended its business relationship with all Minnesota-based Internet marketers, it doesn't have to collect any new sales taxes. One of the calculations legislators made was that the increase in sales taxes would be greater than the loss of income taxes from the businesses that this tax would destroy.

But because online retailers no longer will do marketing with Minnesota businesses, the state loses the income taxes — and doesn't gain any sales taxes, either. In other states where this passed, such as Illinois (where it was declared unconstitutional by a district court judge under the U.S. Constitution Commerce Clause), tax revenue declined while the tax was active.

Legislators who voted for this tax voted for a perfect lose-lose situation.

And it wasn't like they didn't know this would happen; online retailers in every other state that passed this tax stopped doing business with Internet marketers. I personally had e-mail conversations with both Sen. Bakk and Rep. Dill about this. The best solution, it sounded like, is a national solution, such as the Marketplace Fairness Act, which passed the U.S. Senate and currently is tied up in a House committee.
Related: Tom Stinson: Minnesota's biggest threat: It's not taxes – Minneapolis / St. Paul Business Journal.
4) "DON'T PEOPLE LIKE BOOKS ANYMORE?"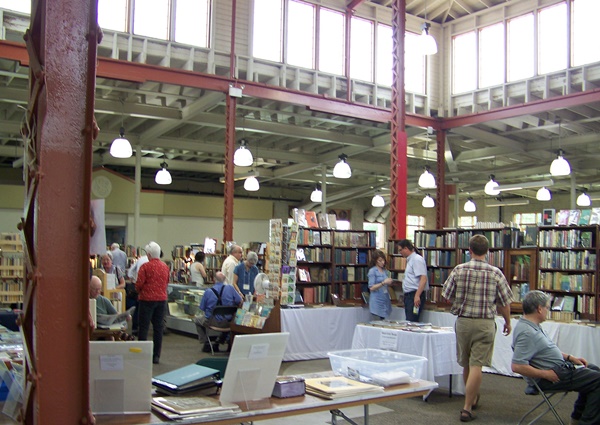 This is the burning question in Susannah McNeely Schouweiler's fine essay on last weekend's Twin Cities Antiquarian and Rare Book Fair. The crowd was grayer, she noted, and they weren't buying much. "Go next year," she advises. "After what I saw this year, I'm not sure how many more chances we'll have."
The dealers seemed to be playing the fair defensively this year, taking fewer chances on the idiosyncratic stuff, and offering as much high-margin ephemera as books (lots of what my old boss at Hungry Mind used to call shmatte). But for some notable regional finds (on cowboy culture and the West, on Minnesota history), it looked to my eye like the sort of stock one can see at just about any used bookstore or well curated vintage shop. I walked out with a Rain Taxi t-shirt, but nothing else – and I'm an easy weird-book sell.

I worry for the future of book fairs like this, and more broadly, for the sort of expert bibliophiles who run brick-and-mortar, ink-on-paper bookshops. It's not news that the industry is declining, I know, but this seems evidence of a watershed moment in the publishing business, albeit writ small. The audience in attendance this weekend was a notably graying one, hip Out of Print t-shirts or not; what's more, not many were toting new purchases around. I'm not the only one who noticed the difference this year; I overheard one vendor, looking around at the light foot traffic on what should be the biggest day at the book fair, asking his neighbor, "Where is everyone? Don't people like books anymore?"
Related: Tablets in bed are damaging sleep and killing productivity | PCWorld.
5) MINNESOTA MOMENTS: LAKE PEPIN
We shoveled ridiculous amounts of snow. We bundled up in April. We lit candles for light in June. All for one glorious week in July.
Bonus I: We've got the first winners in the Science Rap contest. Here's your winner in the K-8 category:

Bonus II: A teacher in the Dallas area has retired, and taken 40 years of disco fashion with him.
Bonus III: Oh, the vehicles that pull up to the gas pumps | Minnesota Prairie Roots.
TODAY'S QUESTION
Would asylum for Edward Snowden serve the public interest?
WHAT WE'RE DOING
Daily Circuit (9-12 p.m.) – First hour: The suicide epidemic
Second hour: From protests or ideas to gadgets to ads, we live in an age where anything can catch on and go viral. How does a secret favorite neighborhood joint suddenly become the trendy spot du joir? How does a You Tube video of cat meme take off? Jonah Berger, examines the phenomenon of how things catch on and break out in this age of multimedia. He joins the Daily Circuit to talk about his book and the secret of going viral.
Third hour: Differences between British English and the American version.
MPR News Presents (12-1 pm): From the Aspen Ideas Festival: "A Civic Rite of Passage: The Case for National Service."
The Takeaway (1-2 p.m.) – Protests continue in Egypt as demands grow for Morsi to step down, Snowden pulls request for Russian asylum, Yarnell Hill wildfire leaves residents displaced, and why Tulsa should host the Olympics.
All Things Considered (3-6:30 p.m.) – Though she died more than a 150 years ago at age 23, Marie Duplessis became a muse for generations of artists. She gave rise to the fictional heroine of a famous French play, a great Italian opera, and several movies. NPR considers the Paris courtesan who inspired a century of stories.