1) THE CHANGING FACE OF MINNESOTA
The culture of Minnesota is disappearing. The Swedish and Norwegian roots that so shape what and who Minnesota is may not live much longer, at least to the degree that has imprinted the region.
In just five years, the Star Tribune says, the number of Twin Cities metro residents calling themselves German-, Norwegian- or Swedish-American — the three biggest groups, by far — has dropped by nearly 100,000.
The percentage of Germans is also declining.
Could we become New Orleans without the French? Utah without the Mormons?
Christopher Elliott, a consumer advocate and National Geographic editor, penned a piece for USA Today taking the nation's airlines apart for all of the fees they now charge passengers.
And the travel industry pulled a fast one on top of it. Some companies, notably airlines, promised customers that unbundling offered the "flexibility" to pay for only what they use — and nothing more.

But there's no convincing evidence that they lowered their prices when they unbundled, which is what should have happened. Instead, they just added new fees to their rates, undermining their argument that they were helping you. Helping themselves to more of your money is more like it. The numbers are truly staggering: Airlines collected $27.1 billion in fees and other "ancillary" revenue last year, up nearly 20% from 2011. Other sectors of travel are doing their darnedest to emulate this so-called success.

Truth is, there's a growing sense that unbundling, at least the way the travel industry has done it, isn't right. Not only did the airlines implement these extras in a dishonest way and then resort to telling half-truths when explaining them to their customers, but they also often fail to adequately disclose unbundled fees before a purchase.
It's been a good thing, the Cranky Flier blog counters this morning.
With the new unbundled structure, those who just wanted basic transportation may not have seen fares go down, but if they went up at all, it's a lot less than would have happened without unbundling. Yes, they got fewer frills with that fare, but for the first time, they had the choice on whether to pay for everything above and beyond basic transportation. Many people don't want that, and they pay less today because of it. For those who do want all the frills, however, unbundling has meant they pay more. In other words, without unbundling, the traveler wanting basic transportation would have paid more in order to subsidize the traveler wanting all the frills. That's why Southwest is often more expensive than other airlines for you today if you aren't checking bags or making changes. You're paying for those benefits even if you don't use them.

Now here's the kicker. People view fees differently than they do fares. They're much more price sensitive when it comes to paying base airfare than when it comes to paying fees. So if the old structure still existed, fewer people would have been willing to pay those high fares, and that means airlines would have had to cut capacity even more than they already have. There would be fewer choices for everyone and the fares would be higher.
Cranky Flier says some airline passengers aren't subsidizing others anymore.
One in every seven Minnesotans has a DWI conviction. Many of them are repeat offenders. They should be glad they're not in Texas.
In Hays County, Rose Ann Davidson, 44, was pulled over for driving erratically last year and police found an open container of beer.
She's been sentenced to life in prison.
The Duluth News Tribune has released its list of 20 individuals under the age of 40 who are setting trends and making a difference in the Northland. It's tonic for oldtimers. "Don't fixate on building a career. Dig in and build a life. The career can follow," writes one young individual.
Joey Prusak of Hopkins deserves a tip. According to Reddit, he stood up for a blind customer who dropped a $20 bill, which was scooped up by a woman who refused to give it back.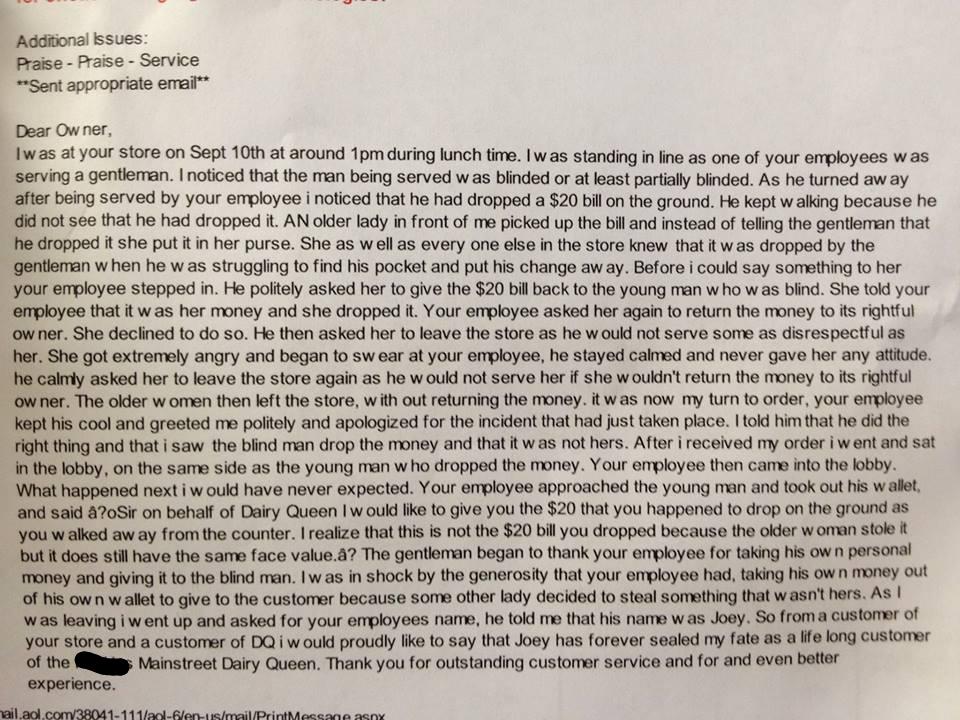 Prusak tells WCCO he received a call from International Dairy Queen and was told he'll be receiving "something" in the mail.
Related: Online fund for Glen James, homeless man, nears $100k (Boston Globe).
Bonus: What would happen if you asked high school students to help create a 21st-century portrait of the country by turning their cameras on their neighborhoods, families, friends and schools? This. And it's beautiful (Lens blog)
WHAT WE'RE DOING
Daily Circuit (9-12 p.m.) – First hour: The inconsistency of American foreign policy.
Second hour: Redesigning Nicollet Mall.
Third hour: Tom Weber speaks with Hennepin County Sheriff Rich Stanek about marijuana laws
MPR News Presents (12-1 pm): NPR's Cokie Roberts, who gave the 7th annual Eugene McCarthy Lecture at St. John's University yesterday.
The Takeaway (1-2 p.m.) – TBA
All Things Considered (3-6:30 p.m.) – The roll-out of the Affordable Care Act and the confusion surrounding it create a dream come true for scam artists. The Federal Trade Commission has investigated nearly 300 consumer complaints nationwide related to ACA scams, from email spam to false mailings and questionable phone calls, and now cases are popping up in Minnesota. Consumer advocacy groups are urging consumers to keep their private information to themselves to avoid getting caught by a scam artist trying to cash in on the ACA. Trish Volpe will have the story.
Insect larvae may provide an innovative approach to combatting world hunger. They are among the world's best waste recyclers, feeding on material humans don't need. And they can processed into animal feed or fish meal. NPR will have the story.