1) WHEN REGULATIONS ARE A GOOD IDEA
The United States cut its energy-related carbon dioxide pollution by 3.8 percent last year, the second biggest drop since 1990, the Department of Energy said Monday.
An analyst credits more efficient cars because of new mileage requirements and an ongoing shift from coal-power to natural gas to produce electricity.
Could it have happened if the marketplace had just been left alone? It's a question worth asking because of what people in China are facing today. This: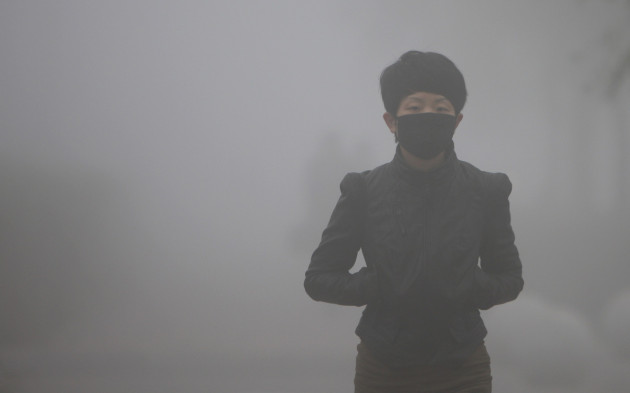 It's the city of Harbin, which was closed down this week because of the pollution, a lot of which is because the coal plants that provide electricity and heat for the winter have kicked into high gear.
"The health effects are dangerous," Time's senior editor, Bryan Walsh, who once worked there, writes. "Researchers estimated that the half a billion people in northern China will live an average of 5½ years less than their southern counterparts, thanks to the thick air pollution in the north."
Evan Osnos of the New Yorker lived in China for eight years. He told PBS NewsHour last evening, "After we had been there for a while, people began to realize that the best Christmas present we could get were air purifiers. And that's what we used to get. We would go in to friends' houses and you comment on their air purifier. You would say, 'that's a nice model you have got there.'"
Related: Cleaning up one of America's most polluted cities (The Verge).
How much are we really spending on energy efficiency? (Midwest Energy News)
There've been several news stories recently about the rapidly changing world around us because of climate change. The Star Tribune reported over the weekend that in fewer than 100 years, Minnesota will be, basically, Kansas.
The amazing Alex Chadwick has a new documentary out in the continuing BURN series. And, he reports this week, we're going to lose Miami. Soon. (Update: See link to Chadwick's video from last weekend in the comments section)
The scary part of all of this comes today from NPR (of course!). Because the world couldn't figure out what to do about it — or was unwilling to do anything substantial — we may be entering an era where people and groups are "hacking" the planet to save it.
The last Minnesota survivor of the worst loss of life in Navy history has died. Star Tribune's Paul Walsh writes today on the passing of Erwin Hensch, a longtime Burnsville resident who died last week in Crosby.
He was aboard the USS Indianapolis when it was torpedoed in World War II in the south Pacific. Nine hundred of the 1,200 men aboard survived the attack, but sharks attacked them over five days in the water.
Only 37 survivors are still alive, Walsh reports.
"You grow up 100 years in one year," Hensch told the Brainerd Dispatch in a 2010 interview. "Those of us who were capable took care of those who were incapable. I didn't give up. I'm a strong believer in predestination. If it's going to happen, it'll happen. I didn't feel I could change it."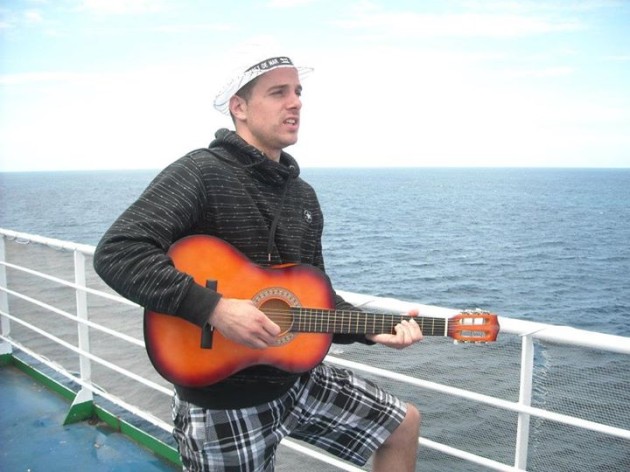 Dusan Travica and five friends left Serbia in search of excitement in Minot, N.D. Two weeks ago, however, their car crashed, killing one of them, and paralyzing Travica, who was airlifted to a hospital in Minneapolis.
Now, he's stranded there, KARE 11 reports. And his health insurance expired three days before the accident.
The planet never seems so fragile as when we stop to consider what it takes to keep us going in the way to which we've become accustomed.
(h/t: Hart VanDenburg)
Bonus I: David Babcock finished the Kansas City marathon in a little over five hours. He did it while knitting.
Bonus II: Would we be a more unified country if this were Minnesota's state flag?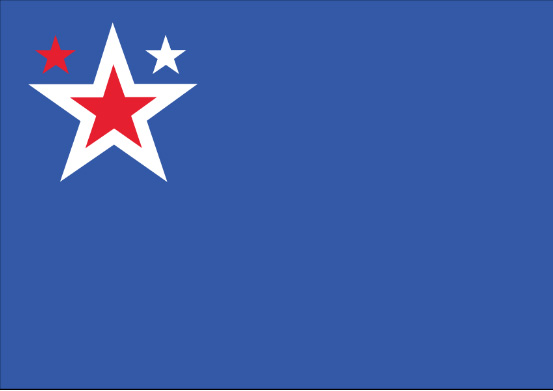 Ed Mitchell, a designer at the Philadelphia-based product design firm Bresslergroup, was inspired to redesign all of the state flags with common colors and elements.
"I was immediately bothered by how discordant they are as a group." he writes on his blog, "And I wasn't surprised to learn they break just about every rule of flag design."
Minnesota's proposed flag represents the star of the north, bordered by stars representing each of the Twin Cities.
Says Wired.com:
Of course, the real question with such a project is this: Why do we need unified flags in the first place? How often do we compare our state flags, anyway? Do their differences really drive us apart? And the big one: is a more cohesive collection of flags really worth sacrificing the history that comes with the ones we're familiar with today? Almost certainly not. Many would probably argue that our idiosyncratic flags are actually the perfect reflection of a largely idiosyncratic collection of states. We didn't start this thing all at once: States joined in, territories were annexed, borders were drawn–and all along the way, flags were made.
Bonus III: "Now we are five." David Sedaris and his family gather at a beach house for the first time since his sister took her own life five months ago. (New Yorker)
TODAY'S QUESTION
Is there too much pressure on new moms to give their babies breast milk?

WHAT WE'RE DOING
Daily Circuit (9-12 p.m.) – First hour: The persistence of joblessness.
Second hour: Tom Weber talks eoyj Duluth Mayor Don Ness about about a meeting tonight that will kick off a community discussion about rebuilding Duluth's Superior Street, an iconic and important thoroughfare for the city.
Third hour: Is the SAT test holding American students back?
MPR News Presents (12-1 pm): Eric Schlosser, author of "Command and Control," speaks on nuclear weapons.
The Takeaway (1-2 p.m.) – North Korea-U.S. relations, September unemployment numbers, whatever happened to IBM's Watson, and what would old pictures sound like?
All Things Considered (3-6:30 p.m.) – MPR's Curtis Gilbert profiles Bob Fine, who is the only candidate for Minneapolis mayor who's been elected citywide. But the Park Board Commissioner's campaign for mayor is having difficulty gaining traction, Gilbert reports.
Lucy Wainwright Roche's parents are both musicians. So are her half-brother and sister. Being surrounded by a musical family convinced her to find a different line of work. But the shy elementary school teacher eventually joined the family business and found her own musical success. NPR will profile her.