Leave it to the "Greatest Generation" to put a visual stamp on leadership.
Time is running out for World War II vets to visit their memorial in Washington; they don't have time for the politicians to grow up, act like adults, and govern the nation in a responsible way. The shut down closed the World War II memorial. But you don't say "no" to a generation that stormed beaches.
They barreled through the barricades today.
No sign of folks leaving. The vets have control of the memorial. #shutdown pic.twitter.com/eGj4kmFEiP

— Leo Shane III (@LeoShane) October 1, 2013
Honor flight vets just knocked over the barriers at the WWII memorial to get inside, #shutdown or no. pic.twitter.com/T4bx8kvFYj

— Leo Shane III (@LeoShane) October 1, 2013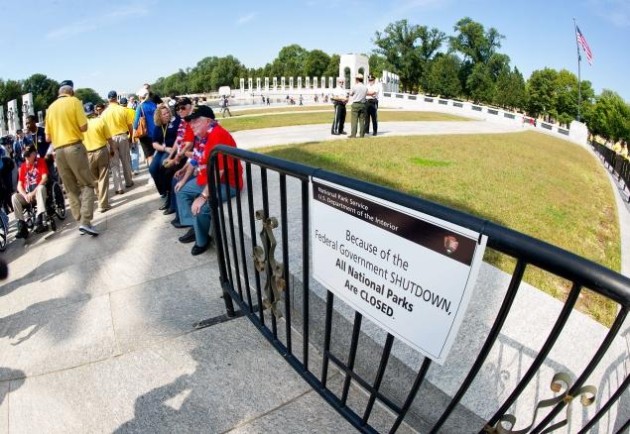 "This just means so much to me," said Alex "Lou" Pitalo, an Army vet who also served in the Pacific during WWII, told Stars and Stripes. "I waited 70 years to get a welcome like this. And to get to see this and to have all those people clapping … I'm just so happy. This was amazing."
No, sir. You're amazing.
Update 4:16 p.m. — Leo Shane III, Washington Bureau reporter for Stars and Stripes, talked to Daily Circuit about the event. Leo has worked at Stars and Stripes since 2004, covering Capitol Hill and the White House. His beats include legislation affecting military policy and veterans issues. His work also includes overseas coverage of military operations in Afghanistan, Iraq, Chile and Ecuador.