1) THE REPORTERS WHO HELPED BURY OSWALD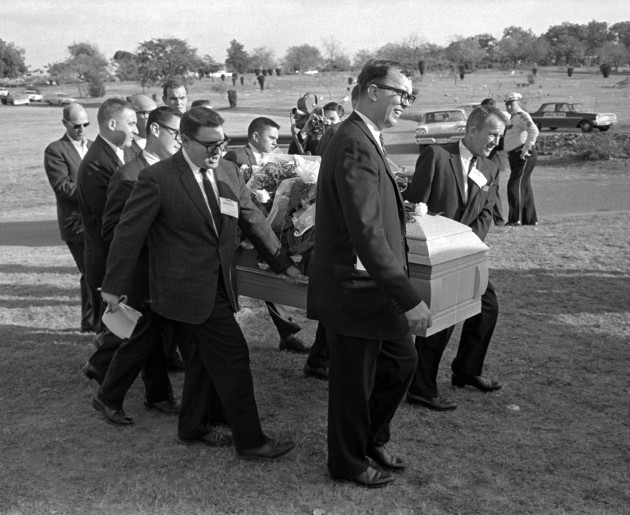 When Lee Harvey Oswald was about to be buried, funeral directors had a problem: There were no mourners around to carry the casket to its final resting place, just a bunch of Texas reporters.
Jerry Flemmons of the Fort Worth Star-Telegram turned to Associated Press reporter Mike Cochran and said, "Cochran, if we're gonna write a story about the burial of Lee Harvey Oswald, we're gonna have to bury the son of a bitch ourselves."
And so they did, Cochran says in his story today.
Related: Who Was Lee Harvey Oswald? (PBS Frontline).
Cold Case JFK (NOVA).
Four shattering days (Washington Post).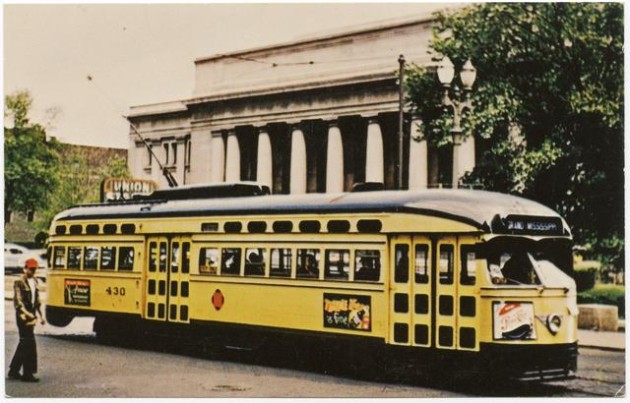 The streetcar. Every city wants one now.
This week, Saint Paul announced plans for a "starter line" that would run down East Seventh Street from Arcade, up West Seventh Street all the way to Randolph.
Bill Lindeke, writing on streets.mn, says he was part of the process he describes as trying to get pandas to mate.
Streetcar planning offers a great example of why a musical approach to urban planning is OK. There are a lot of things in the process that can't be easily quantified. How people make transportation decisions is one of them. The precise relationship between transportation investments and economic activity is another. Streetcars lie right at the intersection of these these two cloudy domains, and sometimes you have to do your best to make an educated guess about a project that you think is worthwhile.

For lots of reasons, both Minneapolis and Saint Paul seem poised to invest in a new transit mode that will connect downtowns with surrounding communities (that often seem socially and economically remote) while catalyzing walkable development and fostering low-car ways of life. Sure there are lots of lingering questions, but planning is inevitably messy. Once you identify a good idea, you have to just plow ahead. As Barton Keyes said to Walter Neff back when streetcars actually existed, " It's not like taking a trolley ride together where they can get off at different stops. They're stuck with each other and they got to ride all the way to the end of the line." Like Barbara Stanwyck, I'm excited to ride on the train!
Saint Paul's old streetcar system was dismantled in 1953.
It doesn't really matter that there's no "monster" in Lake Pepin. It only matters that enough people with a little money in their pocket think there might be.
Two separate TV crews are on the lake this week, the Rochester Post-Bulletin says.
References to some kind of large creature in the lake dateas far back as the 1600s, when Jesuit missionary/explorers mentioned it, he said. There were also mentions of some kind of big creature in the 1800s, and some Lake City residents have said they have seen strange wakes or other signs seemingly from some kind of creature. Indian lore mentions a creature that showed a boy where to catch fish to save his village from starving, (local promoter Larry Nelson) said.

Nielson said he's seen what seemed to be large objects moving upriver and large wakes made by something swimming below the surface. He has a standing $50,000 offer for anyone who can bring biological proof of Pepie's existence.
4) THE LIES ABOUT THANKSGIVING SHOPPING
At this time of year, marketing firms lie to the media and the media repeats the lies without any thought or question at all.
We are, sadly, willing accomplices in the effort to make you feel you're missing out on something other Americans are doing — shopping on or right after Thanksgiving.
A poll this week says 46 percent of Americans will go shopping on Friday. Accenture says 38 percent of people will shop on Thanksgiving. AdWeek says the number is closer to 45 percent.
Actually, they're all closer to lies, Time.com says.
Take the Accenture survey. When asked to clarify the 38% figure listed as the portion of shoppers "likely to shop on Thanksgiving Day this year," an Accenture representative admitted that the number included anyone browsing online or in stores on the holiday. That means that anyone clicking around on a retailer website for a minute or two on Turkey Day would be lumped into this group. Hardly what the average person thinks about when reading a phrase like "hit the stores."

What's more, there are other surveys that directly dispute the implications that a huge chunk of American society will be frequenting malls and retail centers on Thanksgiving, or that physical Black Friday shopping crowds are increasing.

A survey from the National Retail Federation—which is in the business of pumping up the retail sector—has it that 23.5% (not 38%) of consumers plan on shopping on Thanksgiving, and presumably, the vast majority of them will focus their efforts online. (In the Accenture poll, only 28% of those who planned on shopping on Thanksgiving said they would be doing most of their shopping in physical stores.)

The latest data from Nielsen holds that the percentage of American consumers who will not go shopping in physical stores on Black Friday is clearly on the rise.

According to the study, 85% of consumers will not be visiting any brick-and-mortar stores on Black Friday. Just 13% plan on hitting physical stores on Black Friday 2013, down from 17% in 2012. (Compare that to the survey results mentioned above, which imply that around half of American consumers will "go shopping" on Black Friday.) "This is part of a four-year downward trend, where consumers report a declining interest in Black Friday shopping," Nielsen researchers explain.
KMSP reporter M.A. Rosko showed why being an early-morning journalist in the Twin Cities is dangerous work.
Bonus I: Fighting Joe Bully
Bonus II: Free Thanksgiving Meals in the Twin Cities (StreetWorks Outreach Collaborative) h/t: Twin Cities Daily Planet.
Bonus III: In 1996, Hamilton County, Ohio (Cincinnati) voters were told if they increased the sales tax, they could build two new stadiums for the city's professional football and baseball teams. Now, for the third time in four years homeowners will pay more property taxes than promised when voters approved construction (Cincinnati Enquirer).
Bonus IV: The Minnesota Nurses Association is upset at a Star Tribune investigation on apparently incompetent disciplinary oversight by the state. It calls it a "smear" campaign. No sale. This paragraph tells the tale:
The statement claimed that the Star Tribune has not asked the union to comment on the nursing stories "since they were first printed." Prior to the publication of the first story Oct. 6, the union declined to comment on the disciplinary process when contacted by the newspaper. Last week, a reporter again contacted the union, which declined to comment.
A lot of organizations think "no comment" makes a story go away. It doesn't. Got a side of the story you think needs telling? You better tell it.
TODAY'S QUESTION
Would you get behind the wheel of a self-driving car?
WHAT WE'RE DOING
Daily Circuit (9-12 p.m.) – First hour: The drop in military suicides.
Second hour: What kind of issue does it take to get Republican Congressman Erik Paulsen and Democratic Senators Amy Klobuchar and Al Franken on the same side? The 2.3 percent tax on the medical device industry implemented as part of the Affordable Care Act. The tax went into effect in January, and Minnesota's Congressional delegation is leading the effort to get it repealed, arguing the tax will cost jobs and stifle innovation. Where does the repeal effort stand now? Where does it go from here?
Third hour: We'll talk with Judge John Tunheim about a recent trip to Pakistan and the role that Pakistan's legal system can play in combating terrorism, and get his thoughts on the 50th anniversary of the assassination of John F. Kennedy.
MPR News Presents (12-1 pm) – Live broadcast of the Westminster Town Hall Forum: Dr. Eben Alexander, author of "Proof of Heaven: A Neurosurgeon's Journey into the Afterlife."
The Takeaway (1-2 p.m.) – The consequences of filibuster reform.
All Things Considered (3-6:30 p.m.) – Former state House Republican Minority Leader Marty Seifert announces today that he will run for governor in 2014. Seifert lost the race for the GOP endorsement to Tom Emmer in 2010 and dropped out of the race. Emmer went on to lose to Mark Dayton.
Seifert joins a race that is already starting to get crowded, with Jeff Johnson, Kurt Zellers, Dave Thompson and Scott Honour already seeking the Republican nomination to take on Dayton. MPR's Tim Pugmire will have the story.
In Philadelphia, nearly four out of 10 schoolchildren live in poverty. And too many kids are coming to school hungry. Poverty has long been proved to be the biggest barrier to educational success. NPR considers the link between poverty and education.