John Michael Lerma was bigger than life. Everyone who knew him would agree. And that's why it's so hard to believe he passed away yesterday at the age of 52.
His longtime partner, Chad Olson, wrote this on Facebook last night:
After a long period of illness and a deteriorating medical condition, today I made the painful decision to pull John Michael off of life support. He passed quickly this afternoon in no pain. He was the center of my life for 16 wonderful years and he will be greatly missed. I will always love you my dear sweet JM. It was his wishes to not have a funeral but a gathering of those who loved him. As soon as I can arrange a place and time I will post so all those who are interested can attend.
John Michael had a passion for food, wine, Italy, his grandmother's recipes, movies, books, gardening and gatherings. He had a big, effusive, expressive personality, and no one who met him ever forgot him.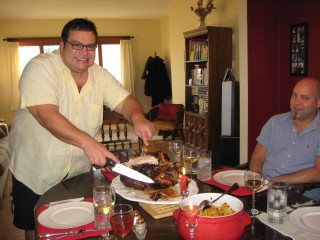 I first met John Michael in 1999, after I moved into the house across the street from him in St. Paul's Highland Park neighborhood. I was coming home from a meeting one night, and the power was out on our block. Everything was pitch black – except John Michael and Chad's home, which was as brightly lit up as if the power was still on. I knocked on the door, and this gregarious man opened the door, warmly welcoming me to a small cozy living room lit up by what seemed like dozens of candelabras. Typical John Michael – who needs power when you have candelabras?
Over the next decade, I spent countless evenings and holidays with John Michael and Chad. He always cooked, and it was always fabulous. My favorite? His cheesy potatoes, a recipe from his grandmother included in his first cookbook, Garden County: Where Everyone is Welcome to Sit at the Table. Check out the cover – his dinner companions exemplified the eclectic mix he wanted to include. His partner Chad, my son Wyatt, their friends Dan and Ron in drag, and our friend Leslie.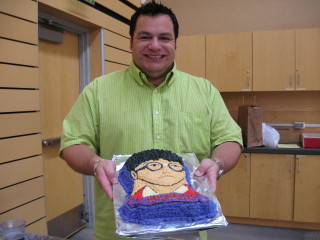 He baked birthday cakes for my son. Harry Potter, above, was a hit – but even better was the three-dimensional Pooh cake for Wyatt's second birthday. Wyatt stared at it, and just said "Poooooh" in awe.
And then there were the pies. Every kind and flavor you can imagine. His second cookbook was all about pies. He'd have testing parties before he went on the Food Network's National Pie Championship (which he won many times). Most were amazing, but there were a few duds. I remember a watermelon pie that was surprisingly good, and of course, the pie he's most famous for – his Vidalia Onion pie. Just try it, you'll see.
Twice, a group of us traveled to Tuscany, a place that John Michael fell in love with. He led culinary tours to IL Rifugio in Cortona, and also to Casa Sirena in Isla Mujeres, Mexico.
Everyone who met him has a John Michael story – share them here if you'd like. I'll cherish my memories – as John Michael always said, big hugs.