About two years ago, Boston Globe reporter Billy Baker, an old-school reporter if ever there was one, put together this video about two kids in a poor section of town. Their father had killed himself by jumping off a bridge. Their mother, who had mental health issues, wasn't able to make ends meet. She spoke no English. They spoke no Vietnamese. Johnny and George didn't fall into the gangs that their peers did. But they were still young then.
Baker found this story because he was finishing work on a project that documented the tough times in the neighborhood, the kind of story that journalists often tell, the kind that leave the reader feeling hopeless because nothing could rescue the people in the grips of poverty. But he didn't want the project to end on that note, so he decided to do a story on the bus that takes kids to Boston Latin High School, and he found the two brothers.
Last evening, Baker wrote a new story about the boys. On Twitter. It's a completely inefficient way to tell a story and it's going to use up a lot of real estate to tell it. But, trust me, it won't matter
I stayed close to the boys, partly out of an obligation, but mostly because I cared about them. They inspired me. And they were fun.

— Billy Baker (@billy_baker) December 16, 2013
But I also became something of a mentor to them. Freed from my constraints as a journalist, I could step into their lives and help.

— Billy Baker (@billy_baker) December 16, 2013
They had little cracks to fill, crazy things I never had to think of. I paid for prom tickets and Christmas gifts and dinners.

— Billy Baker (@billy_baker) December 16, 2013
They paid me back in so many ways, mostly by just keeping their head down and doing their work, like they had always done.

— Billy Baker (@billy_baker) December 16, 2013
When I first met them, Johnny was a junior and George was a sophomore. Johnny graduated last year and went to UMass-Amherst.

— Billy Baker (@billy_baker) December 16, 2013
I drove Johnny to college and bought him a dorm fridge. These are the cracks I'm talking about. George came along for the ride.

— Billy Baker (@billy_baker) December 16, 2013
And Emmett Folgert became a mentor to me, teaching me how to mentor. Stay on them, he'd say. Stay in touch. Ask questions. So I did.

— Billy Baker (@billy_baker) December 16, 2013
As college time rolled around for George, I became involved. I helped him with his essays. Did the sort of stuff a parent would do.

— Billy Baker (@billy_baker) December 16, 2013
And George was shooting high. Very high. His grades were outstanding. His story was compelling. He wanted to go all the way to the top.

— Billy Baker (@billy_baker) December 16, 2013
Which brings us to today. Today is a very special day for George. A day he's worked his whole life to get to.

— Billy Baker (@billy_baker) December 16, 2013
We've been trading texts all day. We were both nervous. He had applied for early acceptance to his dream school. At 5 p.m., he would hear.

— Billy Baker (@billy_baker) December 16, 2013
As 5 rolled around, I started pacing around the Globe. I went to get coffee. I bit my fingernails.

— Billy Baker (@billy_baker) December 16, 2013
I told him that no matter what happens, he had done all he could. And we'd go to dinner regardless. Either way, we had to celebrate.

— Billy Baker (@billy_baker) December 16, 2013
Shortly after 5, he texted me: I GOT IN. I was sitting at my desk, and I started crying.

— Billy Baker (@billy_baker) December 16, 2013
These boys are the nearest I've ever come to that thing we call The American Dream. But this was too much. George got into Yale.

— Billy Baker (@billy_baker) December 16, 2013
On Facebook, George wrote: "Yale University!!!! Thank you to everyone who's helped me get here!" I wrote: "You got there on your own, bud."

— Billy Baker (@billy_baker) December 16, 2013
I have a tough time putting their story into words. It's about hope, sure. But it's about helping yourself. These boys did. We all can.

— Billy Baker (@billy_baker) December 16, 2013
Say hi to George, everyone. "Smile if you just got accepted to Yale!" pic.twitter.com/ZhKAGirkhk

— Billy Baker (@billy_baker) December 17, 2013
Anything is possible when everyone gives a damn.
Related: On the north side of Minneapolis, this is what kids walk by after there's been a homicide.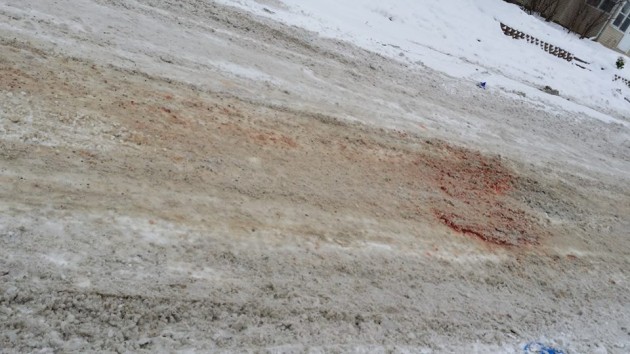 "If this was on Nicollet Mall, on the street in front of governor's residence, in front of the Guthrie, in front of Rudolf's on the sidewalk and in the street, I bet it would be cleaned up," Phillip Murphy writes on the North Side Vent Facebook page.
Meanwhile, another day, another brazen robbery at the U of M, the Daily reports. A friend on Twitter raises an interesting question: By covering this continuing story, are we alerting even the most clueless criminals where the easy money is? Also: Why are certain media-savvy politicians in Minnesota so invisible on this story?
2) SENIOR FOOD PROGRAMS ENDING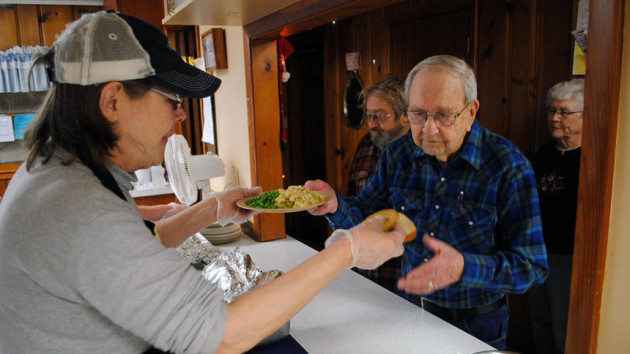 The federal budget sequester has worked its way up the ladder to senior citizens. The West Central Tribune looks at the meals programs for the elderly.
In Appleton, Minn., for example, seniors have been able to get fresh-cooked-on-location meals since 1977. That's ending. Three other sites are closing altogether. It's a big deal in rural Minnesota, where the elderly don't even have grocery stores nearby anymore.
The small towns in the rural region are widely separated. It can be very hard for people in their 80's to get around in the winter, he noted. The meal sites, and the Prairie Five transit program that many seniors rely on to reach the meal sites, play big roles in their lives.

"It's a good program,'' said Ruby Lokken, head cook at the Appleton site. She's been working at the site for 15 years.

She is expecting to stay on as a site manager, but will see a reduction in hours when food is no longer cooked there.
Related: Children in need dine on food donated by local restaurants (Fargo Forum).
3) IN SEARCH OF THE RIGHT KETTLE
At last check, the Salvation Army's red kettle drives were way behind previous years. At the same time, my social media timelines were full of people vowing they wouldn't throw anything in, what with the stories they knew of, they said, of the role of religion in the Salvation Army and the alleged insistence on adhering to a theology in exchange for a helping hand.
The accuracy of those assertions have always been in doubt to me. When we were working to save a neighborhood in Moorhead from flooding in 2009, the Salvation Army truck stopped by occasionally to deliver bologna sandwiches and water. Nobody asked for anything in return.
The stories — especially the anti-gay stories — persist, nonetheless. Jennifer Finney Boylan hadn't heard them when she started ringing a bill outside a Maine mall. Then she did, she writes in today's New York Times. She stopped ringing. She's a transgender woman.
That knowledge put an end to my days as one of their volunteers. The organization advocated celibacy for homosexuals and resisted offering benefits to employees' same-sex partners. Then, shockingly, a major in an Australian branch of the Salvation Army appeared to suggest in an interview that putting gay people to death was "part of our belief system."

In the wake of that scandal, other officials have backpedaled. A November statement noted that the Army "does not consider homosexual orientation a sin."

Which is nice, of course. But the unpleasant history of the organization's views on L.G.B.T. issues is still a moral quandary for people wishing to do good in the world. Does that history outweigh the millions of dollars the volunteers raise each year for the needy, for food and shelter, foster care and H.I.V. programs? When a hand reaches out to help us in our hour of desperation, should we stop to question the beliefs of the person to whom that hand belongs?
She doesn't ring the bell anymore, she says, but she occasionally throws a buck into the kettle and thinks about other things besides politics and religion. "The ways in which acts of charity help to get us outside ourselves," for example.
The Salvation Army doesn't get much love in the reactions to the piece, though people admit they're conflicted.
I, too, have often held back from giving to the Salvation Army because of the organization's long standing discrimination and bigotry against gay people.

But other times I try to rise above the negative energy and focus on the good they do and hope in time there is a mutual understanding that we are all God's creation, equally deserving of dignity, free of judgment and discrimination.

I have hope for any organization focused on doing some good in the world.
4) THOUGHTS WHILE WAITING FOR BASEBALL SEASON
It's generally believed that the reason the Vikings wasted their season trotting Christian Ponder out to play quarterback is because the team's GM, Rick Spielman, mandated it over the more sensible opinion of coach Leslie Frazier. Frazier is likely to be fired, Spielman is likely to return, according to the Daily Norseman:
Look, I get the frustration a lot of you have with Spielman, I do. And I appreciate the opinion of those that think the Vikings need to clean house and completely start over. But like I mentioned in the SMR, I feel Spielman deserves at least one more year based on his entire body of work–draft, free agents signings, and trades.

Yes, he whiffed badly on Ponder. No, he shouldn't have cut Antoine Winfield…or at least not in the kind of disrespectful manner it appeared to be. And I'll even agree with Mark that he shouldn't have drafted a STINKIN' PUNTER in the fifth round.

But, when you look at the drafts he has had final say in, other than Ponder (and Locke, I guess, just based on where he was drafted), the Vikings have gotten a pretty good haul. He's re-signed guys that the Vikings identified as priorities, like Phil Loadholt. And he swung a trade for Percy Harvin, netting a first round pick when no one…and I mean no one…thought that was remotely possible.
Related: The best webpage ever created has been unveiled.
Bill Nelson was going to be an artist. He went to St. Cloud State in the '70s, enrolling in the art program to become a jeweler. Then he found his passion, apparently: protecting women from domestic abuse. Now he's a bounty hunter, the St. Cloud Times reports in its profile today.
Bonus I: Linda Ronstadt finally made it to the Rock 'n Roll Hall of Fame. She didn't need the sympathy vote, what with her announcing this year she can't sing anymore.
Bonus II: I feel dirty for getting sucked into the mass marketing of the season. But… but…

Bonus III: In my neck of the woods — Woodbury — there's only one farm left and it'll probably be gone soon since yet another shopping center is going up next door. I moved here 21 years ago. Across the street from our subdivision, Holsteins ruled the land, until it was sold and a crop of houses went in. Nice timing, Woodbury (and almost every other suburb in the Twin Cities), you never saw the hot new things in the 'burbs coming: farms.
TODAY'S QUESTION
Are vitamins worth the money?
WHAT WE'RE DOING
Daily Circuit (9-12 p.m.) – First hour: In his recent New York Times Op-Ed Thomas Edsall sites many stats suggesting Obama has a rough road ahead if he plans to push for policies requiring a collective movement against inequality. We dig into those numbers to get a fuller picture of the national climate. We consider why many people seem to be reacting to severe inequality by becoming more individualistic rather than seeking refuge in redistributive policies that benefit the collective. We'll pay special attention to working class people who feel this way even though they would most likely benefit the most from redistributive policies.
Second hour: NPR's veterans correspondent Quil Lawrence recently finished a series on troops with "other than honorable" discharges. What are some of the consequences of having "bad paper?" What are some of the avenues they can turn to for help, since many VA benefits – including health care, employment, housing and education — are not available to them? Who is fighting to make sure these men and women are not forgotten?
Third hour: Economist Charles Kenny will discuss his recent Foreign Policy op-ed, "Linked Out: the Case for Sending America's Unemployed Abroad." Plus: In the second of our series of year-end interviews, Tom Weber speaks with Cathy Tenbroeke and Margaret Miles, the first same-sex couple to get legally married in Minneapolis, and Ann DeGroot, who was first on line in Ramsey County on the day when same-sex couples could start applying for marriage licenses.
MPR News Presents (12-1 pm) – From the America Abroad series: "Deradicalizing Terrorists." With reporting from London and Minneapolis.
The Takeaway (1-2 p.m.) – NSA snooping and the effect of yesterday's ruling on its likely constitutionality.
All Things Considered (3-6:30 p.m.) – Enrollment at many Minnesota colleges and universities continues to drop. Preliminary figures from the state Office of Higher Education shows headcount is down 2.7 percent since last fall, and almost 5 percent since fall 2009. National and state enrollment analysts say students who sought refuge from the recession have graduated, dropped out, or joined the workforce. The for-profit sector has been hardest hit. And the fortunes of some schools in other sectors have been radically different from their counterparts'. MPR's Alex Friedrich will have the story.
One decade ago, a global health initiative took off and it changed the face of AIDS around the world. So far, $50 billion has been spent, making it the largest public health initiative ever undertaken to combat a single disease. NPR examines the legacy of the President's Emergency Plan for AIDS Relief.