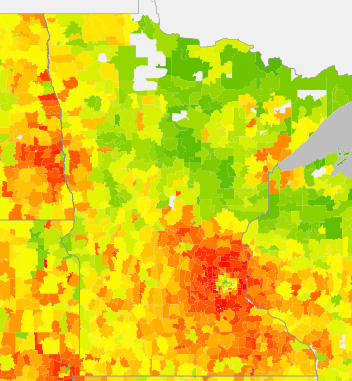 A new study from the University of California Berkeley reveals the extent to which your decision on where to live impacts the environment.
The researchers found that people in the bigger cities are responsible for less greenhouse gasses, but the suburbs produce more than enough to cancel the cities out, the Los Angeles Times reports..
In many metropolitan areas, the carbon footprint of a city family is half that of a family in the suburbs.
The researchers created maps that break down the carbon footprint by zip code (Available here). The largest footprint belonged to Afton, where a typical household creates about 80 tons of carbon dioxide a year, much of it from housing, as much as transportation. In Minneapolis, the average household created a little over 30 tons a year.