1) THE PRIORITY LIST
David Menasche was teaching high school in Florida, when he was diagnosed with brain cancer. A subsequent stroke forced him to give up teaching altogether.
He wanted to find out if his life — his teaching — made any difference, so he started an odyssey to find former students.
"Being diagnosed with terminal brain cancer gave me a sense of urgency, and I realized if there are things I wanted to say, I had to say them now," he tells WBUR's Here & Now. "Places I wanted to see, things I wanted to do — all I had was the moment to go and do it. And I've come to realize the only moment each of us are truly guaranteed, is this one. … I needed something like that to make the struggles of treatment worthwhile."
In 2012, he reached out to former students, asking for places to stay while he traveled across the country. In two days, he had responses from students in 50 cities. He's done now, finished a book, and still hopes there'll be a movie in the future that will outlast him.
Today's discussion: What teacher would you like to track down and thank for what he/she gave you?
Related: How Long Have I Got Left? (NY Times)
2) SCENES FROM A MINNESOTA WINTER
What was it like to drive in Sunday's wind-swept blowing snow? KARE 11's Boyd Huppert posted this video on his trip from Iowa on I-35W.
Presumably, the story he was working on was why on earth did people need to be out driving when authorities asked people not to?
The cold weather has done wonders for the Minnesota cold-weather image. It's like old times. If people didn't know any better — and most people outside of Minnesota don't — the CBS network news piece would make you think we're mostly people who go ice fishing in this weather.
A quick flip to NBC Nightly news and then we are again: Not caring about the weather.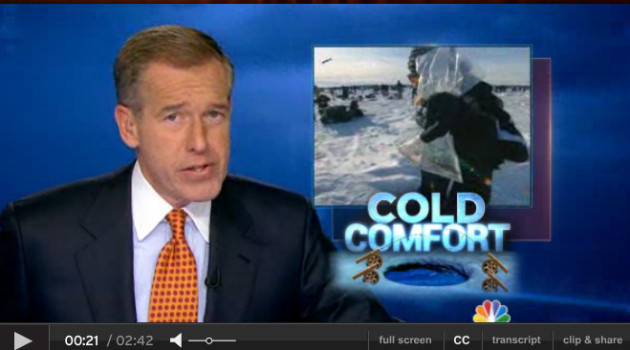 There was national face time for Saint Paul Mayor Chris Coleman last night on the PBS NewsHour. He defended decisions to close schools again, acknowledging that schools may not have closed in these conditions years ago, but we're a different demographic makeup than we were years ago.
By the way, does anyone recognize the location behind the mayor?
In Rochester, meanwhile, schools are closed today. But there'll be varsity sports as usual. The same is true for South Washington County and several other schools because temperatures are to rise somewhat.
White Bear Lake is one of the few school districts in the Metro that is open today. On its website, the district defended its decision:
We are confident we can safely transport students tomorrow on or close to schedule.
After four days off in January as a result of weather, we believe it is important for us to offer the opportunity for students to be back in school and learning.
We are committed to do whatever it takes to assure student safety.
After yesterday's announcement, several students took to Twitter to prove a little more time in class would do wonders for their ability to express themselves.
Related: Frost fair: When an elephant walked on the frozen River Thames (BBC).
3) FARGO DECIDES NOT TO PROSECUTE A REPORTER FOR DOING HER JOB
Fargo knows a PR problem when it sees one. It has decided not to charge a TV reporter who exposed security flaws by entering schools without permission, the Fargo Forum says.
Mellaney Moore wore a hidden camera as she walked into schools in Moorhead, West Fargo and Fargo without checking in at the main offices. So the police investigated her.
"The investigation showed that she did what she did under direction of her superiors or superior or someone over at KVLY," Fargo's assistant city attorney said.
"Truly, there is no positive purpose to be served by the school district pressing charges or prosecuting Ms. Moore," a spokeswoman for West Fargo schools said. "That is not the nature of what a public school does in a community."
4) THE BENEFITS OF LETTING KIDS RISK HURTING THEMSELVES
Some schools in New Zealand have found that by letting kids run amok on the playground, their behavior improved.
Mudslides, skateboarding, bullrush and tree climbing kept the children so occupied the school no longer needed a timeout area or as many teachers on patrol.

Instead of a playground, children used their imagination to play in a "loose parts pit" which contained junk such as wood, tyres and an old fire hose.

"The kids were motivated, busy and engaged. In my experience, the time children get into trouble is when they are not busy, motivated and engaged. It's during that time they bully other kids, graffiti or wreck things around the school."

Parents were happy too because their children were happy, he said.

But this wasn't a playtime revolution, it was just a return to the days before health and safety policies came to rule.

AUT professor of public health Grant Schofield, who worked on the research project, said there are too many rules in modern playgrounds.

"The great paradox of cotton-woolling children is it's more dangerous in the long-run."
5) YOU HAVE TO GO TO SCHOOL TODAY? WATCH THIS AND THEN LET'S TALK ABOUT YOUR PROBLEMS SOME MORE
More proof that your lot in life is determined largely by the luck of your birth. This may be the most depressing, perspective-straightening story you read today.
"But I like the job because I get money. I give the money to my parents for food," one 13-year-old boy — 13 years old — says.
"We have no choice," said Rafael Ramorez, 16, who dropped out of high school during his freshman year to start working as a miner. "There is no other opportunity. There is no other job."
Bonus I: We have a winner in best Super Bowl ad of the year. It's not on TV. It's this one.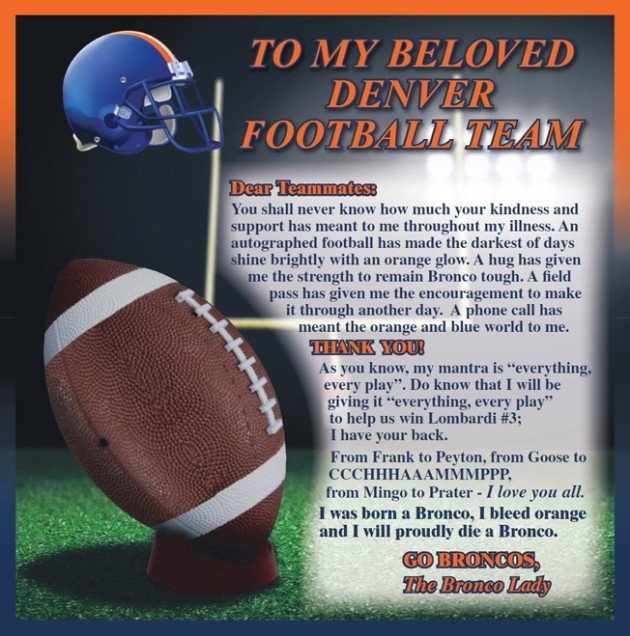 Kara Christian, 58, has been a Broncos fan since she was 5. "She's the kind of ardent fan who arrives at games early to greet home-team players with hugs as they walk to the locker room," AdFreak says.
She's dying of cancer.
Bonus II: Some kids won't take "no" for an answer.
WHAT WE'RE DOING
Daily Circuit (9-12 p.m.) – First hour: The impact of sex-abuse scandals on Catholic giving.
Second hour: Preview of the State of the Union address.
Third hour: Novelist and National Book Award winner Richard Power joins us to discuss his latest novel, 'Orfeo,' which follows an aging professor caught up in the world of science, music and Homeland Security.
MPR News Presents (12-1 pm) – Husband-and-wife team James Carville and Mary Matalin, speaking at the Commonwealth Club about their life and politics.
The Takeaway (1-2 p.m.) – State of the Union preview.
All Things Considered (3-6:30 p.m.) – A lot of Republicans are hoping for the chance to run against Democratic senator Al Franken and DFL governor Mark Dayton this fall. But so far no candidate from the Independence Party has emerged to run against either incumbent. Party Chairman Mark Jenkins says with every day that passes without strong 2014 candidates, the IP's task of gaining traction becomes more difficult. MPR's Mark Zdechlik will have the story.