1) IF YOU RACE THE ARROWHEAD 135, YOU'RE IN FOR TROUBLE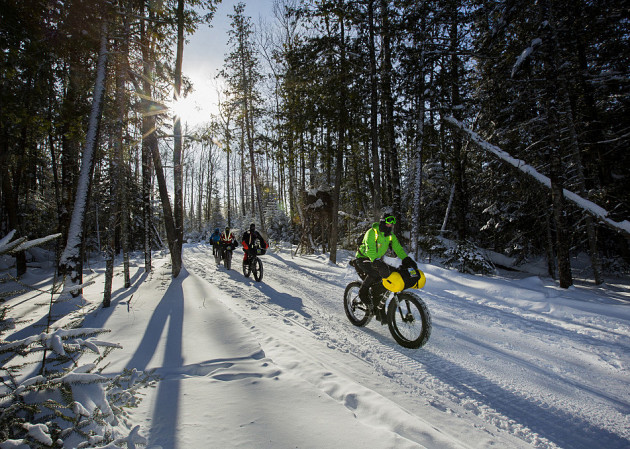 You've probably seen the great MPR photos of the competitors in the Arrowhead 135, the "finish or die" competition to bicycle, ski, or run 135 miles from International Falls to Tower in sub-zero weather on the Arrowhead State Snowmobile Trail.
Many people dropped out early because of frostbite, and there's certainly no shame in that. What kind of person finishes this kind of race? Better we not show you the pictures of that.
Tom Puzak finished second and almost won, he told GearJunkie.
He'd been going strong all day. He passed rider after rider "pedaling at 7mph steady," which is enough to net a win in the snowy trail conditions this year.
Until…
Puzak ran out of water. He did not know at the time, but racers were dropping out, dozens of DNFs, miles behind him on the trail. Frost bite, exhaustion, hypothermia. No joke.
And…
But he had to pee.
Go on…
He put some snow in a water bottle, unzipped and urinated inside. The slosh melted and made some liquid, then Puzak drank it. "It saved me," said.
Good morning.
Related survival skills: Two survive when snowmobile breaks down in blizzard on Lake of the Woods (UPI).
Wind wins against mushers, dogs in Beargrease (Duluth News Tribune).
2) ON CORY REMSBURG
Locally, the top story of last night's State of the Union was the owner of a local pizza shop getting some presidential love, but it was a 10-tour veteran of Afghanistan who stole last night's show. The people who sent him there — 10 times — reserved their loudest applause for him.
Here's Cory Remsburg's story from a New York Times article last August.
What did it all signify last night? The New Yorker's John Cassidy suggests a message the pols in Washington clearly don't get:
Ever since he ran for President, in 2008, Obama's underlying message has been that too much of what happens in Washington is an insiders' game that ignores, and often tramples upon, the wishes and interests of ordinary Americans. By inviting Remsburg—and DeMars and Shelley, too—Obama was taking part in what's now a traditional ritual for speech-givers. But he was also trying to bridge the gaping chasm between politics and political decision-making as experienced by its practitioners in the nation's capital and by the grunts out there in the factories, offices, and Army battalions.

He was also invoking the concept of public service, which, in Washington these days, is routinely subjugated to partisan advantage. And, finally, he was saying that we can do better, and we know we can—just look at this young man.

"None of it is easy," Obama said. "But if we work together; if we summon what is best in us, the way Cory summoned what is best in him, with our feet planted firmly in today but our eyes cast towards tomorrow, I know it's within our reach." In a bitterly divided chamber, and a bitterly divided country, it was a fanciful vision to end the speech with. For a moment, though, you got the sense that even the President's foes gathered before him couldn't have disagreed with his sentiments.
And then there are the people who aren't fit to be in the same room as Sgt. Remsburg.
3) MINNESOTA'S NOT-SO-SUPER TRANSPORTATION
When Minneapolis hosts the Super Bowl in 2018, will the takeaway be our backwater transportation system?
Walker Angell, writing on streets.mn, visited New York — home of this Sunday's Super Bowl — and has found that Uber, the app that connects people with transportation options, is making a substantial difference.
While you're waiting, Uber gives you the name, photo and star-rating of the driver as well as the name of the cab company and cab number[1]. It shows you, in near real-time, the current location of the cab and estimated time of arrival. Very beneficial when it's cold out or you're doing some last minute stuff. (This does need some work though since the info was always a little behind reality with cars arriving when Uber showed them still a block or two away.)

Cabbies on Uber are a cut or few above the rest. They're enterprising enough to sign up with Uber and they know that they're being rated. Let's face it, most of us try a bit harder when we know that our performance impacts our wallet. Every driver we hailed with Uber was pleasant and greeted us when they arrived. All but one drove very significantly safer than typical NYC cabbies and that one wasn't too bad (except compared to other uber taxis). And, the uber taxi's were generally cleaner than usual.
Meanwhile, back in the Twin Cities:
The Twin Cities needs to catch up. UberTaxi is not available anywhere in the Twin Cities and Minneapolis will not allow UberX (Uber for independent drivers) to operate within city limits (though I think it is available throughout St Paul and all suburbs along with limo services UberBlack and UberSUV).

I recently had dinner with a woman from GreaterMSP who told me that transportation is a key issue for companies who are giving consideration to locating in the Twin Cities. They want good transit, pedestrian, and bicycle facilities for their employees and they want a city where their business visitors will feel safe and welcomed. Services like Uber are a part of this.

Despite their downsides, taxi and limo services are necessary and they should be as pleasant, efficient, and easy to use as possible. Services like Uber are a critical element of this. Rather than stand in the way of such beneficial services, our government should welcome and encourage them.
MPR News in December wrote about Uber shaking up Twin Cities transportation.
Garth Callahan, 44, writes inspirational notes every day on napkins he packs with his daughter's lunch. He has done so every day since she started school. She's 14 now and he's got cancer. Here's his story.
Napkin Note: Risk something … Pack. Write. Connect. http://t.co/QwTEmJOyi9

— Garth Callaghan (@wgarth) January 27, 2014
5) FAREWELL, COMMA
Is the death of the comma at hand? Slate theorizes that since social media is able to get its collective point across without benefit of commas, maybe we all can:
Here's one recent example from social media: Last week Gmail crapped out for about 50 minutes. So people took to Twitter for the purpose of gabbing about it. And many folks in my feed did so without using commas. One New Yorker writer went with: "ok gmail is down we can just use twitter what could go wrong / back to work." An editor at BuzzFeed tweeted "whoa whoa guys I can't respond to all zero gmails at once." Writer and biographer Rachel Syme joked about causing the problem: "I rubbed my genie lamp and wished for one of those Freedom programs that keeps you from email but I wished TOO BIG sorry guys sorry." And writer Jen Doll capped off the Gfail afternoon with this: "I guess all those losers outside skiing or like at the movies or whatever missed out on this exciting adventure we just had."
A University of Michigan professor says her students "tell her the period is being reimagined to signify seriousness or anger. And the ellipsis can be used to convey skepticism or sometimes unhappiness about something. But she says the comma doesn't seem to be getting repurposed in texts. It's being purged."
Bonus I: Video: Shetland's Vikings celebrate Up Helly Aa fire festival (BBC).
Bonus II: Let's start seeing a lot more of this, TV people!
Bonus III: Why New Yorkers Actually Suffer In the Cold More than Minnesotans (WNYC).
WHAT WE'RE DOING
What's your reaction to President Obama's State of the Union address?
Daily Circuit (9-12 p.m.) – First hour: New research on same sex education.
Second hour: Former Foreign Intelligence Surveillance Court Judge joins us to talk about the origins of the FISA court, the process of applying for receiving warrants and his suggestions for the making the court a more transparent and efficient operation.
Third hour: State of the Union recap.
MPR News Presents (12-1 pm) – Rebroadcast of President Obama's State of the Union address, and Republican response by Rep. Cathy McMorris Rodgers.
The Takeaway (1-2 p.m.) – More reaction on the State of the Union speech.
All Things Considered (3-6:30 p.m.) – On the Korean border, in 1984, a Soviet defector made a run for the South Korean side. North Korean troops chased after him, with guns blazing. Army Pvt. Mark DeVille was one of the American soldiers who shielded the defector and returned fire. Now, 30 years later, DeVille receives his medal for bravery. NPR will have the story.