If you can't get enough of NewsCut, I'll be on the Daily Circuit today with Kerri Miller a little after 9 this morning for a discussion about journalism. Tune in. I'll try to post the audio here later.
1) ECONOMIC MOBILITY AND HOPE FOR THE FUTURE
You can still pull yourself up by your bootstraps, a new study says, even though it's quite a longshot. The study, reported on Marketplace, says it's not a disappearing facet of American life.
It's called economic mobility and some areas of the country have it, and others don't. This map looks like a lot of other maps on such things as education, poverty, and environment.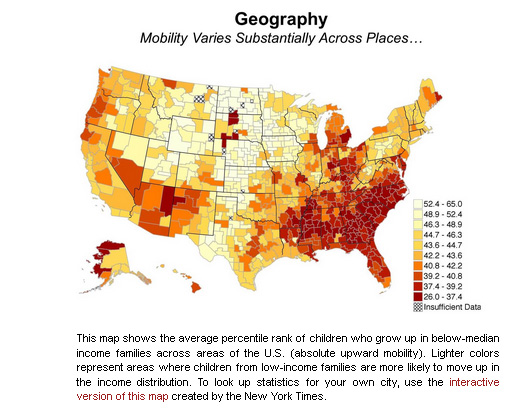 Salt Lake City leads the top 100 "commuting cities" in economic mobility. Minneapolis is 17th. But a person in the bottom fifth of the economic has only a 10-percent chance of reaching the top fifth. A child in Minneapolis who grows up with parents earning $16,000 — the 10th percentile according to this interactive map in the New York Times — ends up on average in the 40th percentile. Those born to parents making $100,000, ends up on average in the 62nd percentile. That is: 28 percent of them will be among the top earners in the country.
In short, the game is rigged and while the children of the poor might end up as top earners someday, reality is stacked against them.
Which brings us to yesterday's other big research: the gap between rich and poor is widening. The Pew Research study reveals that most Americans want the government to do something about it.
Nearly all Democrats (93%) and large majorities of independents (83%) and Republicans (64%) favor at least some government action. However, more than twice as many Democrats as Republicans say the government should do a lot to reduce poverty (67% vs. 27%).

In part, these differences reflect divergent beliefs about the effectiveness of government action on inequality and poverty. Republicans are far less likely than Democrats to say the government can do a lot to reduce poverty and especially inequality.
2) THE MEDALLION HUNT
The Saint Paul Winter Carnival is underway, so diggers are heading for the city's parks for the Pioneer Press medallion hunt. There have only been a few clues so it's still anyone's guess. Still, these seems to be the only guys digging in this park, so it's probably not there.
More winter: The 128th Winter Carnival (St. Paul Real Estate blog)
Beer, brats & bare feet (Minnesota Prairie Roots).
3) THE END OF ISRAELI-PALESTINIAN SCOREKEEPING AT NPR
NPR has found another way to save some money. It's ending its 11-year program of reviewing stories to be sure that overt bias doesn't leak in to stories about Israelis and Palestians.
It's not a big issue anymore, NPR's ombudsman Edward Schumacher-Matos writes.
"I reluctantly agree with management's decision, though the hot button will surely be pushed again, given the unpredictability of Mideast events, the sensitivity of Israel to Americans, and the human fallibility of even the best journalism," he said.
The high point in numbers came in 2006, when Israel invaded Lebanon, and NPR aired more than 800 stories on its four main shows. The 234 last year was the smallest number, though this hardly reflects inattention. This tiny area on the world map last year still generated more than four stories a week.

Felton found that accuracy has never been a problem, despite reporters having often to contend with dangers on the ground and the pressures of a 24-hour news cycle. While stories by many reporters in Washington and abroad fell under his watchful eye, the central figure in his studies was usually the Jerusalem correspondent. These have included some of NPR's best reporters, including Peter Kenyon, Julie McCarthy, Eric Westervelt, Lourdes Garcia-Navarro, and the current bureau chief, Emily Harris.

"Listeners may not like the news or agree with the views they hear," he wrote of their stories, "but they can rely on the basic facts presented in NPR's reporting."
Related media: This is why there's such a thing as public broadcasting.
Chet Curtis died of pancreatic cancer this week. He was one half of one of the first husband-wife TV anchor teams in this country. Until they were divorced after 18 years on the air, he and his wife, Natalie, delivered the news. When Natalie got pregnant, it was a nine-month news story. They ushered in the era of focus on the anchor team almost as much as the news. Was that a good thing? The Boston Globe's Kevin Cullen writes today that he'd like more of that again.
And, finally, there's another example today of journalists' increasing tendency to write stories that invite blaming the victim in stories in which someone isn't wearing a seat belt. Here's this morning's:
Unbelted driver rolls his pickup early today in White Bear Lake and is thrown to his death. http://t.co/QoneJswdw6

— Star Tribune (@StarTribune) January 24, 2014
4) THIRTY STADIUMS IN 30 DAYS
It's just 23 days until pitchers and catchers report to spring training, and today brings word of another attempt to squeeze in 30 baseball park visits in just 30 days, similar to what Reggie Deal accomplished a couple of years ago (which I covered here). This time it's Will Leitch, who writes at sportsonearth.com. The odds of him succeeding seem stacked; he's going to try to do it in April, when there are a fair number of rainouts and snowouts. He's planning on the Minnesota stop being a day game on Thursday April 10. Don't anyone show him the weather map of Minnesota at the moment.
The total cost of this sort of dream? $10,000.
5) LESSONS FROM THE FIRST GRADE
You can learn a lot from first graders. In Missouri, Vincent Butterfield and Zac Gossage are very good friends. Zac has cancer, so Vincent started raising money to help pay for his cancer treatments. When he found out his friend would lose his hair, he acted accordingly.
Bonus I: Bills look to regulate booming e-cig business (Politics in Minnesota).
Bonus II: Coldest city in the world – in pictures (The Guardian).
TODAY'S QUESTION
What will the next big social network look like?
WHAT WE'RE DOING
Daily Circuit (9-12 p.m.) – First hour: The Friday Roundtable. Six things I wish I knew before I started in journalism. Kerri, Bob Collins, and Duchesne Drew, managing editor for operations at the Star Tribune reminisce and reflect the hard learned lessons from the beginnings of their careers.
Second hour: Reporter Brandt Williams follows up on his "Following the Firearms" reporting with another look at what gun crime actually looks like in Hennepin County. We'll talk with Brandt about his reporting, what law enforcement is doing to prevent gun crime and the effectiveness of gun laws already on the books.
Third hour: Net neutrality may have a boring name, but it has enormous implications. It's the reason the New York Times and the Brainerd Dispatch's respective websites operate at the same speed. And the reason an internet service provider like Comcast or Time Warner Cable can't block websites from companies it sees as competition. For the second time in four years , the D.C. Circuit Court of Appeals court has struck down the FCC's attempt to make net neutrality the law of the land. At this critical moment for net neutrality, what comes next?
MPR News Presents (12-1 pm) – Documentary: "The Search for Well-being: Integrative Medicine."
Science Friday (1-2 p.m.) – Has coding become the new literacy? Ira Flatow looks at the language of the digital age.
All Things Considered (3-6:30 p.m.) – Do children make their parents happy? Lots of studies say "no." But writer Jennifer Senior dug deeper into the paradox of modern parenthood and found some answers of her own. She's interviewed today on parental happiness and her new book titled "All Joy And No Fun."