There's a great story behind the life of almost every World War II veteran but relatively few can match that of Bill Overstreet.
Overstreet was a P-51 fighter pilot in the European theater. He flew in Chuck Yeager's unit — the 357th Fighter Group, which shot down more German aircraft than any other unit, based on time in the air. Neither is what he'll be most remembered for.
He once flew with only Russian beet vodka in his ammo trays, when he ran into a group of German fighters. That's not what he's best remembered for, either.
Nor is the time he landed in England, even though he'd been blinded.
What Overstreet is remembered for is this painting.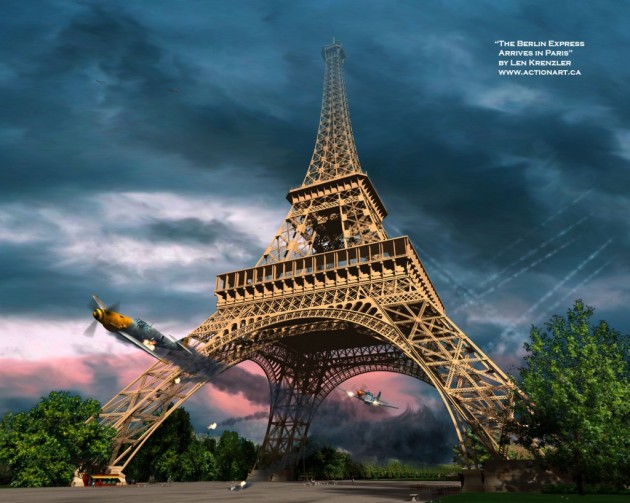 Overstreet apparently flew through the Eiffel Tower while chasing a German Messerschmitt that had lured him to anti-aircraft fire over Paris.
"That didn't work either because as he pulled up trying to come out of the tower," he said in 2009. "It was restricted area so he more or less had to come up instead of making the turn. So. it was in perfect gun-sight and he was demolished right there."
The claim has occasionally been questioned, but a story in the Roanoke Times this week seemed to confirm it:
Overstreet's most famous flight came while in solo pursuit of a German Messerschmitt Bf 109G flying into Nazi-occupied Paris. He maneuvered his plane beneath the arches of the Eiffel Tower, re-igniting the spirit of the French Resistance troops on the ground.

One of those French Resistance fighters was the father of Bernard Marie. A French dignitary who has hosted D-Day events every year since 1984, Marie said he met Overstreet in 1994. He knew Overstreet was well-known for his flight underneath the Eiffel Tower but didn't understand the true importance of Overstreet's flight until he spoke with his father.

"My father began shouting out me — 'I have to meet this man,' " Marie said.

Members of the French Resistance had seen his flight, and it inspired them, including Marie's father, he said.

"This guy has done even more than what people are thinking," Marie said. "He lifted the spirit of the French."
Overstreet died this week at age 92. There are now only three pilots left from the more than 100 in the 357th, according to Chuck Yeager.