Nothing against you personally, Warroad, but you're not the only city in Minnesota with a little hometown pride when it comes to athletes in competition. You just get all the attention.
In the tiny city of Hendricks yesterday, population about 700, about 80 people turned out at The Local, a restaurant in town, to watch a video feed of two of its athletes at the Minnesota state high school gymnastics meet in Minneapolis. For most people, driving across the state on dangerous roads was out of the question.
No matter.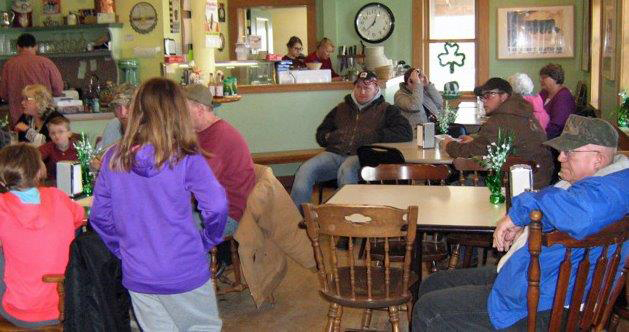 "Everyone took turns confirming we couldn't be prouder of our two state competitors, coach Sherri and the team," Steve Hemmingsen writes. "Yet for this particular meet, this was a different type of pride. Greta and Hailey fell short of the blemish-free performances we'd seen throughout the season. This simply put an exceptional season in perspective."
Greta Johnson finished 26th in the vault, 29th in the floor exercises, and 31st in the all-around competition. Hailey Teske finished 31st in the uneven bars, 26th in the balance beam, and 30th in the all-around (individual results here).
From the archive: You Should Meet: The family that brought gymnastics to Hendricks (Minnesota Public Radio News).