1) WHY IT'S OK TO WATCH HOCKEY TODAY
We turn to our 51st state — Canada — for guidance on whether it's OK for those of us who made it to work today to spend much of it watching the U.S. men's olympic team play Canada today in the medal round. NBC isn't making the choice any easier for us by putting it on over-the-air TV.
The CBC, conveniently, gives us permission. It's good for us. It's good for the workplace. It'll make you more productive.
And as much as employers might want their employees to stay focussed on the job at hand, being heavy-handed about it could end up backfiring.

"It can actually have the opposite effect on productivity," says Trougakos.

Research has shown that if people have a particular distraction on their mind, and they're not allowed to take part in it, they actually perform less effectively, he says.

"They make mistakes. They're cognitively distracted and so to the extent that people are really thinking about this game, they're not going to perform that [well], potentially anyways."

Trougakos also suggests that companies can use events like this as an opportunity to boost morale, by putting a TV in a break room or providing updates during meetings.

"It could be looked at as a way to, while temporarily reducing the amount of work employees will be doing, having longer term benefits in terms of showing employees … that the organization values them."
Related: Dear Minnesota news media. Trust us. We know there are a lot of hockey players in Warroad. How could we not? Suggested followup: Is there anything else — besides windows, of course — there?
Women's Olympic Hockey: How Team Canada denied a team that would not be denied (Macleans).
In Kiev, people have taken to the streets in search of their version of freedom. Meanwhile, in the United States…
2) SHOULD THE GOVERNMENT BE IN THE NEWSROOM?
It's surprising it even got this far in a free press society. The chair of the FCC has told a House committee that it's going to rework a study of "critical information needs" because it had provisions to use"FCC funded agents to question the editorial decisions of journalists, producers, and other news professionals."
Republicans objected to it because they don't want the FCC to regulate political speech. But nobody seemed to step forward, aghast at any possibility that the government would judge editorial decisions.
"We are pleased to see chairman Wheeler recognizes the gravity of our concerns and has accordingly made progress toward ensuring that First Amendment protections remain in place for journalists," said Rep. Fred Upton (R-MI) and Communications Subcommittee chairman Greg Walden (R-Ore.). "Before moving forward, however, it is imperative that the FCC ensure that any study, with any agents acting on its behalf, stays out of newsrooms. The courts have rightfully struck down the Fairness Doctrine, and any attempt to revive it, through study or any other means, should not be attempted by the FCC or any other government agency."
Republicans hyperventilated about the proposal, but there was no need to be overly dramatic. The mere idea of a government representative strolling into a newsroom asking for an explanation is plenty to be concerned about.
From today's Washington Post:
Wheeler's statement about eliminating questions for journalists encouraged Mike Cavender, executive director of the Radio Television Digital News Association, a Washington-based organization. "My initial response is that we feel better about this," he said Thursday. "If in fact it is completely devoid of anything related to editorial issues and procedures, then we would be more comfortable with it."

Some conservatives have suggested that the proposal was part of a government effort to rein in the media. In an editorial, Investors Business Daily said the study was a "recrudescence," or revival, of the Fairness Doctrine, a regulation discarded in 1987 that required broadcasters to air opposing points of view on controversial topics. Many broadcasters kept controversial topics off the air altogether rather than devote time to alternative opinions.

But Cavender rejected that idea. "We're not concerned about some grand scheme to go down the road to onerous new regulations," he said. "We just don't think this should have anything to do with editorial decisions."
More intrusion: Roadside survey of impaired driving causes outcry (US News).
More stupid media tricks: The Times of London is changing the actual pictures coming from Kiev. Here's the actual picture.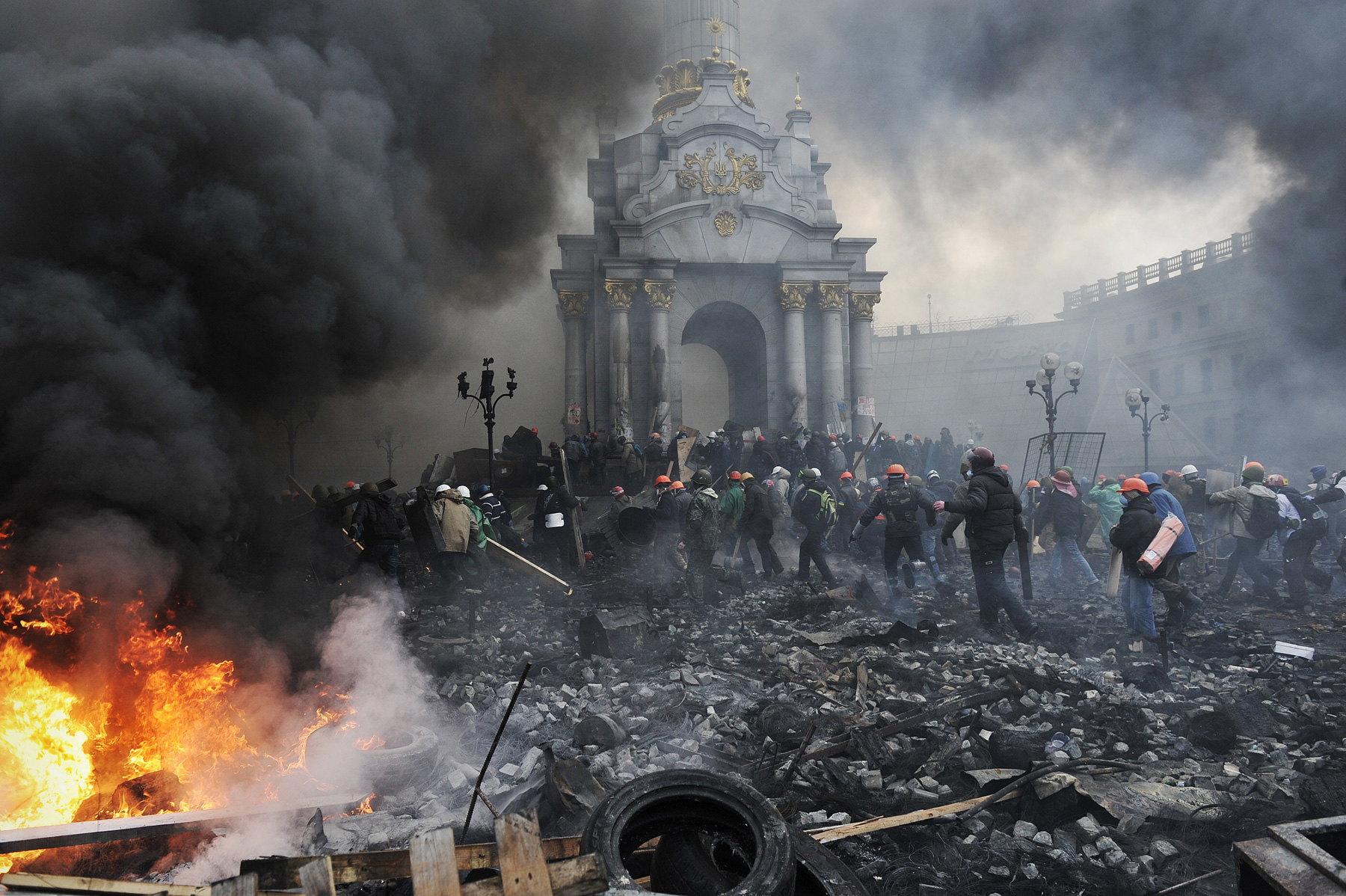 Here's what it looks like after being gussied up by the editors…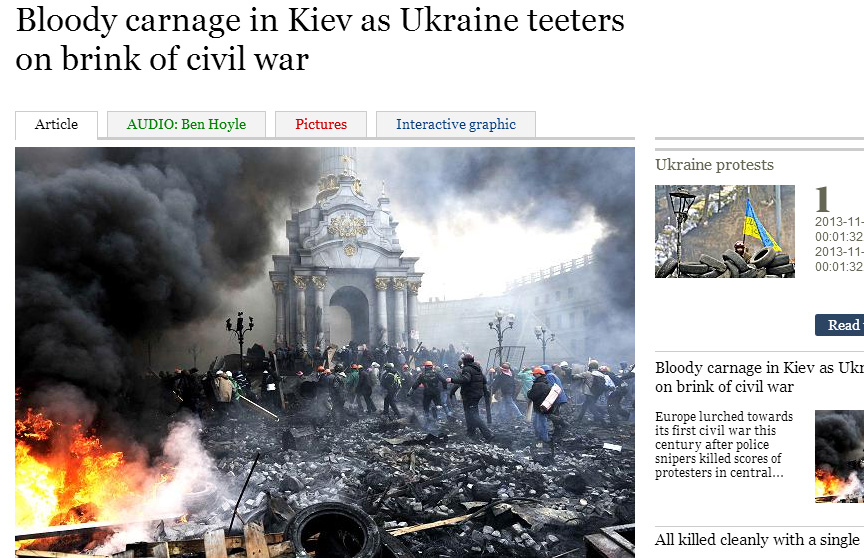 You know, bus riders, if you'd have paid attention to the "please move to the back" instructions, you wouldn't be finding one or two fewer seats to sit down in. Metro Transit, in its latest blog post, says it's removing some seats on popular routes "to see if opening more space improves passenger movement when buses on these popular routes fill up." It's a nice way to say "move to the back of the bus."
Although removing seats may seem counterintuitive, the extra room is intended to encourage passengers to move further toward the back of the bus instead of standing near the front. The extra space can also be used by customers riding with larger items.

Clearing space in the front of the bus makes it easier for customers to board, reducing the time spent at stops and keeping buses on schedule. The seats were removed from some buses on routes 6, 12 and 21 because customers each of the routes has frequent on/off boarding activity.
More transportation: A man in India wanted to create a "happy memory" at a toll plaza everyone hates.
4) THE ART OF SHOVELING THE ROOF
Sam Cook of the Duluth News Tribune considers the uniquely Minnesota species: the roof shoveler.
In some marriages, roof shoveling is a partnership. Some spouses won't allow their lifetime partners to go up without at least a spotter on the ground. If a shoveler slips off the roof unmonitored, he could lie in a geometric heap with a femur poking through his snow pants for quite a while before his spouse finishes watching "The Voice" and thinks, "Now, where did he say he was going?"

She'd find him lying there, just where he fell. He didn't want to shout and bother the neighbors or anything.

That sort of incident is topped only by the guy who doesn't announce he's headed for the roof, but to be safe, he ties himself off to the car bumper before he climbs over the peak of the roof. Subsequently, his spouse remembers she needs eggs at the store and — well, sometimes even safety precautions can backfire on a guy.
And, finally, this just in from the Department of Can Your Summer Do This?
5) A NEW ANSWER FOR WHY THERE'S HOMELESSNESS
Why is there homelessness? "Because it's the public's will," Monica Nilsson tells Southwest Journal in a profile of her. She's director of community engagement at St. Stephen's Human Services, which provides shelter for the homeless.
"There's an undercurrent of homelessness ending, just ask any of the housing providers. But unlike a tsunami, the change doesn't come with such a rush that is evident in a moment's notice," she said. "In fact, what we're now facing in Minneapolis is more like a river, with men and women and children floating down it. Volunteers and professionals from this great city stand at the water's edge and pull people out every day, some feed them, clothe them, even rent to them. But, right now, we aren't pulling them out as fast as they are flowing down the river."
Bonus I: Sportsies in town and elsewhere are fighting, again. It revolves around the ongoing question of whether Kevin Love wants out of his contract with the Minnesota Timberwolves. It started after Wednesday night's Timberwolves victory over the Indiana Pacers when New York-based writer Peter Vescey tweeted that Timberwolves fans "worst nightmare" had come true (Darko coming back?): Love wants out:
Prior 2 AS break, KL alerted Flip he'll exercise summer '15 out & sign elsewhere. Expect him 2B moved B4 deadline or off season

— Peter Vecsey (@PeterVecsey1) February 20, 2014
You have to at least ask Kevin Love, which KSTP sports reporter Darren Wolfson did.
Here's the video of Kevin Love's comments about the @PeterVecsey1 report: http://t.co/zcaGDDLrV5 #twolves

— Darren Wolfson (@DarrenWolfson) February 20, 2014
Timberwolves President Flip Saunders also denied the "report." So, back to you, New York.
@DarrenWolfson You r so young and naive

— Peter Vecsey (@PeterVecsey1) February 20, 2014
To which Wolfson delivered a "down goes Frazier" Minnesota passive-aggressive punch to Vescey, who used to be someone when he wrote for the New York Post and then was a TV basketball analyst.
@PeterVecsey1 @MARBEAR333 I'm debating your report Love has told Flip he's out. Nothing more. Enjoyed you & the NBC theme music in the 90s.

— Darren Wolfson (@DarrenWolfson) February 20, 2014
This is what happens when there's no news to report. The deadline passed and Love remained Minnesota's best basketball player.
Bonus II: Oh yes, popular high school kid: Your time isn't coming. (NSFW)
Bonus III: One of the greatest ideas ever. Why can't we do this in Minnesota?
WHAT WE'RE DOING
Daily Circuit (9-12 p.m.) – First hour: You wouldn't know it in the midst of all the drama surrounding the Minnesota Orchestra, but the Twin Cities region remains a creative hot spot for artists and theaters. However, expanding or diversifying audiences is a challenge. Three panelists look at support networks for artists and what it means to support young artists or arts administrators.
Second hour: Two state officials who are leading efforts to push more Minnesotans to at least consider their options and ponder the tough choices that even we in water-rich Minnesota might have to one day make.
Third hour: The USA Men's Hockey team faces off against Team Canada as we speak in Sochi. We'll talk with Pioneer Press reporter, who is in the arena. Then we will talk with University of Minnesota Women's hockey coach Brad Frost about yesterday's gold medal game in the women's bracket, featuring several of his current and former players.
MPR News Presents (12-1 pm) – Keynote speech by Maria Hinojosa at Minnesota Minority Education Partnership. Reaction from Brenda Casselius, RT Rybak and U of M student Brandon Alkire.
Science Friday (1-2 p.m.) – Will your smart lights speak the same language as your smart blinds? Or will we need yet another app to control them?
All Things Considered (3-6:30 p.m.) – Who can convince more people to become organ donors? That's a question public health campaigners have wrestled with for years. They've tried having organ recipients make a persuasive pitch. But even those beneficiaries are apparently not as convincing as this group of people: Employees at departments of motor vehicles. NPR takes a look.