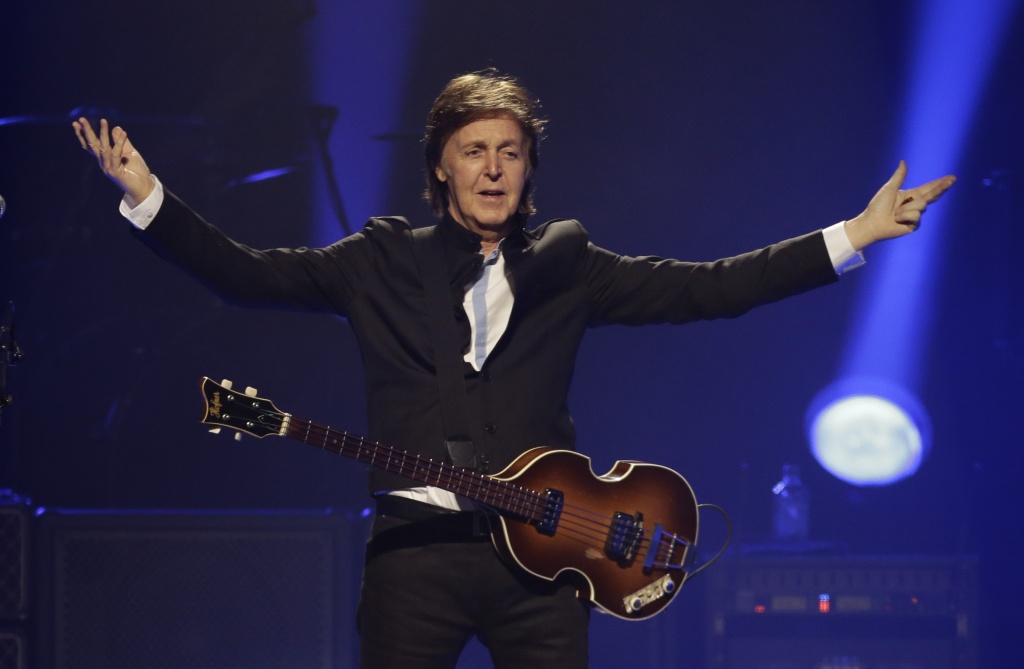 People were shut out of buying Paul McCartney tickets over the last week and, not unexpectedly, scalpers are in the crosshairs. It's not fair, they said, that scalpers were able to get their hands on tickets, while they had no chance of seeing the oldtimer from Liverpool, England.
It's an ongoing complaint that goes as far back as Hannah Montana around these parts.
Today's letter of the day in the Star Tribune gives voice to their frustration:
Enough is enough. So many genuine fans are unable to buy tickets at face value to their favorite sporting events or concerts due to ticket scalpers. I was recently unable to buy tickets to the upcoming Paul McCartney concert at Target Field because they were sold out in minutes. They are now available online through scalpers who demand at least three times the face value.

Without legislation, we need a grass-roots approach. I urge a mass boycott. If everyone refuses to buy tickets from scalpers for prices above face value, we can drive these organizations out of Minnesota. They add no value to the public, the venue or the artist. Say no to ticket scalpers and join the boycott.

Brendan A. Keenan, Eden Prairie
Let's not do that.
We've seen this before. Just a few weeks ago, when The Current put Rock the Garden tickets on sale in a presale, some people were unable to find the tickets they wanted. Meanwhile, they were already on StubHub at inflated prices.
It's not the scalpers fault. It's the people who bought the tickets with no intention of going to the show, but only intended to "flip" the tickets into a quick profit.
I've done the same thing with season tickets to the Timberwolves — turned around and sold high-value games to help defray the cost of having the tickets in the first place. Why? Because they're my tickets; I can do whatever I want with them, and so can the people who flip the tickets to scalpers and resellers.
There's another insidious problem: presales. Concert promoters have commercial deals with other businesses to offer exclusive presales to their customers and resellers. There were at least three presales for McCartney tickets. American Express customers got a four-day head start.
There were also presales for Minnesota Twins season ticket holders and an additional day advantage for fans of PaulMcartney.com (presale was last Wednesday). By the time the great unwashed — aka "the general public" — got a crack at them, only the flotsam and jetsam tickets were left.
Isn't the free market something?
The Legislature legalized scalping in 2007 in a fever-induced fit of common sense, while at the same time turning aside efforts to restrict the resale of tickets above face value.
Why is that important? First of all, there is no face value printed on many event tickets anymore because sports teams, in particular, have gotten crafty at adjusting the price up and down on a daily basis to account for market demand. "Value pricing" it's called and there's nothing of value to it unless you own a venue.
The Timberwolves were particularly good at this, charging on average $50-$70 for seats they thought would sell out before the team fell on its face. But the team didn't lower the price once the mediocrity of the squad was established. You know who did? Scalpers outside.
If you want to sit in Target Field tonight for the scheduled game with the Los Angeles Dodgers, you can pay the $28 that the Twins are charging to sit in the cold and rain. Or you can go see a scalper and pick a pair up for $10.
This morning on Stub Hub, more than 3,000 tickets are available for the Paul McCartney concert, ranging in price from $109 to $1100. Seats directly in front of the stage are going for $400. On Big Stub this morning, the lowest ticket is about $128.
Those aren't out-of-line prices considering the top ticket price was $250. If you think McCartney is worth $250, don't blame scalpers if some people think he's worth $400.
There are other affronts to concertgoers that could be addressed, were the Legislature ever interested in wading into the morass. Convenience fees and tack-on charges by the ticket sellers might be a good start.