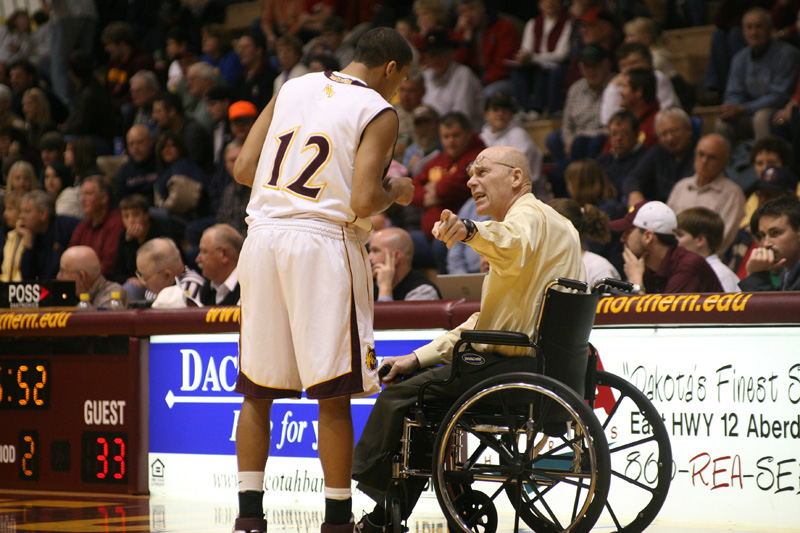 Don Meyer, the long-time men's basketball coach at Northern State University in Aberdeen, has died, the Associated Press reports today. He had also once been coach at Hamline.
"Don't whine, don't complain, don't make excuses," he said was his philosophy.
It took a lot to keep him from his coaching chores, but exactly what we'll never know because nothing ever did. Not the cancer that took his leg. And not the semi-truck he plowed into in September 2008 when he fell asleep while driving to a team retreat.
He lived to break Bobby Knight's record for collegiate coaching victories partly because of the players who raced to the scene of the crash and exhorted him in the wreckage the way he did on the sidelines.
Senior captain Kyle Schwan asked a few veteran players to help the younger players form a prayer circle, then joined graduate assistant Matt Hammer and sophomore guard Brett Newton next to Meyer.

Schwan grabbed Meyer's hand, and the young men fell back on the slogans of the practice court. We've gotta be tough, Coach! It's the fourth quarter! Dead-ball breathing! Narrow focus! NBA! Next Best Action!
When his leg was amputated, doctors found cancer. And Meyer found the bright side of it.
"What's great about this is I would not have known about the cancer had I not had the wreck," Meyer told The Associated Press at the time. "God has blessed with the one thing we all need, which is truth. I can now fight with all of my ability."
In 2009, he was honored at the Jimmy V awards on ESPN.
When he retired after the 2010 season, Meyer had 923 victories, the most ever by a college coach until the mark was surpassed by Mike Krzyzewski.