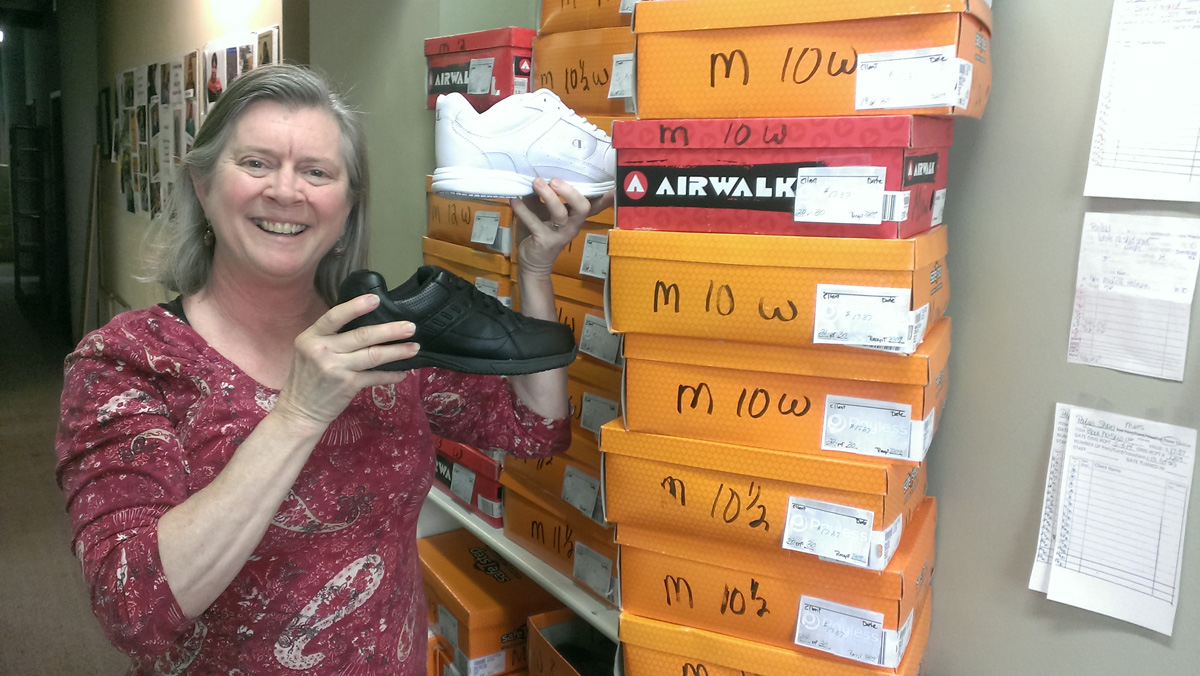 For hundreds of people in the Twin Cities, the difference between homelessness and a more stable existence is a pair of black, no-slip shoes. Or barber tools. Or a bus pass. Or work clothes. Or an electrician's license renewal.
"The fun part of my job is it's just a modest amount of money than can make a big difference," Terre Thomas told me today. She runs Small Sums, an organization that provides assistance to people who are homeless, and who have a job offer, but lack the necessary things to work. "When they get a job offer on Friday," she says, "they don't get two weeks to prepare. They have to be at work on Tuesday morning."
Many jobs require, for example, no-slip shoes. In fact, 57 percent of Small Sums clients in the last year needed work shoes or a bus pass to get to work. Eleven percent needed their own tools. Fourteen percent needed professional licenses before they could even look for work.
"People who find us are the scrappy ones," she says.
From a small office on a University Avenue office across the hall from a record store, Thomas and one other paid staffer serve about 50 people a month, a figure that has been growing since the depths of the Great Recession. Each gets about $166 worth of assistance.
That's about $100,000 year and Thomas says they can serve more because — and this is the downside of a good economy — there are more jobs to be had these days, and more people who can't get them because of these barriers. So she's trying a crowd-funding campaign to raise about $30,000.
When she checked her e-mail this morning, two people she's helped in the past stepped forward. A restocking clerk, who had needed shoes, found a job for minimum wage, now makes $9.45 an hour and soon will get a raise to $10.10. She was sleeping on a friend's couch. Now she has a one-bedroom apartment. "Can I bring you $50?" she asked.
If Thomas sounds like a fairy godmother to people on the edge, she comes by it honestly. She ran the Fairy Godmother thrift shops in Minneapolis ("I got to wear a ball gown to work," she says) until the recession and her husband's serious illness led to her closing the businesses in 2009. She's seen how the confluence of events can disrupt lives.
"People who are homeless and out of work, it's often because of bad luck, bad choices, and bad judgment," she says. "But the opposite is true, too. When all the right things come together, I want to be there with them."
Her organization is increasingly working with other non-profits that provide job training and other services, and refer people to Small Sums, though she says the organization will "never "abandon" the homeless shelters. "There's a finite number of people we're able to help," she says. "If we're only helping 50 people a month, I'd like to find ones that have a chance of making it."
The success rate of her efforts is difficult to calculate. It only recently started tracking the people it helps in a database, thanks to a young woman who received assistance from Small Sums and now volunteers two days a week. She says she doubts the success rate is "what a white, middle class person would expect."
"But if don't do this, the success rate will be zero."