The more oil you pump out from the ground, the more likely you'll deal with an accident tied to oil. We've seen that reality coming out of North Dakota's booming oil fields. A December train derailment and near disaster outside Casselton, North Dakota, was the most alarming example.
Casselton, though, is the tip of the oily accident iceberg. The huge increase in oil production in North Dakota and Montana has brought an equally huge jump in oil and chemical spills tied to drilling.
Data crunched recently by an energy reporting service EnergyWire and highlighted Tuesday by the Federal Reserve Bank of Minneapolis bear that out.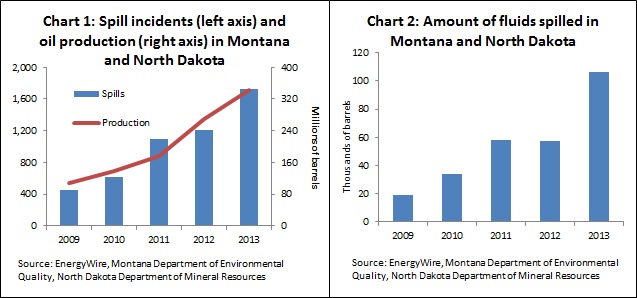 Accidents happen. But the EnergyWire report indicates the jump in North Dakota incidents is out of whack compared to the increase in oil rigs:
Some of the biggest jumps were in the booming Bakken Shale. North Dakota, which is already contending with flaring and urban woes in its once sparsely populated western end, saw spills jump 42 percent even though the average number of rigs working in the state dropped 8 percent.
If you live in Minnesota, it's easy to dismiss it — it's North Dakota. But remember much of that oil is heading east. Another 25 miles or so and the Casselton explosion might have been a Moorhead, Minnesota, explosion.
It's valid at this point to ask: Do we know about all the accidents tied to the Upper Midwest oil boom? Are state and federal authorities working fast enough to improve safety?