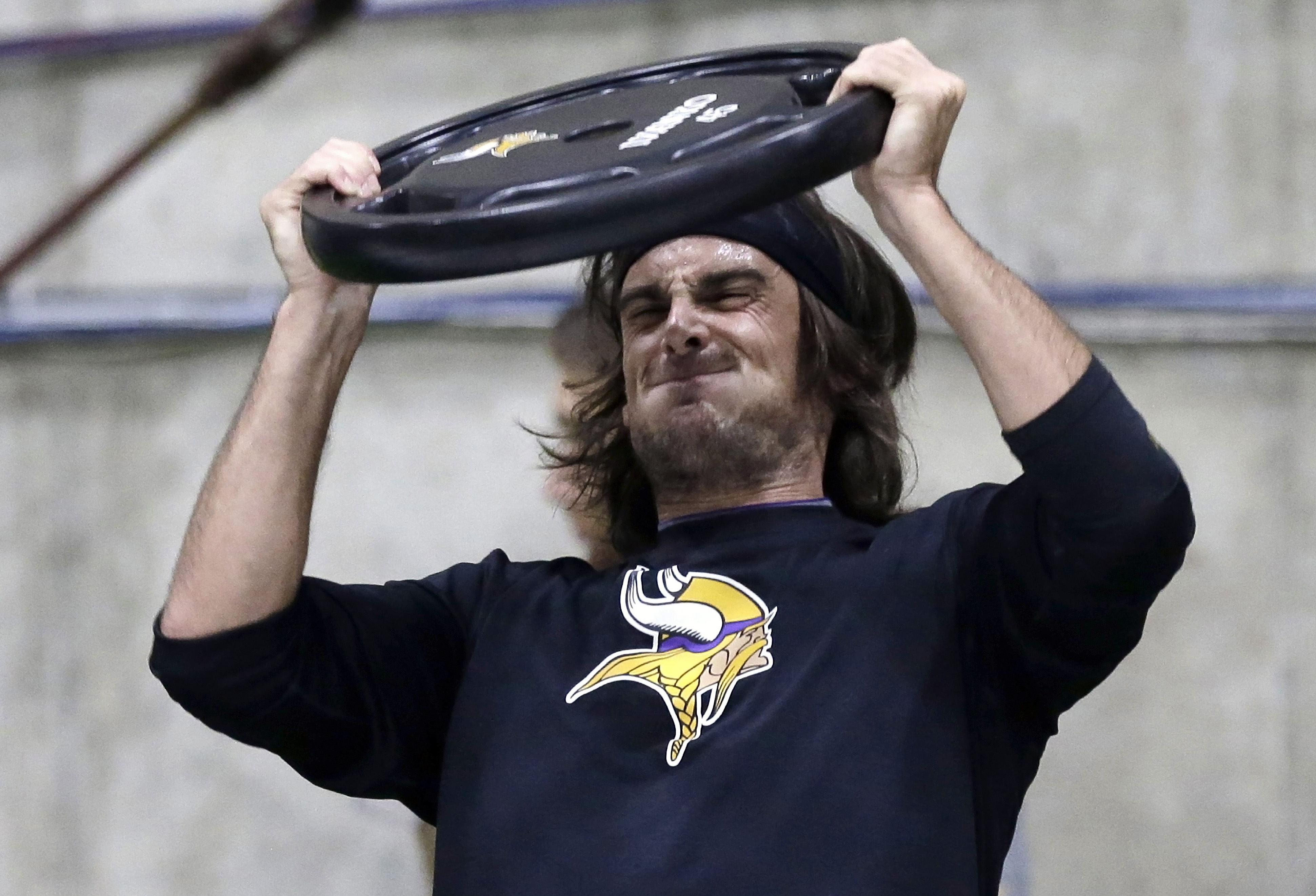 Chris Kluwe is finished in this town.
Don't worry folks, you'll know when I'm on tilt. The Vikings clearly think turning this dirty will scare me off. Says all you need to know.

— Chris Kluwe (@ChrisWarcraft) July 19, 2014
The former Minnesota Viking punter, who became a folk hero during the debate over an amendment banning same-sex marriage in the state, is the biggest casualty of his own pursuit of his tormentor, Vikings special teams coach Mike Priefer, who, Kluwe says, regularly hurled homophobic slurs.
An investigation into the allegations, funded by the Vikings, revealed one incident in which Kluwe mocked child rape victims of Penn State football coach Jerry Sandusky. Priefer has been suspended for three games by the Vikings. Kluwe has lost something more valuable: respect.
Kluwe still intends to sue the Vikings, but people who might've had a favorite in the battle are staying on the sidelines.
Kluwe also tweeted an allegation that two players were caught with an underage girl. He didn't elaborate.
"However, in referring obliquely to statutory rape, Kluwe appears to be adhering to the same 'code of the locker room' that enabled Priefer's homophobic comment and, in a less direct way, Sandusky's sexual predation," the Washington Post says today.
Ted Glover, writing at the Daily Norseman, says Kluwe has now "lost the moral high ground."
Kluwe and his lawyer have alleged that the partial report the Vikings released Friday is full of lies, and in the end, he very well may be right. For all we know, Priefer said every single thing Kluwe alleges, and when this goes to trial it will come out. And if that's the case, I hope that justice is served.

But no matter what happens in the trial, Chris Kluwe has lost all moral high ground in this, and he won't be getting it back anytime soon. Because at the end of the day, he's acted in ways not much better than the people he's accusing.
In today's Star Tribune, columnist Jim Souhan says Kluwe and the Vikings "deserve each other."
You can find exceptional human beings in the NFL about as often as you can find exceptional human beings in any other workplace, but a valued player can get away with bad behavior if he contributes on the field.

Kluwe wasn't valued, and had stopped producing at a level commensurate with his salary. He deserved to be cut.

What's sad is that Kluwe's campaign against the Vikings would be worthwhile if he hadn't adopted the same behavior he now condemns.
And Greg Doyel at CBS Sports said Kluwe has become "the very thing we hate."
Seriously, can you look at Chris Kluwe the same way again? Not me. Can't take him seriously now that we know he tore a hole out of the back of his pants and paraded around the locker room as a "Penn State victim." That's so awful, and so stupid, Richie Incognito may well have chuckled when he heard about it.

The next time something needs to be said on behalf of homosexuals in the NFL — on behalf of Rams linebacker Michael Sam — or even on behalf of the LBGT community, period, Chris Kluwe is not someone I want to hear it from. Not as the voice of compassion. Not anymore.
Update/Related: Brad Michael: Vikings failed gay community with Chris Kluwe investigation (Outsports).