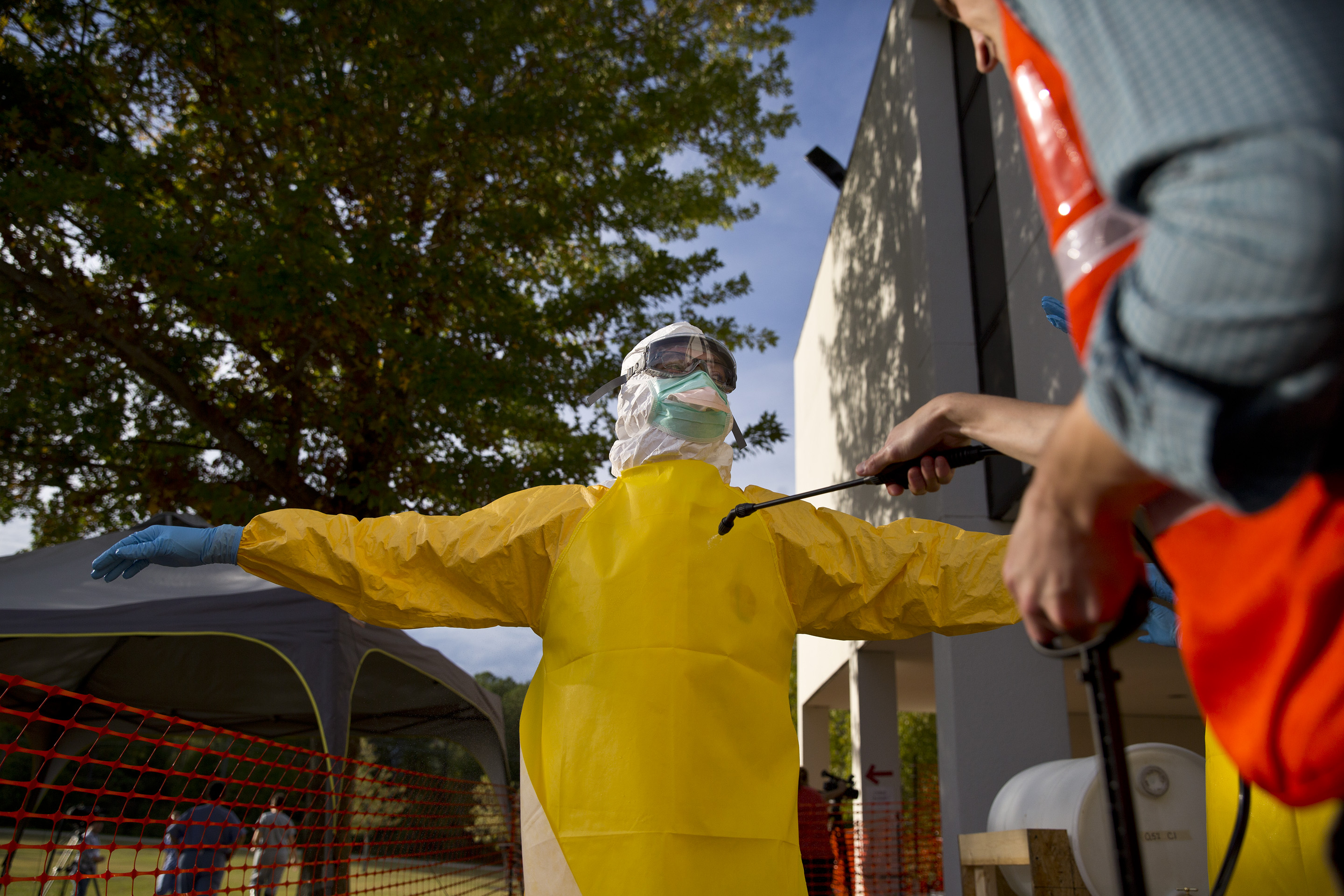 Gov. Mark Dayton will hold a special meeting on Thursday with his cabinet and airport officials to discuss Ebola prevention and preparation efforts, MPR's Tim Pugmire reports this afternoon.
It's a good idea, of course, and comes months after the Ebola health crisis surfaced in Africa.
While some hospitals have already had response practices, the response seems markedly different from 2009, when the specter of a flu pandemic sent government and private businesses into full-scale planning and preparation mode to isolate and stop it, doing so months before the flu actually hit.
The difference is there's a vaccine for flu. With Ebola, we're stuck in a position of not being able to do much more than see how it goes, and try to sort through which Ebola story is believable, and which isn't.
"This is about humanitarianism and self-interest," the University of Minnesota's Mike Osterholm wrote a month ago. "If we wait for vaccines and new drugs to arrive to end the Ebola epidemic, instead of taking major action now, we risk the disease's reaching from West Africa to our own backyards."
Today, the first person diagnosed with Ebola in the United States died. Who knows what the outcome might have been had the hospital that sent him home with some antibiotics taken proper precautions instead?
In a report on the Spanish nurse who acquired Ebola without leaving Spain, the danger of a health system that doesn't take the outbreak seriously was obvious.
According to Spanish press reports quoting the Spanish nurses' union, Romero called Carlos III hospital several times between September 30 and October 2 when her fever finally hit the 38.6 threshold. Still, it took until October 6 when she had become so deathly ill she was begging for an Ebola test before anyone at the hospital where she worked reportedly reacted. Then, rather than immediately isolating her and rushing her to the special ward used to treat the previous Ebola patients, they told her to go to the nearby emergency room at Alcorcón, where press reports say she sat in the public waiting room for several hours absent of any protective gear. "I think I have Ebola," she reportedly told anyone who would listen. But no one took notice until her first test came back positive. By then, dripping with fevered sweat, she would have been inarguably contagious.
Today, officials announced that the five busiest airports — JFK in New York, Washington Dulles, O'Hare International in Chicago; Hartsfield-Jackson International Airport in Atlanta; and Newark Liberty International Airport outside New York — will start screening travelers from countries with the Ebola outbreak. That will take care of 94 percent of the travelers coming to the U.S. from those countries.
"Because we've got a world-class medical system, because we've put in place tough safety measures, because of the work that many of you have done in conjunction with organizations like the CDC and dealing with infectious disease generally, and because of the nature of Ebola and the fact that it's not something involving airborne transmission, the chance of an Ebola outbreak in the United States remains extremely low," President Obama said today in a conference call with state and local officials, presumably including those in Minnesota.
But then we hear one "expert" suggest that part of the efforts — airport screening, for example — is partly for show.
"And governments, even if they know better, will sometimes reply to that political outcry," (Larry Gostin, a professor of global health law at Georgetown University) told NPR. "They're under a lot of pressure to do something [to] make the public feel reassured, even if it really doesn't make them safer."
That's comforting.
Osterholm raised much the same point in a New York Times column last month, alleging that officials are afraid to speak the truth about Ebola's possibilities.
Why are public officials afraid to discuss this? They don't want to be accused of screaming "Fire!" in a crowded theater — as I'm sure some will accuse me of doing. But the risk is real, and until we consider it, the world will not be prepared to do what is necessary to end the epidemic.
And that's the sort of comment that injects an uncomfortable question: How much of the information minimizing the threat of Ebola is science? And how much — if any — is based on the fact that we can't handle the truth?
Also, one other question: Who's in charge and calling the shots?
Related: Ebola epidemic: Liberian Americans warned to stay away from homeland (Minnesota Public Radio News).
What's on the minds of those heading for Ebola's front lines? (PBS NewsHour).