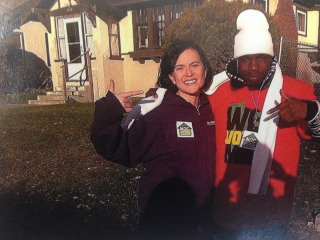 A decision from the Minnesota Court of Appeals earlier this year on an unrelated case, adds more grist to the analysis mill of why Hennepin County Attorney Mike Freeman hasn't charged Navell Gordon with possession of a handgun by a felon.
KMSP suggested last night that Gordon, the get-out-the-vote volunteer who allegedly flashed gang signs with Minneapolis Mayor Betsy Hodges in October, hasn't been charged because the case has become "too hot to handle" in the light of its "pointergate" fame.
The station said Gordon's DNA was on a gun used in a robbery at West Broadway and Penn Avenue in August. That, the station said, connects Gordon to possession of a gun. It didn't reveal the source of the information.
Is it enough evidence?
In February, the Minnesota Court of Appeals said it was in the case of a felon who was convicted of possessing a handgun after police executed a search warrant in October 2011.
In that case, the court ruled that the DNA evidence was enough to prove that Lamont Jiggetts possessed the handgun.
"The predominant DNA material on the gun was Jiggetts's and testing of this evidence excluded virtually all the rest of the world's population. And the parties' stipulation that Jiggetts was prohibited from possessing a firearm is supported directly by Jiggetts's convictions of controlled-substance crimes (in 2005, 2006, and 2008) and fourth-degree assaults (in 2006)," Judge Kevin Ross wrote in February in an unpublished opinion.
But his ruling had an important clause. The DNA evidence was corroborated by other evidence that the felon possessed the gun.
"We hold that, in a gun-possession case, physical evidence that the defendant's DNA is on the gun corroborated by uncontested scientific testimony that the DNA likely got there by the defendant's handling of the gun is direct evidence of possession. On our direct-evidence review, we are satisfied that the jury reasonably found that Jiggetts actually handled the gun," Ross wrote.
But the KMSP report doesn't provide enough information to suggest that Freeman, whose office prosecuted the Jiggetts case, is avoiding the "pointergate" minefield because it only reports that DNA linked Gordon to the gun. It didn't say who else's DNA was on the gun, nor what percentage of the population can be excluded from the question of the gun's possessors, as is standard when the Bureau of Criminal Apprehension reports on DNA evidence.
The story also didn't provide evidence to corroborate any DNA evidence against Gordon.
It's also important to note that investigation of the armed robbery isn't finished.
Related: Tougher gun laws may not deter most persistent offenders, data show (Minnesota Public Radio News).