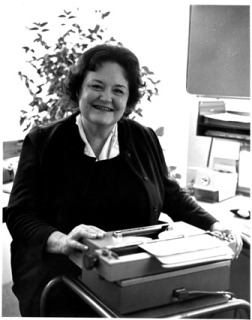 Though it's heresy for me to say, radio will probably never tie a community together the way it once did, which is why there probably won't be any more "members of the family" like Joyce Lamont and broadcasters of her day.
Lamont, who hosted "Dayton's Musical Chimes" and other programs on WCCO and KLBB over 50 years, died yesterday, the Star Tribune reports. She was 98.
She's a charter member of the Minnesota Broadcasting Hall of Fame.
When she was teamed up with Bob De Haven at WCCO, they had a 69 percent share of radio listeners. She told KARE 11 years later that it disappointed her. "I thought everyone listened to us," she said.
Related: Joyce Lamont airchecks (RadioTapes.com).