Updated 6:35 a.m., Feb. 20 | Posted 8:30 p.m., Feb. 19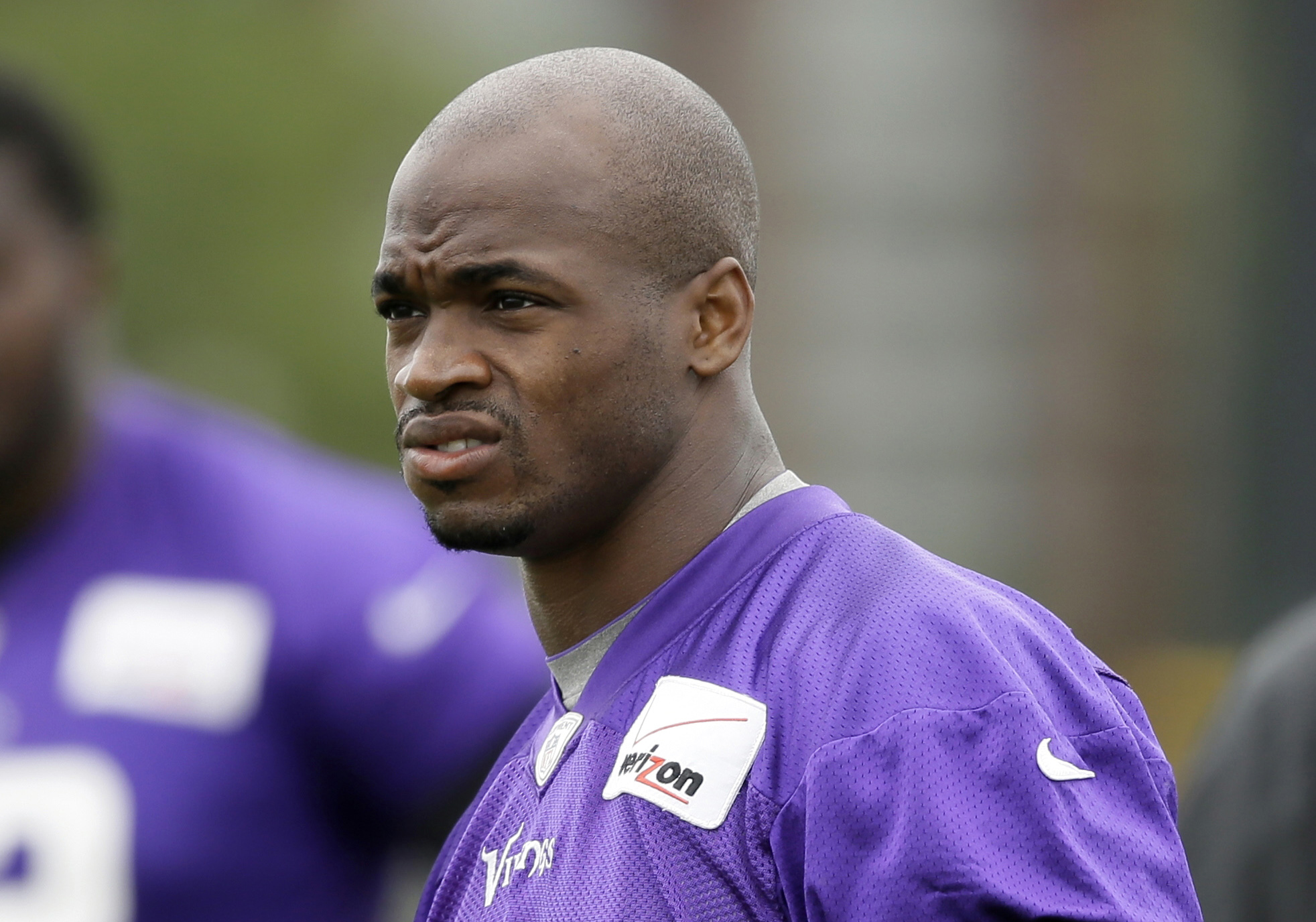 Adrian Peterson, still sitting out a suspension from the NFL and Minnesota Vikings for beating his child, let Minnesota and the Minnesota media have it today.
In an interview with ESPN, Peterson was hardly contrite about the situation he put himself into.
"I know there are a lot of people in the organization who want me back," he said. "But then again, I know the ones who don't. It's a difficult transition, and it's not just about me.

"I have a wife who was able to sit back and see how people in Minnesota said this and said that, how media in Minnesota took the head of the situation with my child, and were digging into things that weren't even relevant.

"That wasn't people in Texas — it was people in Minnesota that dug in and brought things out. That impacted me, but most importantly, it impacted the people around me — my family, my kids. This came from the state I love so much, that I wish to bring a championship to? This is how they treat me when I'm down and out? You kick me?

"My wife (and I), we've had several conversations about me returning to Minnesota, what the best options are. If I left it up to her, I'd be somewhere else today, and that's with her weighing everything. It's a lot for me to weigh; she understands that. But there are some things that I'm still uneasy about."
He said he's going to pray about where he should play next year.
But the interview makes it unlikely there's much of a prayer he'll return to the Vikings.
ESPN's Ben Goessling analyzes the situation without hardly mentioning a fairly important point — Peterson beat his kid.
But then the Ray Rice video was published, the grand jury decided to indict Peterson and the Vikings were quickly handed a harrowing decision: let Peterson play while facing felony charges, or put the face of their franchise on the sideline while the issue of domestic violence in the NFL dominated headlines. There's no handbook for how to deal with those situations, and there certainly wasn't going to be an easy solution available to the Vikings that left everyone happy.

When the Vikings reversed their original decision to let Peterson play and approached the league about putting him on the commissioner's exempt list, Peterson felt stung. He called it an "ambush" Thursday, and he certainly noticed how quiet the Vikings were about him from Sept. 17 — when he was placed on the exempt list — to the end of the season. There's no doubt Peterson's actions set the ball in motion, and he's apologized for those actions. But he felt his commitment to the Vikings had earned him more support than he'd received.

That's how Peterson thinks and feels, and it's why he is still uneasy about bringing his family back to Minnesota.
Minnesotans' revulsion at child abuse isn't a character flaw.