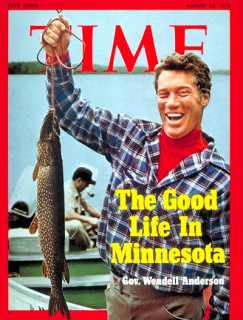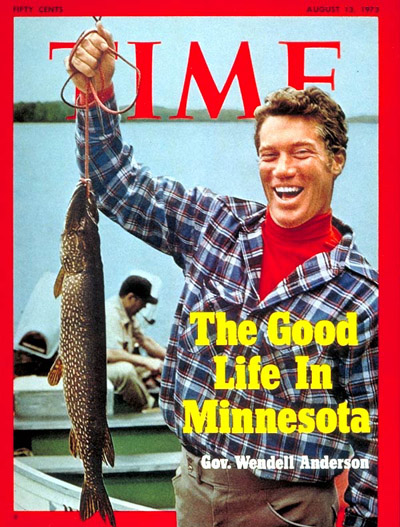 Not since Gov. Wendell Anderson held up a fish for a national magazine's photographer has there been such an outpouring of national love for Minnesota — or at least the combination of communities collectively known as "Minneapolis," according to The Atlantic.
In its "Miracle of Minneapolis" story, the Atlantic says "no other place mixes affordability, opportunity, and wealth so well."
How do you like us now, Wisconsin?
The article focuses on the affordability of housing here and the fiscal disparities philosophy in which rich communities send money to the poorer cities.
Only three large metros where at least half the homes are within reach for young middle-class families also finish in the top 10 in the Harvard-Berkeley mobility study: Salt Lake City, Pittsburgh, and Minneapolis–St. Paul. The last is particularly remarkable. The Minneapolis–St. Paul metro area is richer by median household income than Pittsburgh or Salt Lake City (or New York, or Chicago, or Los Angeles). Among residents under 35, the Twin Cities place in the top 10 for highest college-graduation rate, highest median earnings, and lowest poverty rate, according to the most recent census figures. And yet, according to the Center for Housing Policy, low-income families can rent a home and commute to work more affordably in Minneapolis–St. Paul than in all but one other major metro area (Washington, D.C.). Perhaps most impressive, the Twin Cities have the highest employment rate for 18-to-34-year-olds in the country.
It also says the kids who are educated here, tend to stay here, start up small companies in many cases, and turn them into big companies.
Why is that? And how has the city stayed so affordable despite its wealth and success? The answers appear to involve a highly unusual approach to regional governance, one that encourages high-income communities to share not only their tax revenues but also their real estate with the lower and middle classes.

In the 1960s, local districts and towns in the Twin Cities region offered competing tax breaks to lure in new businesses, diminishing their revenues and depleting their social services in an effort to steal jobs from elsewhere within the area. In 1971, the region came up with an ingenious plan that would help halt this race to the bottom, and also address widening inequality. The Minnesota state legislature passed a law requiring all of the region's local governments—in Minneapolis and St. Paul and throughout their ring of suburbs—to contribute almost half of the growth in their commercial tax revenues to a regional pool, from which the money would be distributed to tax-poor areas. Today, business taxes are used to enrich some of the region's poorest communities.
To be sure, it's a great city. But in truth, the article is a tad over the top on assessing the city, making no mention of the economic and racial segregation that exists within it. That suggests that perhaps the author didn't actually visit.
Related: Minnesota's Fiscal Disparity tax redistribution explained (Minnesota Public Radio News).