Note: Company holiday today. Posting will be light.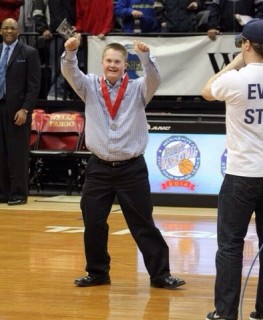 Remember Grant Peterson ,who relished his medal while his teammates from Hopkins sulked after losing a final game of the state boy's basketball tournament?
Try to remember him and other high school kids you can be proud of while you read about the girls from Eastview, Chaska, Wayzata, Eden Prairie and Lakeview South, who refused to line up for the awards ceremony at the Class 3A high kick dance championship at Target Center on Saturday because they thought the winner — Faribault — had copied its dance routine from an out-of-state team.
That's the spirit, kids!
Keep it classy AAA. Faribault, we love you. You're amazing and we support you 100%. pic.twitter.com/1TEUJR1vdv

— Emily (@emjohnson55) February 15, 2015
The Minnesota State High School League ruled before the tournament started that Faribault's routine was not ripped off, after someone — no one is saying who — filed a grievance against the squad last week.
But that didn't stop the girls from the five schools from ruining the spirit of the day.
"We won it fair and square," Faribault coach Lois Krinke told the Faribault Daily News. "We were in first place after the preliminary round almost unanimously, and unanimously in the final round. We're excited, the girls are really excited. We're the top team in the state and if they didn't want their second- and third-place medals, I couldn't care less. We got the first-place medal."
Faribault won the high-kick title with a ranking score of 5. Wayzata finished runner-up and Eastview — which had won the last four titles — was third.

However, neither of those teams received their awards. When the six teams took the stage for the awards ceremony and the other five schools (Wayzata, Eastview, Chaska, Lakeville South and Eden Prairie) initially drew closer to one another, Faribault also joined them. The other teams were holding hands, but they didn't hold the Emeralds'.
When the announcer asked all six teams to move back to their original spots, the Emeralds complied, but the remaining five teams did not. Many in the Target Center crowd cheered as the Emeralds moved away from the other teams, who appeared to be united.

"I was so confused," said senior captain Abbie Meehl, who was named to the All-Tournament Team along with senior Johanna Villa. "I didn't know what was going on. Just to feel that, I felt really heartbroken. That kind of hurt me just knowing that they're not with us and they don't have good sportsmanship."

The Emeralds were the only Class AAA team that received an award in front of the Target Center crowd. They celebrated their title with leaps, screams and hugs, accepting their medals and team trophy before leaving the court. Afterward, several were in tears.

The five other teams celebrated together on the court afterward.

"We're going to celebrate our first place that we won fair and square," senior captain Kristin Johnson said, "and we showed great sportsmanship and I'm proud of my team."
The protesting teams were disqualified for unsportsmanlike conduct, the Star Tribune reports.
"There are ways to voice your opinion and this is not one that I admire," Minnesota Dance Team Online said.
It might be an inclination to dismiss the entire competition, but then you read MSHSL's John Millea's December profile of Erin Barrett, a junior at Roseville High School and a member of the varsity high-kick dance team.
She performs while being unable to hear her music. She's deaf. She's was adopted out of an orphanage in China when she was 13.
"She learned about being challenged with something and keeping at it, and it gave a good feeling when she accomplished it, that she was just part of a team and that her deafness wasn't stopping her from doing things that hearing people do," she says.
It's a pity kids who stand for the best of youth sports are overshadowed by the ones who don't.
Related: Reusse: What we have here is chop block of high-kick dance (StarTribune.com).
MSHL Investigating Coaches Behavior After Dance Competition Controversy (WCCO).