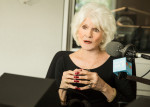 Following criticism from fellow journalists, public radio show host Diane Rehm has curbed some of her lobbying for right-to-die laws.
A week ago, the NPR ombudsman criticized Diane Rehm for being both a talk show host (her show is distributed by NPR, but NPR does not produce it) and a champion for the legislation.
Rehm's husband, John, starved himself to death last year after a doctor refused to help end his life. He suffered from Parkinson's.
Journalists, such as NPR's ombudsman, suggested it was unethical of Rehm to appear at fundraisers for groups advocating right-to-die legislation.
"I was saddened but understood their position," Rehm told the Washington Post after meeting with both NPR and WAMU Radio officials.
A joint statement from NPR and WAMU said Rehm will continue to host shows on the topic and that she "will remind the audience about her personal experience and be transparent about her affiliation with any organization focused on the issue."

"As a talk show host, Diane Rehm is free to express her own opinions alongside people who have different views," the statement said. "This is one of the things her listeners expect, and it allows for empathy, and a lively exchange of ideas."

WAMU station manager J.J. Yore said listeners had expressed "very little concern" about Rehm's position on the issue, but from his perspective "the dinners were always the trickiest part."
The situation illustrates the convergence of traditional notions of journalistic "objectivity" and ethics with humanity and personal knowledge. Not attending the fundraising doesn't change a thing about Rehm's devotion to the cause. The settlement merely eliminates a perception of a conflict of interest. It doesn't remove a conflict of interest. And it doesn't address the reality that listeners — especially public radio listeners — are intelligent enough to understand situations where those conflicts exist.
NPR ombudsman Elizabeth Jensen writes today that the "good thing" that comes out of the situation is NPR will update its ethics policy to cover hosts of shows distributed by NPR, but produced by member stations.
"This should be a right for me and should have been a right for my husband," she told the Post.
From the archive: Journos with 'skin in the game' (NewsCut).
Related: Lorenzo Schoonbaert, a 41-year-old Belgian soccer fan in the last stages of terminal illness, had his dying wish fulfilled last weekend. He saw his team win for a last time, then went ahead with physician-assisted suicide.