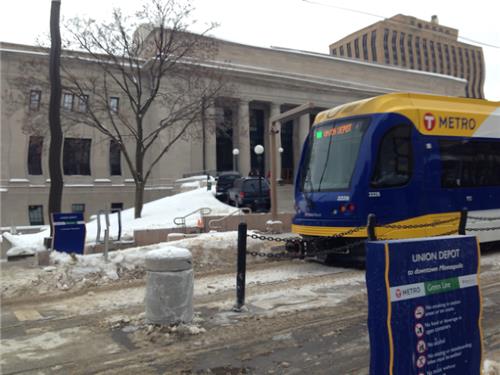 The Twin Cities' light rail system depends on its passengers to buy tickets to ride it. There are no turnstiles and no conductors to check tickets, of course.
And you don't have to be a veteran light-rail rider to know that the odds of a transit cop asking for your ticket are slim.
The penalty for not buying a ticket is designed to discourage riders from taking the chance.
A lot of people are ripping off the system, the Pioneer Press reports today, citing an audit showing Green Line riders in particular are dodging fares.
… the new audit estimates a fare evasion rate on the Green Line of between 4.6 and 9 percent. That totals a loss of between $11,000 and $22,000 in potential weekly revenue.

A ridership audit of the Blue Line — which travels between downtown Minneapolis and the Mall of America in Bloomington — estimates fare evasion rates between 2.6 and 3.6 percent. The loss in potential revenue was pegged at between $4,700 and $6,500 weekly.

The audit notes that the Blue Line has been in operation for a decade, and fare evasion on the Green Line may decline with time and continued Metro Transit police enforcement.
The audit period was last September and October.
Why the difference between the Blue and Green lines?
The report says because the Blue Line extends to Bloomington, it may be used by more commuters getting to and from work or events in Minneapolis. The Green Line, on the other hand, may be used more by residents to get to local destinations and take shorter trips. It's easier to get away with not paying.
The report also said Go-To card users have a particular high rate of non-compliance, probably because riders don't know they have to "tag" the ticket.
The high rate of non-compliance among Go-To Card holders may be the result of a misunderstanding that if the card has been validated on a bus additional value will be deducted if the card is then validated on a light rail platform, or may result from a misconception that GoTo Card users transferring from a bus don't need to tag on the platform.

The potentially high rate of evasion by riding with a Go-To Card outside of the valid transfer period may be the result of Go-To Card users believing that having a Go-To Card, even if it isn't valid, may reduce the likelihood of having a citation written if they are inspected.

The potentially high rate of non-compliance among pre-paid card holders may be the result of a misconception that these cards don't need to be validated on light rail platforms. It may also be the result of users understanding that they are supposed to tag on platforms, but also misunderstanding why tagging is necessary or important, and knowing that MTPD officers will not fine or cite them for not tagging.
The report says the Metro Transit police have started checking fares more often for people getting off trains at sporting events.
Metro Transit officers are also keeping a database of passengers who jump the system so that it will be easier in the future to know whether a passenger is intentionally avoiding paying the fare.
Related: Comparing Transportation Violation Rates (streets.mn).